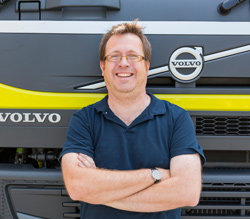 I'm the new editor of Truck & Driver but I have had an interest in trucks since age nine when I was subjected to numerous trips on the M6 in 1978 as my parents looked to move house to Warwickshire. I started watching the ERFs, Fodens, Volvos, Scanias and long lost makes such as Magirus Deutz, Saviem and Guy on the motorway. It helped pass the time!
When the house move was sorted, I lived in Kenilworth and met a kid at school whose dad ran four Volvos on European and Middle East work. There was an F88, F89, F10 and F12, and I fell in love with the new F12s with their brown interiors and smart cabs. My new hobby now decided, my Gran bought me a copy of TRUCK in 1980 and I've been hooked on lorries ever since.
My job is to be in charge of the mag! I plan what's going in, when, and who is writing it. I sort the photography and ensure the design is how we want. I like to get out and undertake feature visits myself, and I'm always on the look out for things that are different – smart new trucks, old trucks still working, different loads and charismatic drivers.
I studied Transport & Logistics and the University of Huddersfield (which is where my allegiance to the town's football club comes from!) and after graduating in 1995, I planned to work in European Transport. Six months in to a new job, my aspirations were not being fulfilled, and when a job came up on the magazine RAIL, I decided to apply; I'd done some writing for the University (on football and music) and I had an interest in railways. It seemed the perfect fit! That was my unplanned entry into journalism!
I spent 10 years on RAIL and in February 2006 took up the offer to edit Railways Illustrated. In 2010 I started writing freelance for T&D and Commercial Motor and in 2011/12 I did my HGV tests – rigids then artics, passing both first time! In 2015 T&D approached me to take over the editorship and I jumped at the chance.
Outside of work, hobbies include football, darts, railways, music (I'm a big fan of punk rock) and keeping my seven-year-old daughter in check. I'd like to say I enjoy cooking, but that would be a lie…
Contact: [email protected]