All-action truck racing at Pembrey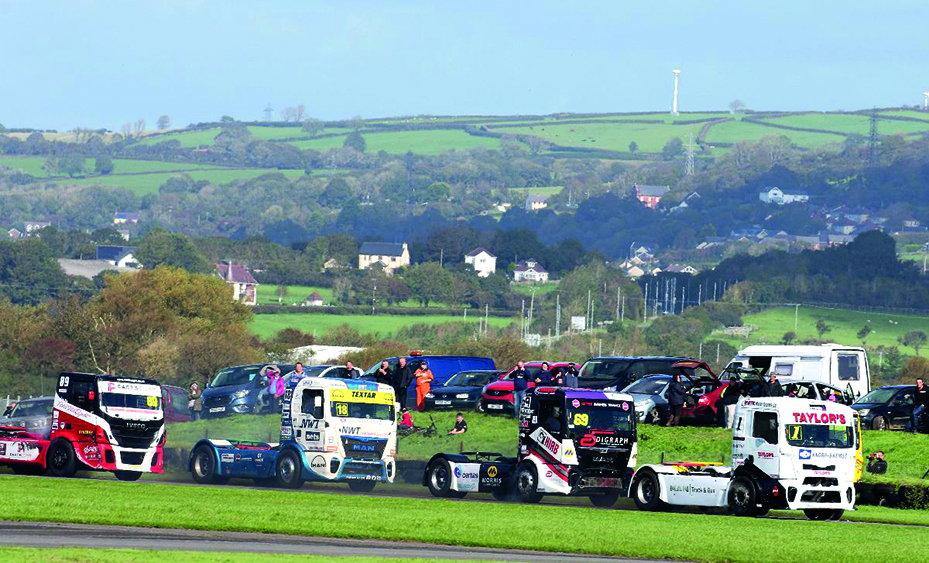 Luke Garrett scoops back-to-back Division
2 titles
Ryan Smith closes in on his fourth
consecutive Division 1 Championship
l All eyes now on a spectacular finale at
Brands Hatch
Luke Garrett has successfully retained his MV Commercial BTRA Championship Division 2 title following an action-packed October weekend at Pembrey Circuit, building up an unassailable lead with one event still left to run next month at Brands Hatch.
The MAN driver entered the penultimate event of the season at the Welsh venue with an impressive 72-point advantage and duly made it count to become a back-to-back champion in the category. Claiming his 12th victory of the year on what proved to be a memorable weekend, wins also fell the way of Paul Rivett, John Bowler and Brad Smith amid contrasting conditions across Saturday and Sunday.
Ryan Smith (holding trophy, right) moved closer to securing a fourth successive MV Commercial BTRA Championship Division 1 title after claiming an emphatic hat-trick of race wins at the Pembrey Circuit on 5/6 October.
On what proved to be an action-packed penultimate event of the season at the picturesque Welsh venue, Smith tightened his grip on the 2019 crown by winning three of the four races. John Newell also powered his way to a maiden victory in the series of the year in the second race of the weekend. Smith's third victory of the weekend in the Division 1 finale was impressive, triumphing by little over a second ahead of Simon Reid.
Attacking from the back of the grid, Smith showcased his overtaking prowess and by lap four was into third place. He then charged onto the back of race leader Reid, hounding him before finally finding a way past. Reid hung on to second place while Taylor notched his second podium of the weekend.
By the time this issue is on sale, the finale at Brands Hatch, complete with fireworks, will have taken place. Look out for a full feature on the event in the next issue and all the action online at
truckanddriver.co.uk
Truckscene Send us your stories! Email us at [email protected] Story of the month wins this limited edition 1:50-scale Volvo FH Globetrotter 6×2 tag-axle tractor unit with three-axle curtain trailer in Ferguson Transport colours.
It's worth £149 and comes courtesy of Search Impex. For availability of this and other models visit search-impex.co.uk or call 01332 873555
We hope you enjoyed this article! For more news, views and reviews on all aspects of the truck driver's life subscribe today.