Bringing the thunder – British Truck Racing Championship at Convoy in the Park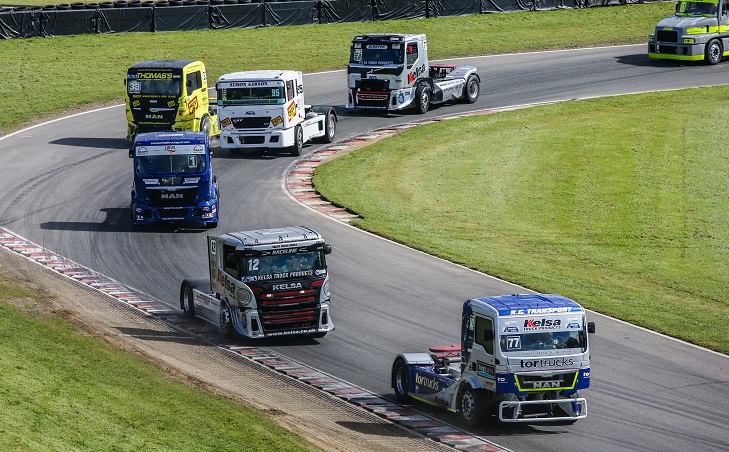 Donington Park plays host to the fifth round of the 2017 British Truck Racing Championship on July 22-23, as well as Convoy in the Park. Ahead of the season T&D spoke to 10-time British Truck Tracing Champion Stuart Oliver about his hopes for the coming season
Stuart Oliver might be in the autumn of his racing career, but as he gears up for the 2017 British Truck Racing Championship (BTRC), his passion and desire to win remain undiminished. The Division 1 runner up in 2015 and 2016 is determined to go one better this year.
"We race to win, not to come second," he says. "We have a new race truck- its a new style altogether – and hopefully it will perform to get us where we want to be."
Like many competitors in Division 1 of the BTRC, Stuart debuted new machinery at the opening round at Brands Hatch. This year, he is again racing a Volvo and while it has the same chassis and engine as 2016, there have been many changes to the set-up of the truck. "It has new aerodynamics and cab with a bonnet now, so the weight distribution is improved," he says.
The truck was built in Stuart's own workshop – and he says working on it has helped to keep him in shape during the close season – and was set for its first run-out just prior to the opening meeting.
But Stuart is under no illusions about how difficult the task to get back onto the top step of the podium will be. For instance, 2016 champion Ryan Smith is again expected to be among the frontrunners, as will a number of other fellow MAN truck drivers. Last year, the MAN trucks proved to be extremely reliable – something that over the course of the season is vital – and, as Stuart admits, his truck had its share of mechanical problems.
But making predictions for who will be challenging at the front of the pack is notoriously difficult, as Stuart says: "You generally can't tell [who will be strong] until you turn up at the first meeting and see who has what and has pace. It is often those who can get off at the start of the season with a good, reliable performance who will be contenders for the championship."
Family affair
Of course, another of Stuart's potential rivals is his own son, Michael. The 25-year-old made his BTRC debut last season for Stuart's Oliver Racing outfit driving a Scania and ended up 8th in the Division 1 championship and was named 'Rookie of the Year'.
With a year's racing under his belt, Michael is looking to push on and feature high up the leaderboard this year. This, Stuart says, brings an extra dimension to the racing as they try to outscore each other. "We come across each other quite a bit on track – especially with the reverse grids – so it leads to good entertainment and good banter within the team."
Of course, the first rule of racing is to not take out your team mate, and so far the pair have avoided doing and Stuart hopes to keep it this way.
Record crowds and drivers
But panel-bashing action is something that the crowds – and those watching on television – love to see, and the crowds are coming in ever-increasing numbers. At the end of the 2016 season, there were record crowds and the biggest field of trucks for 25 years. "It is very close, fast racing, and it is a non-contact sport with a bit of contact thrown in," Stuart says.
It is the close racing with plenty of overtaking that is helping to fuel interest in the sport, Stuart says. "The format that truck racing runs under, where the first race grid is decided by qualifying times, and thereafter the grids are reversed, does spice things up and makes the whole weekend entertaining. It is far from a procession, that's for sure – it is all action right from the start."
Stuart has high hopes that the 2017 season will be even more successful: "The sport is improving year-on-year and the promoter and organiser, Truck Sport UK, is getting good media and TV coverage," he says. "The general public interest in coming to watch truck racing is growing almost event by event, which is great for the sport, for the teams, for the sponsors – long may it last!"
At the time of writing, more than 30 teams across Divisions 1 and 2 had committed to take part in the opening meeting, so the grids will be close to or at full capacity, which should guarantee close racing throughout the field.
Convoy in the Park
Stuart is also looking forward to the Donington Park rounds of the championship on 22-23 July, which form the centrepiece of the weekend-long Convoy in the Park event. He considers the track to be the spiritual home of UK truck racing: "It was where it started in the mid-1980s and from a driver's perspective it is one of the most challenging and exciting circuits to race round with a truck. It is fast, it is technical and challenging. You have fast corners, such as the Craner Curves, which is a sensation you don't get at any other circuits – going round at 100 miles an hour and then almost dropping into a ravine. It is quite a thrill and leads to plenty of action on the track.
"Also, it is a good viewing circuit for spectators and there is plenty of room for other off-track activities, like show trucks, and it is easy to get to."
Indeed, Convoy in the Park will have plenty of on-track action, with 10 races scheduled – 5 in each division – for the weekend. But there will also be a wealth of entertainment off-track for fans of all ages to get involved in, including truck pulls, eating contests and a full trade exhibition. For more information on that, including how to buy tickets, go to: www.convoyinthepark.com
Stuart, as the owner of his own team, knows all about the off-track activities at a race meeting, and it means he has to think about much more than just setting up and driving the truck. "There is a lot of organising: there are the two trucks to be prepared, the team members – the logistics of getting them there, looking after them there, feeding them – not to mention looking after the sponsors and their requirements at events. There is a lot of planning that goes into getting everything ready so you can turn up and perform to the best of your ability. It all takes time to get sorted."
The planning is well advanced, but now Stuart just wants to get back onto the track. "I can't wait to get cracking and get stuck into the season and see what we can achieve. We do this to win – the ultimate goal is to win the championship and as many races as possible."
Picture courtesy of TruckSport UK
We hope you enjoyed this article! For more news, views and reviews on all aspects of the truck driver's life subscribe today.