British Truck Racing Association Championship round 4 review: The heat is on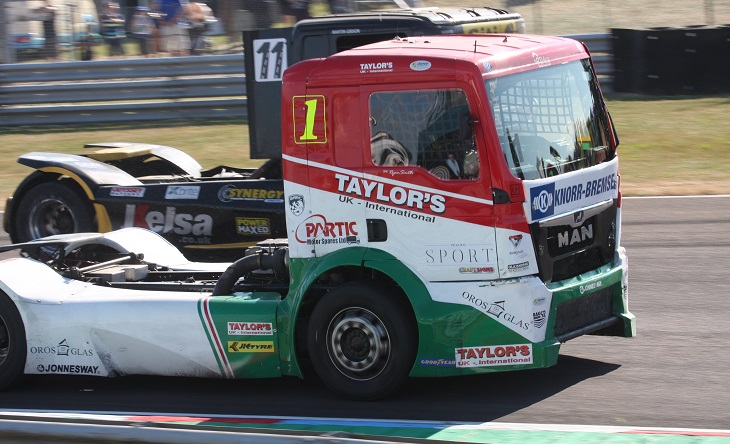 Ryan Smith further extended his lead at the top of the BTRA British Truck Racing Championship standings with a dominant performance in round four of the series at Thruxton – the on-form MAN driver taking a clean sweep of four victories.
Heatwave conditions plus the flat-out nature of the high-speed Hampshire circuit put the pressure on men and machinery – but Smith turned on the afterburners to slice through to the front of the pack, even in the reverse grid races.
Rampant Ryan – now 27 points clear in the Division One points standings – is now aiming for further success in the upcoming Convoy in the Park event on 21-22 July at Donington Park – 'home' territory for the Nottinghamshire driver.
Smith started the Thruxton weekend in style by securing pole position and from the moment the lights flashed green he was never headed in race one: pulling over five seconds clear of his rivals by the time the chequered flag came out 10 laps later.
Stuart Oliver (Volvo) secured second spot, followed home by David Jenkins who was struggling to get the right balance of tyre grip on his MAN. Jamie Anderson (MAN) and Simon Reid (Iveco) completed the top five.
Race two saw the reverse grid in operation – but Smith was taking no prisoners and sliced his way through the field and up to second within four laps. He then tracked down the fast-starting Anderson and two laps later snatched the lead as Anderson ran wide at flat-out Church corner. On the final lap Jenkins and Reid also moved up to take the remaining podium spots with Martin Gibson (Scania) in fourth, just ahead of Luke Taylor (MAN).
With track temperatures continuing to rise on Sunday afternoon Smith was on sizzling form. Coming from the back of the pack again he jumped Oliver and Jenkins before the first turn and by lap two was passing Richard Collett for second place.
Luke Taylor had made an early break and the Rooster Racing MAN took a while to chase down but by lap five Smith had tracked him down – and was soon in front, cruising to his third win by a margin of nearly two and half seconds.
Anderson made good progress and came home to collect the final podium spot, fending off a late challenge from his experienced rival Oliver – just 0.134 seconds splitting the pair at the line, with Jenkins also in close company.
The final outing saw Smith completing his clean-sweep as he stormed through to pick up his fourth winner's trophy of the weekend. While his rivals got a bit tangled diving into the first turn Smith sliced his way into fourth and a lap later he'd already made it up to second – with only Anderson standing between him and the silverware.
Anderson – a relative newcomer to truck racing – defended strongly but after five laps Smith picked his spot and slipped through, pulling over five seconds clear by the flag.
Anderson held on for an excellent runner-up spot with Reid's Iveco breathing down his neck while Oliver again fended off Jenkins for fourth spot.
Smith is determined to stamp his authority on the Division One races again at Donington but there may be some tough opposition, including Shane Brereton, returning to the UK scene after some strong performances in Europe.
DIVISION 2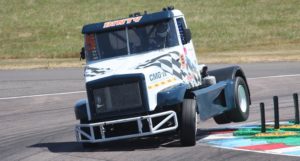 Luke Garrett's winning streak in the BTRA Division 2 category (briefly) came to and end at Thruxton as pole man Steve Powell outgunned his fellow MAN racer from the rolling start to take the first victory of the weekend.
Garrett worked hard to challenge for the lead – but was 0.608s behind at the flag with Craig Reid (posting fastest lap in his Iveco) a strong third. Simon Cole (Mercedes), Brad Smith (Daf) and John Bowler (Foden) completed the top six.
Smith scored his first-ever win in race two – the Daf driver charging from row 3 of the grid up to third on the opening lap. He then picked off Reid and John Powell to move to the front of the pack on lap three.
The hard-charging Cole was up to second with three laps to run – and the Mercedes driver mounted a late challenge, but Brad kept his cool and held on to win by just 0.5 seconds.
Brad's team-mate John Powell joined him on the podium with a fine third place – with Garrett next over the line in fourth (the 'worst' result of the weekend for the consistent MAN driver) – ahead of Steve Powell and Reid.
Garrett made amends early in race three – overhauling Bowler to move up to second spot before getting engaged in an entertaining battle with Adam Bint.
Bint was pushing his Volvo White to the limit through the turns – and at the chicane the American truck was twisting its chassis, picking its wheels about a foot clear of the tarmac as he fended of the championship leader for the first five laps!
Eventually Garrett powered past to take the win, followed home by Cole with Bint holding on for the final podium spot. Reid, Bowler and John Powell completed the top six.
Steve Powell stormed away at the start of race four and was never seriously threatened on his way to his second win of the weekend – finishing some 3.5 seconds clear of the on-form Smith.
Garrett had to work hard for his third place finish – making impressive progress from the back of the pack as he had to carve his way past eight trucks in the nine-lap race. Setting fastest lap he closed to within 0.7s seconds of Smith at the flag, and heads to Donington with a commanding 40-point advantage over his rival.
John Powell, Bowler and Steve Powell fill third to fifth positions respectively.
2018 BTRA British Truck Racing Championship
Points standings after Round 4 (Thruxton)
Division One
1) Ryan Smith (MAN) 250
2) David Jenkins (MAN) 223
3) Jamie Anderson (MAN) 206
4) Simon Reid (Iveco) 184
5) Stuart Oliver (Volvo) 175
6) Luke Taylor (MAN) 133
Division Two
1) Luke Garrett (MAN) 256
2) Brad Smith (DAF) 216
3) John Powell (DAF) 196
4) John Bowler (Foden) 184
5) Steve Powell (MAN) 172
6) Simon Cole (Mercedes) 161
Words & images: Jonathan Reeves
We hope you enjoyed this article! For more news, views and reviews on all aspects of the truck driver's life subscribe today.