Watch top crane operators show off their skills at Convoy in the Park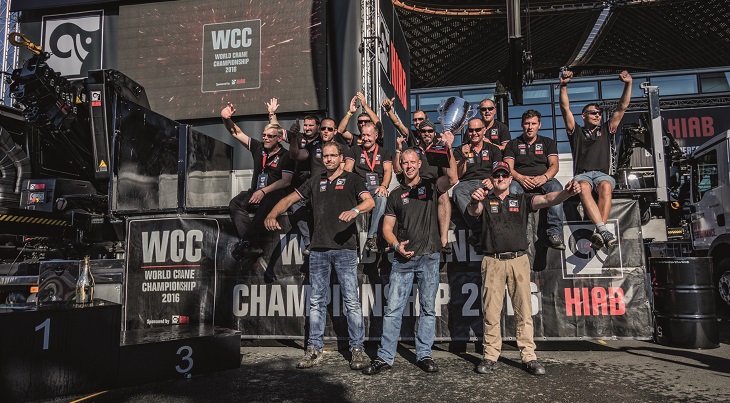 Operating a crane takes no little skill, and visitors to Convoy in the Park on 21-22 July will be able to see the some of the best operators in the country go head-to-head in the UK heat of the World Crane Championships, sponsored by Hiab.
It sounds simple enough: using a Hiab X-HiPro 232 crane, move water cans from a truck around a circuit of obstacles, in the shortest time possible. The operator with the fastest time and fewest faults is crowned the winner.
But, of course, it isn't simple at all. The skills needed to get round the course without making a mistake are considerable, especially when you add in the pressure of an audience watching on. But the entrants in the World Crane Championship (WCC), the unofficial Loader Crane World Championships, sponsored by Hiab, have the skills – and this competition gives them deserved recognition for what they do.
Heats for the WCC are taking place in 16 countries around the world over the spring and summer – the UK and Ireland heat takes place at Convoy in the Park – and the winners will battle it out for the overall title at the IAA Commercial Vehicle Show in Hannover, Germany, on 22-23 September.
This is one of many events taking place at Convoy in the Park. On track, there is a full schedule of racing over the two days, led by round 5 of the British Truck Racing Association Championship. Off-track, there is live music, comedy, kid's activities, more than 1000 show trucks on display and much more!
For more information on Convoy in the Park and to book tickets – advance tickets are still available – go to www.convoyinthepark.com
If you want to book your truck into Convoy in the Park, go to: www.btrc.co/show-truck-entry
We hope you enjoyed this article! For more news, views and reviews on all aspects of the truck driver's life subscribe today.