Convoy in the Park show truck winners announced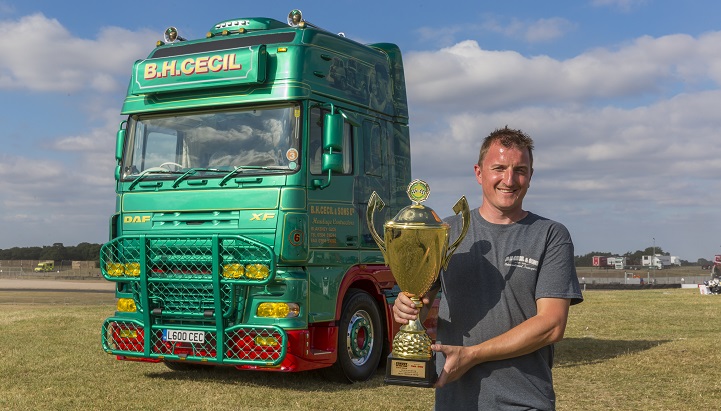 The winners of the 25 show truck categories at Convoy in the Park have been announced, with BH Cecil taking the 'best in show' award.
Convoy in the Park, which took place at Donington Park in Leicestershire last weekend (21-22 July), had more than 1000 trucks attend, from working trucks to heavily customised show trucks, classics to brand new.
In addition to the 25 categories, there was a special 'spirit of the show' award – for the truck and driver judged to epitomise the ethos of the event – which went to Paul Smart and his Scania XT/G450 8×4. Over the course of the year, he is taking the truck to as many truck shows and public events as possible, to raise money for Cancer Research UK. The project, called Reversing for Cancer, aims to raise £250,000 and sponsors can pay to advertise their support, while individuals can have their names, or those of loved ones or friends who have been lost to the disease on the side of the truck.
The winners, runners-up and highly commended were:
Best Owner Operator Truck (Sole Trader)
| Place | Reg | Winner |
| --- | --- | --- |
| H/C | NA15 YMT | MA Fradgley |
| H/C | Y425 OJL | Dominic Easey Transport |
| 3rd | B9 SWO | Sworders |
| 2nd | CV61 LLS | C V Gill |
| 1st | V888 TTS | Treacle's Transport Services |
Best Company Owned Truck
| Place | Reg | Winner |
| --- | --- | --- |
| H/C | TN66 DAF | Graham Poole Transport |
| H/C | AT17 ROW | Rowells Transport |
| H/C | T1 GFS | Griffin Freight Services Ltd |
| 3rd | S40 DKB | DK Barnsley & Sons Ltd |
| 2nd | N111 HFF | P J Lee & Sons |
| 1st | L600 CEC | B H Cecil |
Best Super Truck
| Place | Reg | Winners |
| --- | --- | --- |
| 3rd | T16 WMB | WMB |
| 2nd | L600 CEC | B H Cecil |
| 1st | TN66 DAF | Graham Poole Transport |
Best New Truck
| Place | Reg | Winners |
| --- | --- | --- |
| H/C | AT18 ROW | Rowells Transport |
| H/C | VB17 MAP | MA Ponsonby Ltd |
| H/C | N111 HFF | PJ Lee & Son |
| 3rd | PO18 MUW | Steve Pope & Son |
| 2nd | CS18 MJS | MJS |
| 1st | CV61 LLS | C V Gill |
Best Senior Truck
| Place | Reg | Winners |
| --- | --- | --- |
| H/C | T16 WMB | WMB |
| H/C | DC06 JWC | JW Cantrell Haulage Contractors |
| H/C | 412 MWP | Martin Price Transport |
| H/C | BU14 EZK | In Transit Transport Services Ltd |
| 3rd | B9 SWO | Sworders |
| 2nd | V80 JJT | J Joyce |
| 1st | L600 CEC | B H Cecil |
Best Scania Working Truck
| Place | Reg | Winners |
| --- | --- | --- |
| H/C | T16 WMB | WMB |
| H/C | S730 DEW | Blackpoole Recycling |
| H/C | VB65 MAP | MA Ponsonby Ltd |
| 3rd | PO18 MOV | Fagan & Whalley |
| 2nd | V888 TTS | Treacle's Transport Services Ltd |
| 1st | AT18 ROW | Rowells Transport |
Best Volvo Working truck
| Place | Reg | Winners |
| --- | --- | --- |
| H/C | Y50 HDR | HD Ricketts |
| H/C | B9 SWO | Sworders |
| H/C | Y40 MPL | Motward Ltd |
| 3rd | S40 DKB | D K Barnsley & Sons Ltd |
| 2nd | M11 BTJ | BT Jones & Sons |
| 1st | N111 HFF | P J Lee & Sons |
Best DAF Working Truck
| Place | Reg | Winners |
| --- | --- | --- |
| H/C | B14 BPS | Barry Proctor |
| H/C | D6 HDR | HD Ricketts |
| H/C | DG08 BEY | Doug Gobey Transport |
| 3rd | TN66 DAF | Graham Poole Transport |
| 2nd | CV61 LLS | C V Gill |
| 1st | L600 CEC | B H Cecil |
Best MAN Working Truck
| Place | Reg | Winners |
| --- | --- | --- |
| 3rd | GIG 2005 | Lowfield Haulage |
| 2nd | AL14 KEL | Graham Poole Transport |
| 1st | V8 TGX | Lowfield Haulage |
Best Iveco Working Truck
| Place | Reg | Winners |
| --- | --- | --- |
| 3rd | V2 SDT | Stuart Deeley Transport |
| 2nd | BN14 WUX | B L Trigg Haulage Ltd |
| 1st | R23 SRT | Rogers UK Transport |
Best Renault Working Truck
| Place | Reg | Winners |
| --- | --- | --- |
| 3rd | B19 TST | Tony Starmer Transport |
| 2nd | FG18 HZH | Freelance UK Ltd |
| 1st | LJ16 EGV | Tony Stramer Transport |
Best Mercedes Working Truck
| Place | Reg | Winners |
| --- | --- | --- |
| 3rd | BV16 GJE | In Transit Transport Services |
| 2nd | YJ16 ZPM | Green Grp Logistics Ltd |
| 1st | T1 GFS | Griffin Freight Services |
Best of the Rest Working Truck
| Place | Reg | Winners |
| --- | --- | --- |
| H/C | FP64 NKX | Matlock Transport |
| H/C | FD66 VJK | Matlock Transport |
| H/C | YE16 CNX | Green Group Logistics Ltd |
| 3rd | DG08 BEY | Doug Gobey Transport |
| 2nd | T1 GFS | Griffin Freight Services Ltd |
| 1st | M11 BTJ | BT Jones & Sons Ltd |
Best Recovery Truck
| Place | Reg | Winners |
| --- | --- | --- |
| 3rd | R400 RSR | RS Recovery |
| 2nd | HW13 BGX | Lantern Recovery Specialists |
| 1st | RA17 TWO | Roy's Autos |
Best Specialised Vehicle
| Place | Reg | Winners |
| --- | --- | --- |
| 3rd | Y800 MAP | MA Ponsonby Ltd |
| 2nd | MX56 NBZ | J Joyce |
| 1st | GK16 KTC | Swain |
Best Rigid Truck
| Place | Reg | Winners |
| --- | --- | --- |
| H/C | MX56 NBZ | J Joyce |
| H/C | BU18 YHH | Hinks Haulage |
| H/C | DG08 BEY | Doug Gobey Transport |
| 3rd | MF12 NVT | Calcutt & Son |
| 2nd | NK66 LML | Dowse of Richmond |
| 1st | M11 BTJ | B T Jones |
Best Light Commercial Vehicle up to 7.5 Ton
| Place | Reg | Winners |
| --- | --- | --- |
| H/C | RS66 TEC | RS Recovery |
| H/C | Y1 REY | Reyland Car Sales |
| H/C | RS67 TEC | RS Recovery |
| H/C | GN17 VBO | Nation Assist Ltd |
| 3rd | HO53 SUK | Central Hydraulics |
| 2nd | CX64 YZC | Grangefield Commercials |
| 1st | T666 CWT | CWT Car & Commercial |
Best American Truck
| Place | Reg | Winners |
| --- | --- | --- |
| 3rd | 648 FOX | Fox Owmby |
| 2nd | K4 DOD | KM Commercials |
| 1st | KT54 WZM | Graham Poole |
Best Vintage Truck
| Place | Reg | Winners |
| --- | --- | --- |
| H/C | RNK 148M | L J Brumpton & Son |
| 3rd | GAX 399C | Fred Sherwood |
| 2nd | 648 FOX | Fox Owmby |
| 1st | HMF 766N | M A Ponsonby Ltd |
Best Classic Restored Truck
| Place | Reg | Winners |
| --- | --- | --- |
| H/C | E983 VYB | K C Transport |
| 3rd | E14 TWO | Somerscales |
| 2nd | G355 GBO | L Lloyd Jones & Son |
| 1st | LBS 141R | Charles Russell |
Best Custom Truck
| Place | Reg | Winners |
| --- | --- | --- |
| H/C | Y40 MPL | Motward |
| H/C | B14 BPS | Barry Proctor |
| H/C | BU14 EZK | In Transport Services |
| 3rd | T1 GFS | Griffin Freight |
| 2nd | SL62 XAO | EW Gardner |
| 1st | TN66 DAF | Graham Poole Transport |
Best Semi Custom Truck
| Place | Reg | Winners |
| --- | --- | --- |
| H/C | N80 JJT | J Joyce |
| H/C | S40 DKB | DK Barnsley |
| H/C | GU16 ARD | In Transport Services |
| 3rd | M11 BTJ | BT Jones |
| 2nd | D6 HRD | HD Ricketts |
| 1st | N111 HFF | PJ Lee & Sons |
Best Cab Interior
| Place | Reg | Winners |
| --- | --- | --- |
| 3rd | AL14 KEL | Graham Poole Transport |
| 2nd | GN16 FFY | KC Transport |
| 1st | SL62 XAO | E W Gardner |
Best Small Fleet up to four Trucks
| Place | Winners |
| --- | --- |
| 3rd | Grangefield Commercial |
| 2nd | DK Barnsley |
| 1st | Rowells Transport |
Best Fleet of five or more Trucks
| Place | Winners |
| --- | --- |
| 3rd | Barry Proctor |
| 2nd | HD Ricketts |
| 1st | MA Ponsonby |