Renault Trucks pre-owned vehicle programme, will be making its Convoy in the Park debut!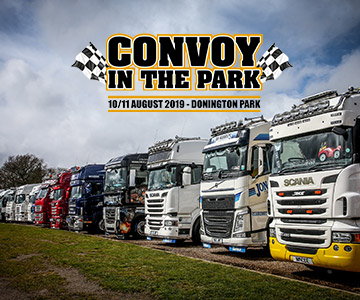 Used Trucks by Renault Trucks, the French manufacturer's recently launched pre-owned vehicle programme, will be making its Convoy in the Park debut at Donington Park this weekend, along with other brand highlights.
Renault Trucks will be showcasing two Range T460 6×2 tractor units in Convoy in the Park's Used Trucks at this weekend's, both available for immediate purchase.
Peter Tye, Used Trucks director, said: "The showing will be similar to what we did at Truck Fest in Peterborough, but on a smaller scale. The deals on offer will be normal Renault deals, but the main aim is to increase brand awareness.
"We'd like to have a go at persuading people away from other brands, as we believe we have a great range of products."
Alongside this, Renault Trucks' main stand will feature the limited-edition T520 High Sport 6×2 Pusher which features the Renault Sport F1 Team's Sirius yellow paint scheme.
Powered by a 13-litre DTi engine and 12-speed automated transmission, only ten right-hand drive variants were made for the UK market, so getting up close up to one will be a treat! Further to this, MTHL Racing's Renault Premium truck will also be on show, piloted by Graham Powell.
Renault Trucks will show-off another special guest, the ruby red special-edition T520 High, marking 40 years of the brand's presence in the UK.
A Range C430 tridem tipper with a PPG insulated aluminium aggregate body will be on display which, Renault Trucks claims, is a vehicle suited to "operators looking for the manoeuvrability of a six-wheeler with the load capacity of an eight wheeler", due to having a factory-fitted third rear axle.
Customer vehicles will also feature courtesy of East Midlands dealer, RH Commercial Vehicles, which will be displaying Jon Waddoups's and W. Coy & Son's Range T Highs of which one is a 6×2 tractor with mini midlift axle.
The company will be continuing to promote the '#proudprofessionals' campaign at Donington. Started in 2017, it aims to promote the work of individuals within the brand. Over the weekend there will be a competition to win Renault Trucks 'Drivers are Heroes' merchandise through this initiative.
We hope you enjoyed this article! For more news, views and reviews on all aspects of the truck driver's life subscribe today.