Old-school driver and long-time Truck & Driver reader John Newman (1928-2019) hitched a final ride to Westerleigh Crematorium near Bristol on the oldest working Foden in the UK – a Gardner-powered FG operated by Classic Foden Lorry Funerals of Bridgend, South Wales.
Arranged by John's son Gerard and grandsons Steve and Tom, the Foden is a fitting mode of transport since he spent a great deal of his working life driving a Gardner-powered S20 eight-legger for Gloucestershire County Council.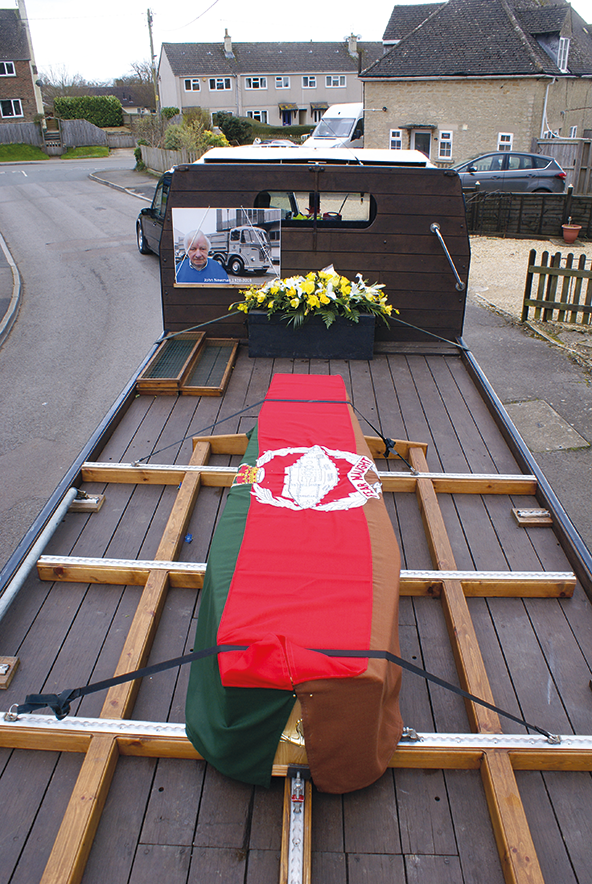 John began his driving career when he joined the 8th Royal Tank Regiment for his stint of National Service. He trained up to drive tank transporters in Egypt, Palestine and Germany during the late 1940s/early 1950s.
On leaving the army he joined Leslie Rimes Ltd of Tetbury (later Tetbury Mills Ltd), handballing sacks of grain and delivering them on a flatbed lorry. He then joined Gloucestershire Council, driving a Leyland Comet four-wheel tipper before being given his S20, a lorry of which he was immensely proud.
His council career also saw him out at all hours snowploughing and gritting every winter. During the latter stage of his career, he was given the job of driving the white-liner truck around Gloucestershire. When he finally retired from the council, he was snapped up by the local Lotus Garage to deliver expensive performance cars up and down the country.
As an old soldier, his coffin was covered with the drape of the Royal Tank Regiment, and the Royal British Legion provided a standard-bearer and a bugler to play The Last Post.
The family offers many thanks to those organisations.
A true career driver, expert roper and sheeter and a real Knight of the Road has travelled his final miles in style.
Contact Classic Foden Lorry Funerals on 01656 863950 or 07889 621083 or check out classicfoden lorryfunerals.co.uk.
The family would like to offer its thanks for the company's excellent service.
We hope you enjoyed this article! For more news, views and reviews on all aspects of the truck driver's life subscribe today.