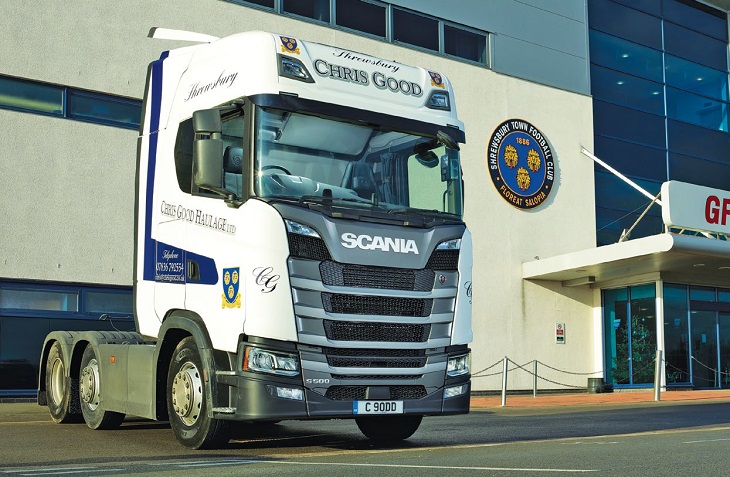 Shrewsbury-based haulier Chris Good is the lucky man to put the first new Scania S-series, an S500, on English roads. We go to Shropshire to see him and his new steed.
Words: Pip Dunn / Images: Tom Cunningham
There's always interest when the first of a new truck model goes on the road. Not facelifted, or a model with a new engine, but an all-new truck – and one with a new cab. The accolade for having the first Scania S-series, flat-floor Highline on the road goes to Chris Good, who runs his small two-truck outfit from his base in Shrewsbury, Shropshire.
As with any new truck, inevitably there's always a delay in the vehicle actually getting to the operator; T&D's visit has already been pushed back several times throughout November. But eventually, after going to Immingham to collect the S500 himself, Chris has managed to get the truck 'stickered up' in his simple but effective livery and road legal just in time for our early-December deadline.
Going it alone
Chris, 52, passed his HGV Class 1 way back when he was 18, having secured dispensation via the Young Driver Scheme to take the test three years ahead of the usual 21-year-old requirement. Since then he's done all manner of driving, including a spell as a European coach driver and a stint as a transport manager.
Six years ago he bought a small two-truck firm from a friend and set about creating Chris Good Haulage. "I bought-out a company that had a Volvo FH and FM employed on general haulage. The owner said he couldn't make it pay, but he was doing too much empty running – working out of Shrewsbury on traffic that was originated in Middlewich. Getting his drivers home every night meant he was making a loss. I knew I could make it work, by overnighting.
"I sold the FH before I took over the firm and shortly afterwards I part-exchanged the FM for a 54-plate Scania R470. It was an ex-Widdowson's Topline that had done 515,000km. But it served me well; in fact, I've only just sold it – with 1.2 million km on the clock.
"Work overtook me, so I bought an ex-Maritime 06-plate Scania R470 Topline in 2010 and six months later bought an 08-plate R480 Topline."
Chris then traded-in the 06 truck for an R580 V8 Topline on 1 August 2014, and that is the truck he drives today. The firm also owns its four trailers – two Fruehaufs and two SDCs, all tri-axle curtainsiders.
He's just traded in the R480 and the original R470 for the S500. "Dropping back down to two trucks leaves me with enough cashflow to return to three when I want to. The problem is not the work; it's getting a good enough driver for a third truck. If I can find a good third driver then I'll get another truck." This, he hints, might be a New Generation R480.
Not calling rank
Despite being on the road himself, Chris isn't going to call rank and take the S500 for himself. It's now under the charge of 50-year-old Tom Gould, an ex-Stobart driver and the lucky man who will be spending the next few weeks being delayed at truckstops while other drivers ask to have a look at the new motor!
CGH does general UK haulage, nothing fancy, just bog-standard Tautliner work, tramping the length and breadth of the country.
"Tom and I are out all week in our trucks. I'll usually leave on a Sunday and be back home on a Friday night. Saturday morning I'll be in the yard doing maintenance and cleaning the trucks or trailers, leaving me free in the afternoon to watch the football and have a pint or two. Sundays is admin and book-keeping day.
"I don't really like Monday morning starts. I'd rather go out on a Sunday night and get cracking," he says. Not being married or having kids helps him in that respect!
Understandably, loads vary. "One of the more unusual things we shift is scrap cars for the MoD bomb squad. We collect them in Telford and take them to nearby Nesscliffe Camp, where they are used for training and bomb-disposal practice. Then a few weeks later we collect the wrecks and take them back for final scrapping."
Chris says while he is brand loyal to Scania, he hints that that could change. "They are expensive, so I might look at a rental MAN for a third truck. But, then, I wouldn't be driving it! No one builds a bad truck but I live in mine five days a week and, in that respect, I don't think you can beat a Scania!"
Was he not tempted by an S730, or at least a V8 S-series? "To have a V8 you need the right driver. There's also a weight penalty of about 400kg. I think 500hp is just fine for my work."
Chris is a local Shrewsbury lad and, despite being a Crystal Palace fan, sponsors players at his local football club. Indeed, we take the truck to the new Greenhous Meadow stadium for a few pictures before heading along the M54 to the nearby services for a coffee. This gives me the chance to take over – and the S-series really is lovely to drive. It's like an executive car; quiet and effortless and a sheer joy to be behind the wheel.
All boxes ticked
"It ticks all the boxes," says Chris. "It really is like a car to drive. It's got that 'wow' factor, which is why I went for the S-cab. Lots of the option boxes are ticked, such as a fridge/freezer – which is a must – mood lights, a better stereo and a good satnav. I spoke to the dealer, we went through what I'd like and then got a price to match. It's got all the stuff a driver would want to make him want to be a driver!"
Chris paid "about £115,000" for the 6×2 pusher-axle Scania, which includes a full three-year repair and maintenance package, "which has to be worth about £15,000", he adds. "I don't have to worry about paying for MoTs, inspections and the like. I'll most likely keep it for three years and then decide on whether to trade it in for an upgrade or keep it going.
"I should get a 28.5-tonne payload on it, which is fine for my work. I've specced it with the biggest fuel tanks so the driver is not spending time having to fill up too often. It's SCR only, which means I have fitted a bigger 320-litre second tank to give me a total of 860 litres."
Chris's trucks cover about 120,000km a year as they are not double-shifted. He gets most of his work through a loyal customer base, but if it is quiet he can get work through freight forwarder Barronwood.
"Having a company of just two or three trucks means I can manage the fleet and drivers as well as driving myself. I still enjoy being at the wheel. "The next step would be for more trucks and for me to move into the office but I like driving so much, I'm fighting against that! But we are never scrabbling for work, which is great; it's just getting good drivers that's an issue. I recruit mainly through word of mouth. I've advertised before, but you don't really get good drivers that way.
"My drivers earn a good wage," Chris adds. "They take home over £600 a week. I want them to keep earning well but to keep the wheels turning. They are paid by the hour.
"I don't have an office; I do all my work from home and just rent space in the yard. The next step would be to buy some premises and I'd like to get into storage as well as haulage – I think that is the way to go."
Enjoying the road
Chris isn't a fan of truckstops because of the noise but, likewise, layby parking has its own issues. "I've had the odd curtain slashed, sometimes even when the back doors are open!
"I enjoy going to work; every day is different, and we cover Scotland to Cornwall. When I started there were many Southampton to Glasgow runs hauling flour, now it's a bit more varied. We go to Elgin, Cromarty… all over. I love the A9. I'm as happy as a sand boy on that road!
"If you're not enjoying it then it's time to stop. Sure, we all have bad days, and times of doubt, but I enjoy challenges. I prepare for the worst and hope for the best."
The S500 was supplied by West Pennine Trucks of Oswestry, which does all the maintenance. When T&D caught up with the truck, the only mileage was that clocked up from its collection at Immingham two days earlier, and our trip out was one of the first with a trailer.
So it's too early to know if the truck has any quirks or irritations, but there are few signs to suggest there will be. It's also too early to talk about fuel consumption, but our run averaged out at 11.6mpg, albeit with an empty trailer.
New Generation
Scanias will soon be a common sight on the UK's roads, but there is still something special about being the first. When we stop at the services and lock the truck, we can see other drivers – understandably – looking longingly at the machine. "When I brought it back from Immingham, I stopped on the way and when I came back there were nine people looking at it!" laughs Chris.
Chris Good knows there are cheaper trucks on the market but he loves Scanias and he loves his job, his career and his life, which is good to see. We also know from our early drives of the new Swedes that drivers will love them.
This feature first appeared in the February 2017 issue of Truck & Driver. For information on how to subscribe, click here
We hope you enjoyed this article! For more news, views and reviews on all aspects of the truck driver's life subscribe today.