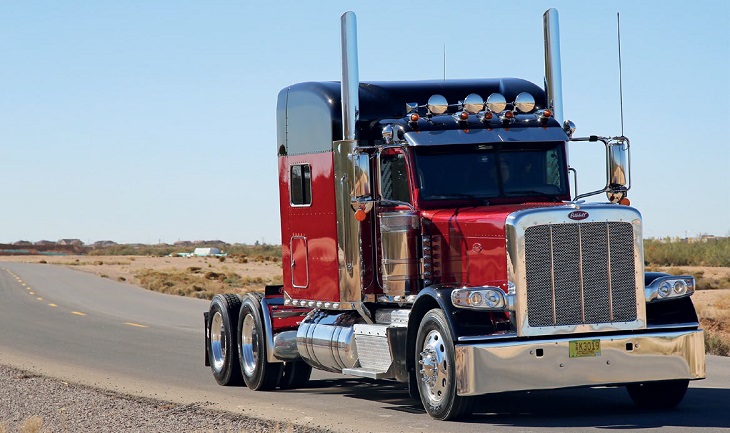 Our very own Rubber Duck puts the hammer down in a 2017 Peterbilt 389 and searches 'cross the U S of A for the film locations used in the popular 1978 movie.
Words: Will Shiers
Was the dark of the moon on the sixth of June, in a Kenworth pullin' logs.
Well, actually, that's not strictly accurate. Yes, it is dark as I pull out of Las Cruces, New Mexico, on an homage to the classic 1978 trucking movie Convoy, but it is late November and instead of a '70s K-Whopper I am behind the wheel of a 2017 Peterbilt 389. I do, however, have C W McCall's classic song, on which the film was based, blaring out of the truck's stereo at max volume. It needs to be loud in order to drown out the sound of me struggling with the 18-speed manual Fuller gearbox.
Sam Peckinpah's Convoy was voted by T&D readers as the greatest trucking movie ever made. It proved popular with the general public too, grossing $45 million Stateside, and also did well in the UK. Not only did it do wonders for CB sales in Blighty but it proved to be a fantastic driver recruitment tool too.
An entire generation of British school kids, myself included, decided there and then that we wanted to be just like Rubber Duck. Somehow it didn't occur to us that moving baked beans up the M1 in a Ford D Series might not be as exhilarating as hauling explosives through America's south-west behind a Mack. Well, for two days only I am living the dream – as I go in search of some of Convoy's filming locations.
In the movie, Martin 'Rubber Duck' Penwald drives a 1977 Mack RS712LST (although several other Mack RS700L-series trucks were used as doubles and stationary props). However, these days the Mack bulldog is more commonly seen on the front of dump trucks and garbage trucks than long-haul tractors (the exception being the new Pinnacle model).
So instead I've managed to borrow a true American classic – a Peterbilt 389. The truck is a 2017 model and, together with stunning custom paint job, cost its owner well in excess of $160,000. Driving a 389 (and the 379 it replaced) has been on my bucket list for a long time, so this really is a treat.
First sight of Melissa
My first stop is the White Sands National Monument, 275 square miles of beautiful white gypsum dunes, about two hours north-east of Las Cruces. This is the exact spot where the movie's opening scene was filmed, where Rubber Duck (Kris Kristofferson) first sees Melissa (Ali McGraw) in her Jaguar E-Type.
I can't wait to drive down that same stretch of road in the Pete… but unfortunately it is not to be. Not only am I told that I should have applied for a filming/photography permit, the national park warden – who bears more than a passing resemblance to Sheriff 'Dirty Lyle' Wallace (Ernest Borgnine) – tells me I'm a security risk too. Bizarrely, he seems to think that me driving a truck through the desert is some sort of terrorist threat! So instead, much to the amusement of the surprised onlookers, I photograph and film a 1:50-scale model truck.
From here I head north-west for 270 miles to the town of Algodones, my next filming location. The journey takes me on Interstate 25 and the Peterbilt is more than happy to sit at a legal 75mph throughout.
Cummins and goings
Pig Pen, this here's the Rubber Duck, and I'm about to put the hammer down.
Instead of Paccar's MX engine, the truck has been specified with a 550hp Cummins ISX. Rubber Duck's Mack probably had a Cummins under the hood too, but real American truck fans will tell you that in some of the scenes it sounds suspiciously like a Caterpillar, Detroit Diesel, even a Chevy small block. This is just one of many inconsistencies in the movie.
The address I've put into the satnav is for Raphael's Silver Cloud Roadhouse, which is where the famous fight scene took place.
One of the criticisms of Convoy is that it doesn't really know what genre of film it is. While director Sam Peckinpah was apparently trying to make a serious modern-day Western, with truck drivers fighting against crooked lawmen and unfair regulations, the bar-room brawl (which took 10 days to film) looks like it should be a scene from Smokey and the Bandit or Cannonball Run instead.
The satnav finally tells me I've reached my destination but I'm surrounded by vacant plots. A sheriff from a nearby Native American reservation pulls over to find out why I'm parked-up at the side of the highway and to admire the Peterbilt. I ask him about Raphael's, and he tells me it was razed to the ground a couple of years back.
Having destroyed the cops' cars, from here Rubber Duck, Pig Pen/Love Machine (Burt Young), Spider Mike (Franklyn Ajaye) and a handful of other truckers make a run for it.
Callin' all trucks, this here's the Duck. We about to go a-huntin' bear.
Everything's going well until they reach the town of Bernalillo, which is where I'm heading to next. It's here where Widow Woman (Madge Sinclair) overturns her Brockway while making a hard left on a four-way intersection. Goddamn piece of white junk, I knew I should have bought myself a black truck. Apparently this is a genuine accident but looked so good on camera it was written into the script.
A dirt track
Bernalillo has expanded in the past 40 years and looks nothing like it did then, but with the help of an elderly local man (who recognises the Circle K store in a still from the movie I show him), I am able to locate the exact intersection.
Shortly after the crash, the convoy uses 'an old back way into New Mexico'. In reality they're already in New Mexico, as almost the entire movie is shot in the state. After a great deal of on-line research I've discovered that this track was Waldo Canyon Road and it's just 30 minutes from here.
On the drive there I listen to Kris Kristofferson, who is, in my humble opinion, the greatest living country singer/songwriter. Convoy's filming was actually halted for several weeks while he left the set for a concert tour.
Waldo Canyon Road is still a dirt track, and I gingerly venture onto it, making sure I don't chip the truck's paintwork. As the convoy supposedly headed south for the Mexican border (in actual fact it simply criss-crossed the state), the local residents lined the streets to show their support.
One of the most famous of these locations is the historic town of Las Vegas, New Mexico (not to be confused with the other one in Nevada), where the local brass band is playing. As the convoy circles the town square you can clearly see the historic Plaza Hotel, and that's where I'm staying tonight.
Las Vegas, New Mexico might have a distinct lack of casinos and strip bars but it's a really cool town nonetheless. Over the past century well over 100 films have been shot here, including Easy Rider, Red Dawn and Wyatt Earp. In fact, as I check in I discover that this very hotel features in No Country for Old Men.
A friend of Fritts
Over a few beers in the hotel bar I get chatting to a Vietnam vet, who is amazed that I would travel all the way here and asks whether I've ended up in the wrong Las Vegas by mistake. Apparently, every year plenty of holidaymakers do just that, despite the two towns being about 1000 miles apart.
When I tell him that I'm a fan of the movie Convoy he casually announces that he is good friends with Donnie Fritts. Not only has legendary musician Fritts been Kristofferson's keyboard player for the past 40 years but he actually had a part in Convoy, playing the reverend in the 'long-haired friends of Jesus' bus.
It's a small world but unfortunately not small enough, as Donnie Fritts lives a few thousand miles away on the Gulf Coast.
Eleven long-haired friends a' Jesus in a chartreuse micro-bus.
I check out the following morning to discover that my hotel clerk also appeared in Convoy – or at least her pickup truck did. She tells me that during the making of the movie, they were crying out for extras, so her and her older sister headed out of town to a location where they knew filming was taking place. It turned out to be the famous scene where the police try to stop the convoy with a roadblock.
But there's a roadblock up on the cloverleaf, and them bears was wall-to-wall. Yeah, them smokies is thick as bugs on a bumper; they even had a bear in the air!
Everything is going well until the moment when Rubber Duck informs the 'bear in the air' that he's carrying explosives! Suddenly it's a mad rush to get the cop cars off the road.
"Although I don't make it into the scene, you can see my old Chevy parked on the grass," she tells me. I think I find the exact spot, but I can't be sure.
Busted-up Estancia
From here I head west to Estancia, which is best described as looking a bit tired. Apparently, back in the 18th century this Spanish settlement was totally destroyed by Native Americans. In 1978 it was destroyed again, this time by 10 big rigs, which busted up the place in order to free Spider Mike from jail.
You could tell by the smell it was truckers' hell, and the devil was Dirty Lyle.
Parts of the town look like they've never been rebuilt after either attack. This scene is near the end of the film, and unfortunately it's almost the end of my trip too. While I'd love to take the Peterbilt over the bridge (which was supposed to take the trucks across the border into Mexico and safety) where the famous explosion scene was filmed, unfortunately it's impossible. Not only was it filmed in Needles, California, some 600 miles west of here, but shortly after Convoy was made it was pulled down and replaced by a new bridge.
They'd brought up some reinforcements from the Illinois National Guard. There's armored cars, and tanks, and Jeeps, and rigs of ev'ry size.
Ironically, the M42 40mm selfpropelled anti-aircraft gun that helps to destroy the Mack (which, incidentally, had to be pushed across the bridge by a bulldozer as it had just broken down) was used in the Vietnam War for truck convoy protection duty!
Albuquerque funeral scene
My final destination is the New Mexico State Fair Grounds in Albuquerque, which is where the climactic funeral scene was filmed.
You ever seen a duck that couldn't swim? Quack, quack!
Some 3000 extras joined the cast and crew for this one, but 30 years later there's nobody around and nothing much to photograph, either. It's time to reluctantly hand back the Pete's keys and head for the airport.
A classic year
The year 1978 was a true classic in terms of cinematic history, with the likes of Grease, Superman and Jaws 2 topping the box office charts. It's interesting to note that quite a number of films from that year have since been remade, including Dawn of the Dead, Lord of the Rings and Superman.
Personally, I reckon it's about time Convoy is remade too. And this time, instead of a Mack I reckon Rubber Duck needs to be behind the wheel of a Peterbilt 389.
We gonna roll this truckin' convoy 'cross the U-S-A. Convoy! Convoy! Convoy! Convoy!
Truck & Driver would like to thank Rush Truck Centre, Las Cruces, New Mexico, for sourcing and loaning us such a fantastic truck.
Words and images: Will Shiers/Rex
Convoy – where are they now?
Sam Peckinpah (director): Peckinpah, whose films include The Wild Bunch and Getaway, died of a heart attack in 1984 at the age of 59. He was seriously ill in his final years, the result of a lifetime of hard living catching up with him.
Kris Kristofferson (Rubber Duck): In addition to being an actor, 80-year-old Kris Kristofferson is one of the greatest songwriters of all time, his songs having been covered by artists such as Johnny Cash, Elvis Presley, Janis Joplin and Willie Nelson. He is also a solo artist, and his last album – The Cedar Creek Sessions – was nominated a Grammy in 2016.
Ali McGraw (Melissa): Actress Ali McGraw, aged 77, is alive and well and living in Tesuque, New Mexico (just an hour from where I stayed in Las Vegas).
Ernest Borgnine (Sheriff 'Dirty Lyle' Wallace): Legendary and prolific actor Ernest Borgnine was still working until his death in 2012, aged 95. He famously put his long life down to frequent masturbation!
Burt Young (Pig Pen): Burt Young is best known for his role as Sylvester Stallone's character's brother-in-law and best friend Paulie Pennino in the Rocky film series. Aged 76, he is still acting.
Franklyn Ajaye (Spider Mike): Stand-up comedian and actor Franklyn Ajaye, aged 67, is still performing.
Madge Sinclair (Widow Woman): Jamaican actress Madge Sinclair's last role was as Sarabi, Simba's mother, in Disney's The Lion King. She died of leukaemia in 1995.
C W McCall: Singer, activist and politician C W McCall, whose real name is Bill Fries, is now 88 years old.
The Mack: We are told that the original 1977 Mack and tanker trailer are owned by a museum in St Louis, Missouri.
Five Convoy facts
1 The duck on the hood of Rubber Duck's Mack was later used in Quentin Tarantino's 2007 film Death Proof as the hood ornament on 'Stuntman' Mike's hotrod.
2 Sam Peckinpah allowed actor James Coburn to work on the movie, and rumour has it that Coburn actually directed some scenes when Peckinpah was 'unwell'.
3 Both Steve McQueen and Burt Reynolds were offered the chance to play Rubber Duck but both
turned it down.
4 The name of the company on the door of Burt Young's truck is Paulie Hauling. Paulie is the name of Young's popular character in the film Rocky.
5 C W McCall, who reached number 1 on both Billboard pop and country charts with the song Convoy, was elected mayor of Ouray, Colorado in November 1985.
This feature first appeared in the April 2017 issue of Truck & Driver. To subscribe, click here
Convoy in the Park is a new festival celebrating everything to do with trucks and drivers, taking place at Donington Park on July 22-23. For more information on that, including how to buy tickets, click here
We hope you enjoyed this article! For more news, views and reviews on all aspects of the truck driver's life subscribe today.