Editor's Choice – Irish ayes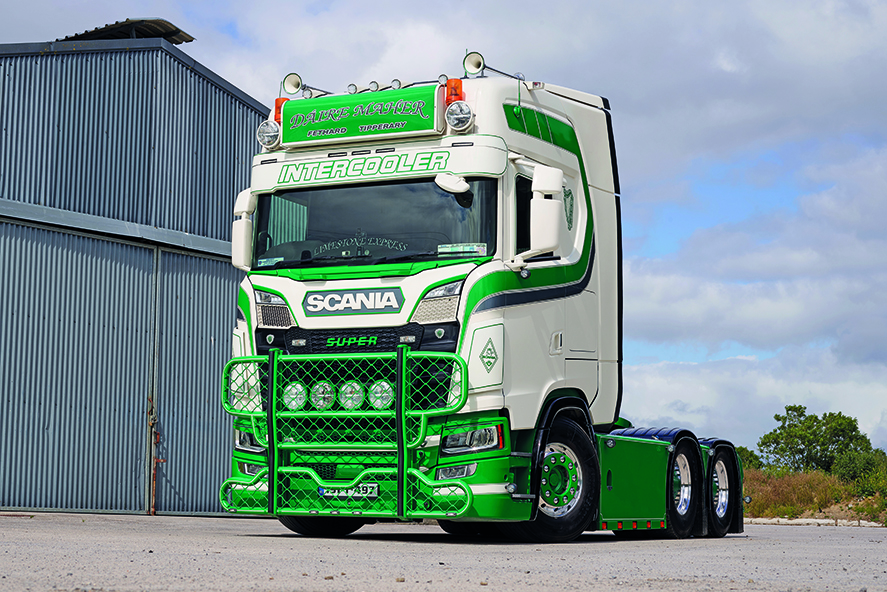 Irish owner-operator Daire Maher loves his trucks – his prizewinning Scania S650 is outstanding – but he makes sure he gets the balance right between work and home life.
Words: Dan Parton
Images: Tom Cunningham
When Daire Maher took delivery of a new Scania S650 earlier this year, he wanted it to stand out from the crowd. Now that's not an easy task when you consider the enthusiastic truck scene in Ireland and the number of customised trucks on the roads. But he knew how he could do it – going Dutch.
"When I got the lorry in mid-January, from Delaney Commercials, my intention was to do it up," he says. "I have always had a white and green livery but I wanted to go for the Dutch look. I looked at a lot of different lorries and had a fair idea of how I wanted it to look.
"I sent it up to truck fabricator Peter Hastings of P2 Stainless and he did all the work on the lorry for me. It has a Dutch headboard and full catwalk. I went all out with this as the Scania is my only lorry."
Daire was even convinced to go for a bull-bar. "I've never been a fan of bull-bars on lorries but because of the squareness of the Next Gen cab I thought it would take a bull-bar better."
Dutch and Irish
He has always been a fan of the Dutch style. "I like the clean lines and the way the Dutch paint their lorries. The simple, straight lines look fantastic. "Peter is into the Dutch look himself and he understood exactly where I wanted to go. I gave him the idea and he went with it and brought it to life. We played around with different styles and I sent him pictures. "The lorry stands out – I think it is the first Next Gen in Ireland to have the full Dutch look. It is still an Irish lorry, with the colours [white and green] and the harp – I always have a harp on the side of my lorries and I was very keen to keep that. My name is displayed on the truck in Irish – Darragh is spelt Daire in Irish – and I was keen to keep that going. The lorry turned out exactly the way I wanted it to, I'm really happy. She is rated up to 80 tonnes as I do low-loader work, so it is functional as well, it does exactly what I want it to do."
It took some time for Daire to get used to the Next Generation Scania. "When the Next Generation first came out, I wasn't sold on it initially but they have grown on me." Daire has been impressed with how the Scania drives since it went on the road earlier this year.
"The lorry stands out – I think it is the first Next Gen in Ireland to have the full Dutch look"
"The power is unbelievable, it really can pull," he says. "It is also the best lorry I've owned for comfort but what really stands out is its fuel consumption. "I can get 8.5-9.0mpg up and down to Dublin – with my old 560 I used to get 6.5-7.5mpg. Considering I run mostly at 46 tonnes gross, on a mix of motorways and off-road, I think it is really impressive."
Tipperary Truck Show
As well as attending shows, Daire is heavily involved in organising one – the rapidly growing Tipperary Truck Show. What started as a local county agricultural show in 2010 has grown to become a large truck and agricultural show, thanks in part to Daire and his friends.
"Back in 2013 I was a helper at the show and when they had their annual general meeting later in the year, they were looking for new ideas to bring the show forward and to get more people in," he explains. "Paddy Graham and I came up with the idea of having a truck show. Philip Ryan then came on board and the three of us started the Tipperary Truck Show.
"We started in 2014 with 150 lorries and this year we had 650. It is a nice show, very relaxed. We give out a few prizes, we have a DJ, a barbecue. It costs £30 to get in with a passenger and you don't have to pay to enter the show categories.
"But what really sells that show is the variety, there is something there for everyone. It is an agricultural show – there is livestock, a horse show, show jumping, tractor pulling, a country music show, a dog show, stunt riders, kids' entertainment and bouncy castles. It's £15 a person and under-16s are free. You can bring your wife and kids and they will have a proper good weekend. On the Sunday of that show there were 15,000 people; when we started in 2010 there was maybe 1000-1200."
But it isn't just about putting on a great show, it is also about raising a huge amount of money for local charities. "No one is making money out of it. We have given nearly £200,000 to local charities, local hospitals, special-needs schools, the ambulance service," he says modestly.
Of course, putting on a show like this is a lot of work, but Daire doesn't mind. "It is a break from the norm," he laughs. "The work gets heavy just before the show but we get a lot done beforehand. The week before we will be down the field putting the security fencing in and getting everything laid out. But it isn't just us – it is a super community effort.
"It is great to be involved with the show. A lot of people go through life and complain, 'oh, we don't have this in our town or village' but they don't do anything about it or get involved in anything local. It is a way of getting to know people as well. There is a whole social scene; the number of lads I have befriended through that truck show is unreal."
No show-pony
But while the truck looks good, it is by no means a show-pony. Daire's truck spends most of its days going in and out of quarries. The bulk of his work is with Roadstone, hauling limestone around the south of the Republic of Ireland. He also does low-loader work. "I've done 90,000km in seven months, so she hasn't been idle," says Daire. Despite his working conditions, Daire does keep the truck in as good a condition as possible. "I rinse the truck off every day but wash it properly when I can. In the summer months it gets dusty, in winter it is mucky – but that's the nature of the beast and I'm used to it."
Of course, the truck gets a special clean when he takes it to shows, and the truck has won a lot of attention – and prizes – this year. Arguably the biggest was winning Best New Tractor Unit at Full of the Pipe at Punchestown. "I've won four trophies now with her," he says proudly.
In the blood
For Daire, the Tipperary Truck Showis his hobby – and, like many truck drivers, his hobby is linked in with his job. As he says, truck driving is a way of life. Truck driving is in his blood too – and all he wanted to do when he was a child.
"Our family has had lorries since the 1940s. My great-grandfather, who was a builder, had a lorry; he would have been one of the first in the area to have owned one," he says.
"My father was a carpenter by trade and civil enginee contractor but always ran lorries. My uncle, Bill, has been running lorries to the Continent for the last 43 years, and another uncle, Gerry, was a driver too. I started working on the roads with my dad when I was very young. Like everyone else in Ireland, I was driving as soon as I could. On summer holidays, aged about 11-12, I went to work with him on the roads doing street work."
Hino tippers
When Daire got his truck licence, he drove Hino tippers with his dad for Roadstone. Once he had his artic qualification he drove a low-loader shifting gear for his dad and others. But at 23 he struck out and bought his own truck, a Scania 144. Initially, he did some Continental work pulling a fridge for his uncle and also drove artic tippers for Roadstone. When the recession came to
Ireland in 2008, he did a lot of his own low-loader work to the UK and pulled fridges to the Continent for his uncle.
"Since 2012 I've been doing bulk tank work full-time for Roadstone. I still do a few trips a year out to the Continent – more for a break from the normal job than anything else. I enjoy the Continent work but it's not for everyone. I could probably do it full-time if I wasn't married with kids." Daire enjoys his work for Roadstone. "It's a good company to work for. Consistency in your
work is everything."
Happy on his own
Daire has been an owner-driver since 2004 and is happy to remain as one rather than build up a fleet. "I like the driving too much," he says. "And, as much as I like the driving, I also like the switch-off time as well. My father had 30-40 people working for him and it was time-consuming. I just don't want the hassle."
For Daire, work-life balance is important as he and wife Marcella have three young boys – Charlie, nine, Ben, seven and Louis, two – and wants to be around for them.
"My first deliveries, to quarries in the Dublin area, are early in the morning so I get out and on the road before the traffic gets too busy. But I am still back in time to take the kids to hurling training and I get to see most of their matches. I'm around when I need to be around. When you work for yourself you can be flexible."
Daire adds that time away from his truck and the business is good for him. "I love my lorries but you have to have a life outside of it because this job can consume you. It is a way of life for us all, but you have to be able to step back from it. "I feel that if I had more lorries I wouldn't be able to take that step back when I want to.
Not on a Sunday
"If the family are happy, you'll be happy. Sometimes I might not see them for a couple of days but at weekends we are all at home – very rarely do I have to go out to work on a Sunday." That said, his boys are already "truck mad", despite their tender age. "With health and safety they can't come along with me but they like going in the lorry and to the shows. But they are also big into their sports as well and I like that – it's healthy to get out. Marcella looks after the admin side of things as well as looking after the boys."
We hope you enjoyed this article! For more news, views and reviews on all aspects of the truck driver's life subscribe today.