10 bridges you should drive across before you die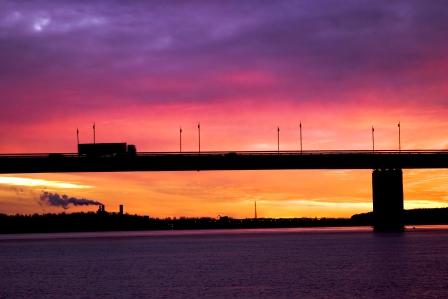 Image: Shutterstock
There is something about a good bridge that stirs the emotions, whether these be wonder, excitement or even fear. But obviously some are more exciting than others.
And with that in mind, here's a list of the Top 10 bridges that everyone needs to cross before they die.
I stress that these are just my own personal opinion, and please feel free to throw in suggestions and tell me which ones you think I should have included.
Click below for the Top 10 Bridges
1. CIFTON SUSPENSION BRIDGE
The UK has some pretty amazing bridges, including the Humber Suspension Bridge, the Forth Bridge, Runcorn's Silver Jubilee Bridge, the Queen Elizabeth II Bridge, the Tyne Bridge and of course London's Tower Bridge, but surely the most impressive of all has to be the Clifton Suspension Bridge.
This beautiful structure, which spans the Avon Gorge, is the brainchild of Isambard Kingdom Brunel (although it was actually completed in 1864, five years after his death). Not only is this the oldest bridge in our list, but thanks to a few false starts, it took the longest time to build.
Unfortunately it's got a 4-tonne weight limit, so you aren't going to be crossing this one in a truck.
CLIFTON FACT FILE
Designer: Isambard Kingdom Brunel
Year completed: 1864
Cost of building: £100,000
Time to build: 33 years
Height (deck level above water): 76m
Total length: 414m
Width: 6.1m
Longest span: 214m
Design: Suspension
Crosses: River Avon
Deaths in construction: 2
2. BROOKLYN BRIDGE
Image: Shutterstock
The Brooklyn Bridge is one of the oldest suspension bridges in the US, and definitely one of the most instantly recognisable bridges in the world. It's an iconic part of the New York skyline, and is a must-see for anyone visiting the Big Apple.
Although it accommodates six lanes of traffic, the bridge is weak by modern standards, and trucks are banned these days.
Is this the only place on earth where an aeroplane can fly over a pedestrian who is walking over a car that is driving over a boat that is sailing over a train (the subway runs under the East River)?
BROOKLYN FACT FILE
Designer: John Augustus Roebling
Year completed: 1883
Cost of building: $15.5m
Time to build: 13 years
Height (deck level above water): 41m
Total length: 1825m
Width: 26m
Longest span: 486.3m
Design: Suspension/Cable-stay
Crosses: East River
Deaths in construction: 27
3. BIXBY CREEK ARCH BRIDGE
California has more than its fair share of impressive bridges. In fact I almost dropped this one in favour of the Oakland Bay Bridge (the double-deck bridge that partially collapsed in the 1989 earthquake).
But instead my second Californian bridge is this – the Bixby Creek Arch Bridge. It's not the longest, highest, widest or even the prettiest, but its stunning coastal location makes it a must-drive bridge. The Bixby Bridge is on Highway 1, and takes the Pacific Coast Highway over the Big Sur. This road takes in some amazing scenery, and is a huge hit with tourists. As a result it's one of the most photographed features in the west coast.
BIXBY FACT FILE
Designer: FW Panhorst
Year completed: 1932
Cost of building: $199,861
Time to build: 14 months
Height (deck level above water): 85m
Total length: 218m
Width: 7m
Longest span: 98m
Design: reinforced concrete open-spandrel arch bridge
Crosses: Bixby Creek
Deaths in construction: Unknown
4. GLEN CANYON BRIDGE
Until 1959, when the Glen Canyon Bridge was completed, there was a 200 mile section of the Colorado River without a crossing.
The bridge, which is currently the second highest steel construction in the world, was built to aid the construction of the Glen Canyon Dam (which sits just a stone's throw away). Although it is located on the edge of Page, Arizona, in actual fact it was constructed a few hundred miles away in California. It was brought to its present location by road, delivered to either side of the canyon.
This isn't the only bridge in Arizona to be built elsewhere. Lake Havasu is the new home of the original London Bridge – which rumour has it was bought by mistake. The town's founder Robert McCulloch supposedly thought he was buying Tower Bridge!
GLEN CANYON FACT FILE
Designer: unknown
Year completed: 1959
Cost of building: unknown
Time to build: 2 years
Height (deck level above water): 213m
Total length: 387.4m
Width: 9m
Longest span: 313m
Design: steel arch
Crosses: Colorado River
Deaths in construction: unknown
5. GOLDEN GATE BRIDGE
Connecting San Francisco to Marin County is perhaps the most famous bridge of all – the Golden Gate. Having said that it's not the most photographed bridge, as that accolade goes to our very own Tower Bridge.
When it was built in 1937 the Golden Gate had the longest suspension bridge span in the world. This was a record it would hold until the mid 1960s.
Roughly 130,000 vehicles use it daily, but not every bridge user leaves it alive. It holds the record for the being the most popular bridge to commit suicide from. On average someone jumps every two weeks, and so far there have been well over 2,000 suicides. It's not uncommon for the police to find abandoned rental cars in the car park.
GOLDEN GATE FACT FILE
Designer: Joseph Baermann Strauss and Irving Morrow
Year completed: 1937
Cost of building: $26m
Time to build: 4 years
Height (deck level above water): 67m
Total length: 2737m
Width: 27m
Longest span: 1280m
Design: Suspension, truss arch & truss causeways
Crosses: Golden Gate
Deaths in construction: 11
6. MILLAU VIADUCT
France's Millau Viaduct definitely deserves a place in this list, as it holds three different world records. It's the tallest vehicular bridge in the world, has the highest masts in the world and the tallest pylons too.
The bridge, which is taller than the Eiffle Tower, and only slightly shorter than the Empire State Building, takes four lanes of the A75 over the River Tarn. And best of all, one of its designers was British.
MILLAU FACT FILE
Designer: Michel Virlogeux and Norman Foster
Year completed: 2004
Cost of building: €400m
Time to build: 3 years
Height (deck level above water): 270m
Total length: 2460m
Width: 32m
Longest span: 342m
Design: Cable-Stayed
Crosses: Valley of the River Tarn
Deaths in construction: 0
7. NEW RIVER GORGE BRIDGE
The New River Gorge Bridge is a steel-arch bridge, in Fayetteville, West Virginia, USA – not too far away from Volvo Truck's US plant. It carries Highway 19 across one of the oldest rivers in the world (contrary to its misleading name).
At 267 meters it's the highest vehicle-carrying bridge in the Americas, and was the highest in the world prior to the completion of the Millau Viaduct.
NEW RIVER FACT FILE
Designer: Michael Baker
Year completed: 1977
Cost of building: $37m
Time to build: 3 years
Height (deck level above water): 267m
Tota l length: 924m
Width: 21.1m
Longest span: 518m
Design: Steel arch
Crosses: New River
Deaths in construction: 1
8. THE ORESUND BRIDGE
The Oresund Bridge is a combined two-track rail and four-lane road bridge/tunnel, which links the Danish capital of Copenhagen and the Swedish city of Malmö. Although it isn't the longest bridge in the world, it does hold the record for being the longest border crossing. Am I right in saying that Istanbul's Bosphorus Bridge is probably the only one that links continents?
The bridge actually ends at an artificial island half way across the Oresund Sound, and goes under the sea bed so as not to cause a hazard to aeroplanes landing at Copenhagen Airport.
ORESUND FACT FILE
Designer: George Rothne
Year completed: 1999
Cost of building: $2.4bn
Time to build: 4 years
Height (deck level above water): 57m
Total length: 7845m
Width: 23.5m
Longest span: 490m
Design: Cable-stayed bridge
Crosses: Oresund Strait
Deaths in construction: unknown
9. SYDNEY HARBOUR BRIDGE
Image: Shutterstock
Sydney Harbour Bridge (aka the Coathanger), is apparently in the Guinness Book of World Records for being the world's widest long-span bridge. It is also the fourth-longest spanning-arch bridge in the world.
The bridge, which shrinks and expands by up to18cm depending on the climate, was completed in 1932 but wasn't fully paid off until 1988.
The Runcorn/Widnes Silver Jubilee Bridge is an almost identical design, only two-thirds the size of this one.
SYDNEY HARBOUR FACT FILE
Designer: John Job Crew Bradfield and Sir Ralph Freeman
Year completed: 1932
Cost of building: $10m Australian
Time to build: 9 years
Height (deck level above water): 139m
Total length: 1149m
Width: 49m
Longest span: 503m
Design: single arch
Crosses: Port Jackson
Deaths in construction: 16
10. SUTONG BRIDGE
The newest bridge in my list is China's Sutong Bridge, which was only opened to traffic earlier this year. It is a cable-stayed bridge that carries traffic over the Yangtze River between Nantong and Changshu.
Like most of the constructions on our list, it has a number of claims. These include the longest main span in the world and the second tallest towers.
The 8km six-lane bridge took five years to build.
SUTONG FACT FILE
Designer: unknown
Year completed: 2008
Cost of building: $726m est
Time to build: 5 years
Height (deck level above water): 62m
Total length: 8206m
Width: unknown
Longest span: 1088m
Design: cable stayed bridge
Crosses: Yangtze River
Deaths in construction: unknown
If this had been a Top 11 list, then we would have had to include the mighty Lake Pontchartrain Causeway. These parallel bridges cross Lake Pontchartrain, just outside New Orleans, Louisiana.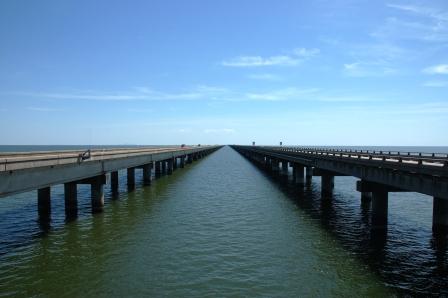 Image: Shutterstock
And, if there was a prize for 'Best Truck on a Bridge' photo, then it has to go to this Volvo rucks promo shot. Apparently the water splashes onto this Norwegian bridges twice a day, and Volvo's photographer spent 24 hours on location to get the picture. the vehicle is actually moving, and I am assured that the image has not been altered by Photoshop.
We hope you enjoyed this article! For more news, views and reviews on all aspects of the truck driver's life subscribe today.