The new Daf XF105.560….or is it just a case of 'badge engineering'? Biglorryblog wonders….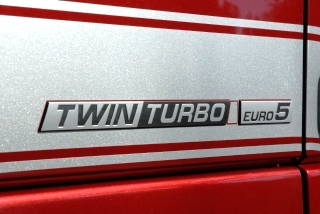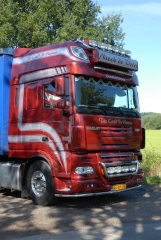 Those crazshee Dutch guys are at it again!
And leading the way is Biglorryblog's favourite cloggie, Iep van der Meer, who has sent me this 'exclusive' on Daf's new 105.560…well we've all been waiting for it right? Anyway Iep says: "560 hp Daf Twin Turbo? Daf produces its MX 13-litre engine up to 510hp but I spotted a '560' badged XF105 Super Space Cab! As you know there were plans to build a 560hp version of the MX but it never came. The engine was developed, and even the badges were ordered and given a part number." Iep goes on to say: "A clever truck driver found out that part number and he just ordered the badges. A typical case of badge engineering!"
Or is it? As Iep says: "On the other hand, maybe the 560 will come as a suprise in Hanover. You just never know with Daf. They did a stunt like that with the introduction of the first CF series in Hanover. Without any pre-press information it suddenly was there. Hopefully they do the same thing again, this time with the 560hp version." Well I hope not Iep – when they launched the CF range it was 11:00 at night and BLB was already three sheets to the wind, on the grounds that all the UK journos reckoned Daf had nothing to say… so naturally we hit the grog! Then flash bang wallop a curtain is pulled back and there's the original CF75 and CF85… You've never seen a bunch of hacks sober up so quickly.
But maybe this is a REAL double (turbo) bluff and the truck above has in fact got the long-awaited 560 big banger in it… what say you Messrs Pain, Moon and Hayes? Now click through here for a look-see at the real thing…
And here's a couple of shots of the actual engine I took on a rather cheap digital camera some time ago when I was at an official Daf event over in Holland – you can clearly see the twin turbo set-up.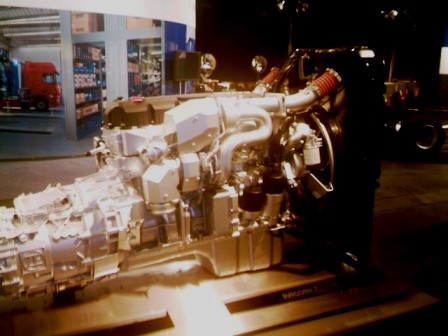 Meanwhile, regarding the story from Iep, he says:
"Feel free to blog it since I can't do that at the moment. Some clever guys in the office just ended the contract with the provider without telling anyone. That means two years of blogging is gone now. Unbelievable, eh?
"Still, you can link people to www.iepvandermeer.nl, that one is still there!" And BLB urges you to check out Iep's website this instant!
We hope you enjoyed this article! For more news, views and reviews on all aspects of the truck driver's life subscribe today.