A striking FH16 is Intakes new heavy hauler- Biglorryblog approves of this anniversary celebration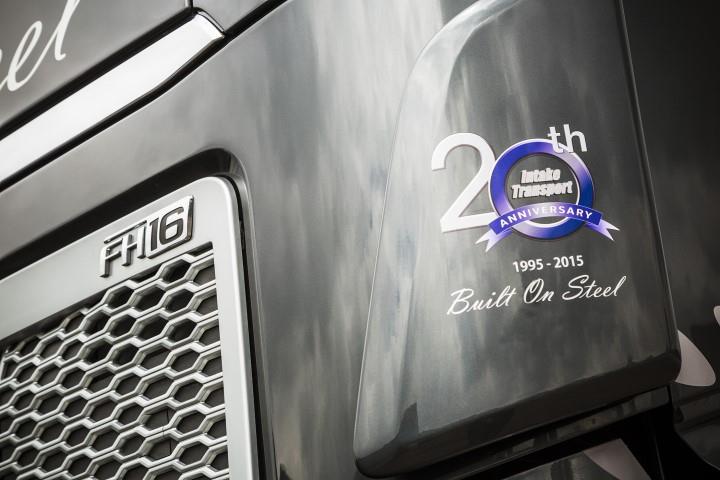 A new Volvo FH16-650, 6×4 tractor unit has joined the fleet of high-profile haulier and steel specialist Intake Transport, the vehicle is plated for STGO CAT 3 operation at up to 120 tonnes GCW.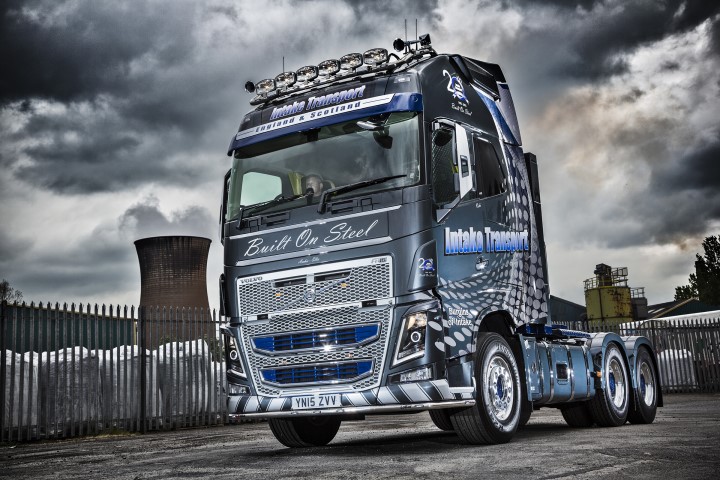 "We are celebrating the 20th anniversary of the business this year and wanted to push our Heavy Haulage capabilities up another cog from 80 tonnes," says Intake Transport Owner and Director Richard Burgin. "We decided to go for the FH16 as it's a great looking truck and the spec' really hits the nail on the head. This is the fifth Volvo we have operated
Specification of the Intake Transport FH16-650 includes Globetrotter XL cab, Volvo Dynamic Steering, I-Shift automated transmission with Volvo Gearbox Retarder and RTH2610F Hub Reduction Tandem drive-axles. The D16K650 engine is rated at 650 hp (479 kW) and delivers max power between 1450 and 1900 rpm. Max torque output is 3150 Nm which is produced between 950 and 1450 rpm.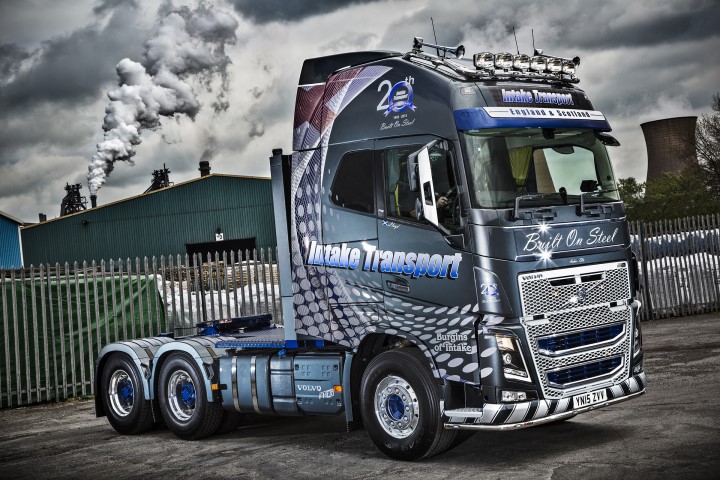 The impressive and capacious lockers mounted on the chassis at the back of the cab are a custom spec built by SB Components of Wisbech. They are heated via vents in their rear panel so that equipment and PPE gear can be dried by the throughput of warm air from the engine bay. The top locker door is on gas struts and the space will be used for secure carriage of sheets.
The new truck is driver Lloyd Anderson's second Volvo with Intake Transport. His first, D16 APB, an 07 registered FH16-660 6×2 Tag-axle tractor unit, originally plated for 65 tonnes operation, was a prize-winning, top custom truck which attracted massive interest and has featured widely on social media for many years.
The new FH16-650 will be based in North-East Scotland and will be seen around the UK delivering structural steel works and fabricated overbridge sections, for high-profile, blue-chip customers including Network Rail and Sheffield Forgemasters.
We hope you enjoyed this article! For more news, views and reviews on all aspects of the truck driver's life subscribe today.