Biglorryblog: New Stralis right up North West Roofings Hi-Street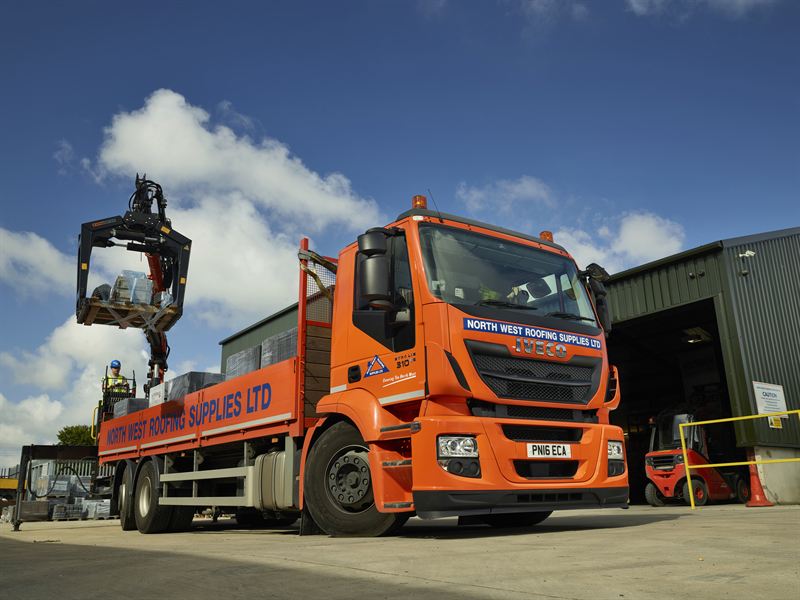 North West Roofing Supplies is expanding its fleet with two new Iveco Stralis Hi-Street trucks, featuring the manufacturer's patented HI-SCR engine technology, after reporting "complete satisfaction" with a seed Stralis acquired in 2014. The two 26-tonne 6×2 Stralis Hi-Street rigids both feature a plant body, an Atlas 165.2A2 crane and a lifting and rear-steering axle, providing increased manoeuvrability for the company's delivery operations in congested urban environments.
North West Roofing Supplies' Managing Director, Stephen Phillips, says: "We first decided to trial an Iveco in 2014, after speaking to another operator that recommended the Hi-Street for our line of work. We took on a similar 26-tonne rigid from another manufacturer at the same time, and found the Iveco quickly surpassing its competitor in terms of on-the-job reliability. The drivers love the truck, and we're completely satisfied – the Hi-Street is ideal."
Phillips adds: "We've come to really appreciate the vehicle's 18.8-tonne payload capacity – which is very competitive given our body and crane combination. It means we can collect from our suppliers just once per day in the morning, and spend the rest of the day delivering what our customers ordered."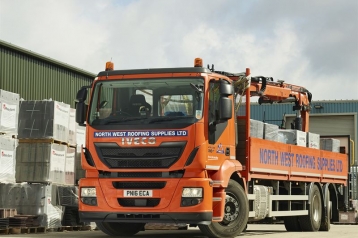 The two new Stralis trucks join a fleet of nine 26-tonne rigids, and will be in operation six days per week. The pair are expected to clock up 50,000 miles each, annually, and remain part of the company's fleet for the next five to seven years. Both trucks are powered by the Iveco Cursor 9 engine, which produces up to 310 hp between 1,675 and 2,400 rev/min, and up to 1,300 Nm of torque between 1,200 and 1,675 rev/min. The vehicles also benefit from the proven EuroTronic fully-automated gearbox, manufactured for Iveco by ZF.
Established in St Helens in 2001, North West Roofing Supplies has since expanded across the region, opening branches in St Annes, Manchester and most recently Morecambe – sites from which its fleet transports everything from slate and tiles to windows and skylights.
We hope you enjoyed this article! For more news, views and reviews on all aspects of the truck driver's life subscribe today.