Biglorryblog: Not new is good news for A&D Logistics
2016 sees Renfrewshire-based, A&D Logistics marking its 21st year in business with a continuity of the firm's policy of purchasing only Used Volvo FH tractor units, all bought through their local Volvo Used Trucks dealer. "It's now 14 years since we bought a brand new Volvo FH tractor unit and since then we have relied on sourcing quality approved vehicles from the Volvo Used Truck Centre at Glasgow West," noted Alan Bolsworth, co-director at A&D Logistics.
Included in A&D Logistics' 60 strong, all-Volvo fleet are 12 of the latest generation FH tractor units. The most recently delivered of which carries a specially designed livery to celebrate the firm's 21 years in business.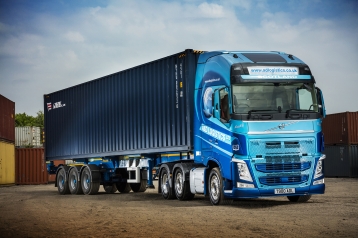 After 12 years of frontline service, the company have just disposed of its first Volvo used purchases, a group of six FH12-420, 12 litre models, all of which have delivered sterling service.
"The first batch of Volvo used trucks have served us well. There have been no engine issues to report and the manual gearboxes have been equally reliable. Somewhat ironically we selected the latter option, as at that time, Volvo's I-Shift gearbox was then new and relatively unproven. Needless to say we've standardised on I-Shift for several years now," Alan added.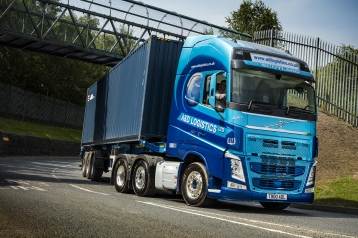 Around five years ago A&D Logistics chose a standard fleet specification for its used Volvo trucks purchases. The company's careful monitoring of performance standards saw it settle on Volvo's FH-500 model on a 6×2 tractor unit chassis with a pusher / midlift axle. For maximum driver comfort, owning brothers Alan and Drew Bolsworth insist on Globetrotter XL cabs with Volvo's 'Prestige' interior trim which includes leather seats in addition to a fitted microwave and refrigerator.
"The Euro-6 engine FH-500s are already setting new fuel economy performance standards throughout the fleet and at present we are continuing to look at buying used Volvo trucks for the foreseeable future," Alan Bolsworth enthused.
Just like the company's first Volvo used truck purchases back in 2002, A&D Logistics plan a 12-year retention period for its 21st anniversary Volvo and its sibling group. "After giving Volvo a chance 12 years ago, we've built up our business on quality Used FH tractor units.
Get your hands on a free 3-in-1 emergency beacon by subscribing to Commercial Motor or Truck & Driver www.commercialmotor.com/freegift www.truckanddriver.co.uk/freegift
We hope you enjoyed this article! For more news, views and reviews on all aspects of the truck driver's life subscribe today.