British Truck Racing Championship Round 2 – Smith piles on the points at Pembrey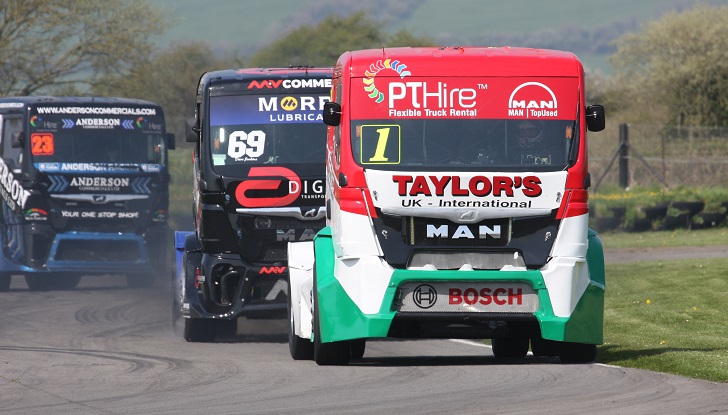 The second round of the BTRA Championship contained some thrilling close racing – sometimes too close – but the early leaders in both divisions continued their dominance.
Ryan Smith continued his storming start to the 2018 season – the Division 1 championship leader again showing his rivals a clean pair of heels as he claimed an impressive four wins and one runner-up spot in Round 2 of the 2018 BTRA Championship at Pembrey in South Wales, and left the circuit holding a 21-point advantage over his nearest rival.
MAN driver Smith – this time competing in his latest European Championship challenger – was on the pace straight from qualifying where he secured pole position with a best time of 1m. 10.433s. This was more than half a second clear of his nearest rival, David Jenkins (MAN), with Stuart Oliver (Volvo) claiming third quickest time.
This second round of the 2018 series produced some fast and furious action under mostly sunny skies and watched by enormous crowds on Saturday and Sunday. Red flags brought two races to a premature end and a lot of trucks went home nursing bruises after some fierce exchanges!
Jenkins was the only other driver to top the Division 1 podium – winning race four – but with Smith just 0.217s behind at the flag. Jenkins' strong showing saw him also pick up two second place trophies plus the fastest lap of the meeting, which moves him up to second overall in the standings.
Oliver collected three podiums, which included a fine third in the final race after his team had worked miracles to rebuild his Volvo that had suffered a broken front axle in a major smash only a couple of hours earlier in the packed Sunday programme.
Jamie Anderson (MAN) was also right at the centre of some ferocious action and came away with second and third place cups on Sunday – and the speedy newcomer now lies third overall in the championship.
Division 2: Garrett stays top
Luke Garrett (MAN) continued his strong start to the season, further extending his lead in the BTRA Division 2 standings with a pair of wins in Pembrey.
Steve Powell also scored a Sunday 'double' – his victories making up for the disappointment of a non-start for his MAN the previous day.
But the real news of the weekend came in the shape of a shock win for 'rookie' Craig Reid – younger brother of former champion Simon – making a stunning debut in his all-new Iveco.
Earlier, Simon Cole (Mercedes-Benz) had set the pace during qualifying – posting a best time 0.9 seconds quicker than Garrett could manage – and the Mercedes driver blasted into an early lead in race one. But Cole then spun at Hatchets Hairpin, which dropped him down to sixth. He then charged his way back through the field – posting fastest lap as he fought his way up to second as the chequered flag fell. John Powell – who had disputed the lead with Garrett – brought his Daf home third.
John had further strong performances over the weekend, including a second place and two more thirds to move up to third overall in the championship, but it's his consistent team-mate Brad Smith (Daf) who maintains second position in the points standings.
2018 BTRA British Truck Racing Championship
Points standings after Round 2
Division 1
1) Ryan Smith (MAN) 145
2) David Jenkins (MAN) 121
3) Jamie Anderson (MAN) 108
4) Mat Summerfield (MAN) 95
5) Stuart Oliver (Volvo) 94
6) Simon Reid (Iveco) 91
Division 2
1) Luke Garrett (MAN) 142
2) Brad Smith (Daf) 114
3) John Powell (Daf) 109
4) Simon Cole (Mercedes-Benz) 108
5) John Bowler (Foden) 100
6) Steve Powell (MAN) 87
Forthcoming events
29/30 June – 1 July Nurburgring, Germany
7/8 July – Thruxton, Hampshire
21/22 July – Donington Park, Leicestershire (including Convoy in the Park)
8/9 September – Snetterton, Norfolk
13/14 October – Pembrey, South Wales
3/4 November – Brands Hatch, Kent
Words & image: Jonathan Reeves
For more information on Convoy in the Park, go to www.convoyinthepark.com
We hope you enjoyed this article! For more news, views and reviews on all aspects of the truck driver's life subscribe today.