British Truck Racing Championship – Smith's Easter extravaganza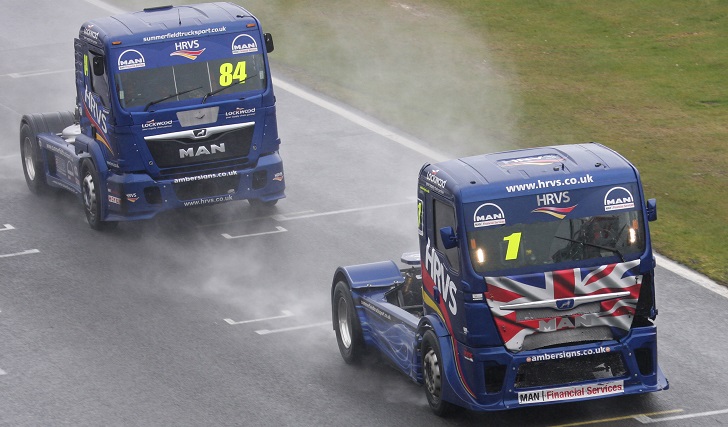 The 2018 truck racing season got off to a spectacular – if soggy – start at Brands Hatch in Kent over the Easter weekend, with some familiar names at the top of the standings.
Ryan Smith (MAN No.1) was on top form for the bruising opening round of the 2018 BTRA British Truck Racing Championship with the reigning champion turning in some stunning performances on a treacherous track.
But the first win of the season fell to Stuart Oliver on Sunday. Having secured pole position the Volvo driver held off a hard-charging David Jenkins (MAN) to take victory by just 0.289s, with Mat Summerfield (MAN) taking the final podium spot.
Jenkins turned the tables to take the honours in the two-part Race 2 on Monday morning – heading home Smith and Oliver.
But in the remaining three outings on a wet and wild Bank Holiday Monday it was Smith who claimed the top honours, slicing through the field and pulling off his trademark move – diving inside on the entry to the demanding Paddock Hill bend – at least three times and completing a hat-trick of wins.
In one race the demon outbraking manoeuvre enabled him to pass main rivals Oliver and Jenkins at the same point on successive laps.
The final outing of the weekend saw Smith claw his way from the back of the grid through to the front again, shadowed home by his HRVS MAN team-mate Summerfield.
Meanwhile, truck racing 'rookie' Martin Gibson had four strong showings during an impressive Brands debut that saw his ex-Oliver Scania running at the front of the field.
For some others the start to the new season didn't go quite as smoothly; the unfortunate Richard Collett and newcomer Jamie Anderson suffered major damage as they tangled while crossing the finishing line in the very first race. Both teams worked late through Sunday night to get their MANs back on the grid for day two, but Collett was spun into the tyre wall exiting Druids hairpin early in Monday's first outing, putting him out of action entirely.
Division 2
The action was no less spectacular in Division 2. It all started in Sunday's first qualifying session for the Division 2 machinery when Andy Lovenberry got his Renault onto its roof in the Paddock Hill travel trap. But this was a relatively gentle roll – and the green machine eventually emerged looking virtually unscathed.
Luke Garrett (MAN) dominated in the Division 2 category at Brands – he was consistently quick and collected a trio of wins plus a second and a third place.
Brothers John and Steve Powell (Daf and MAN respectively) picked up a win apiece – with Brad Smith (Daf), Simon Cole (Mercedes-Benz) and John Bowler (Foden) all getting visits to the podium. But several of the most rapid runners finished well down in some of the official results after taking enforced pit stops for strict smoke controls, the marshals on the pit wall kept extremely busy hanging out a succession of black and orange warning flags.
Points standings after Round 1
Division 1
1) Ryan Smith (MAN) 71
2) Stuart Oliver (Volvo) 54
= David Jenkins (MAN) 54
4) Mat Summerfield (MAN) 52
5) Jamie Anderson (MAN) 45
6) Martin Gibson (Scania) 39
Division 2
1) Luke Garrett (MAN) 72
2) Brad Smith (Daf) 65
3) Simon Cole (Mercedes) 61
4) John Bowler (Foden) 47
5) John Powell (Daf) 45
6) James Aitkenhead (Sisu) 42
Words & images: Jonathan Reeves
You can read about the British Truck Racing Championship in future issues of Truck & Driver. For information on how to subscribe – and to take advantage of our Easter offer – click here If you prefer to pick up your copy, then you can find your nearest retailer here
We hope you enjoyed this article! For more news, views and reviews on all aspects of the truck driver's life subscribe today.