Brits get a French lesson at Donington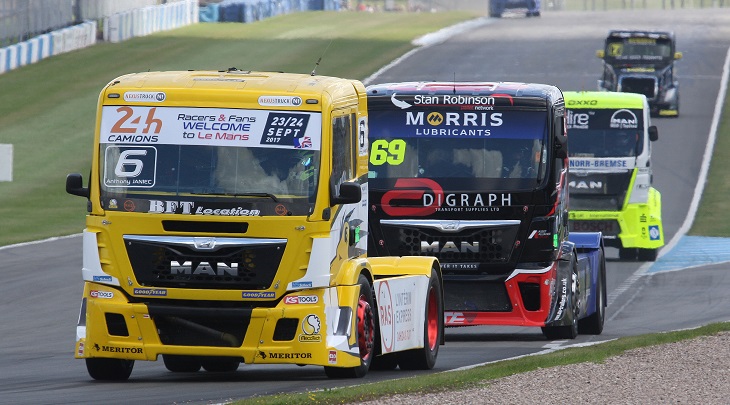 Three weeks after the massive Nurburgring event, round five of the British Truck Racing Championship at Donington Park on 22-23 July was in many ways similar to the German one: big crowds, industry support, huge show truck displays… and a whole lot of rain!
On the track the racing was fast and furious – with Frenchman Anthony Janiec making an impressive UK debut. After claiming pole position, the Lion MAN driver then took a narrow victory over David Jenkins in race one, with just 0.529s covering the dicing duo at the chequered flag!
Reigning BTRC champion Ryan Smith took the honours in race two while Janiec sliced his way up to a super second – but in Sunday's fourth race the positions were reversed with Janiec claiming another win.
Jenkins (Digraph MAN) took a popular win in race three. Having shadowed Simon Reid for almost the entire race he snatched victory when the Iveco driver ran wide at the start of the final lap!
But it all went wrong for Janiec in the final race of the weekend; the French champ was out in front when Mat Summerfield slid onto the grass at high speed on the opening lap, smashing heavily into Janiec's machine, bringing out the red flags.
The re-start brought the second victory of the weekend for Donington local lad Smith, thereby extending his points total to 175.
Stuart Oliver (Volvo) took second, followed by the hard-charging Oly Janes (Freightliner). Jenkins came in fourth to add to his stack of points that sees him move up to second in the Division One standings, 31 points behind Smith – but just four ahead of Shane Brereton.
Sisu top in Division 2
Mika Makinen further extended his lead in the Division 2 rankings – the flying Finn picked up two wins and two second places to move 34 points clear of his nearest rival.
Tony Smith in another Sisu was the other top performer at Donington – claiming one win and two further podiums despite some early technical troubles. Consistent Steve Powell (ERF) matched Smith on points with five top-five finishes.
Victory in the other two Division Two races went to Simon Cole (Mercedes) and Luke Garrett (MAN), but all the drivers deserved some recognition for keeping their machinery pointing in the right direction in some really appalling conditions with torrential rain affecting most of the weekend.
The next BTRA championship race is at Snetterton on 9-10 September.
How they stand after round five at Donington Park:
Division 1
1) Ryan Smith  MAN   175
2) David Jenkins MAN   144
3)  Shane Brereton MAN   140
4)  Mat Summerfield MAN   134
5) Stuart Oliver Volvo   132
6)  Ray Coleman MAN   80
Division 2
1 Mika Makinen  Sisu   154
2 Tony Smith  Sisu   120
3 Simon Cole   Mercedes-Benz 118
4 Adam Bint  Volvo White 113
5 Paul McCumisky Volvo   104
6 Luke Garrett  MAN   90
Words and image: Jonathan Reeves
For a review of Convoy in the Park, check out the September issue of Truck & Driver, out August 15.
To see the winners of the show truck categories at Convoy in the Park, click
here
.
We hope you enjoyed this article! For more news, views and reviews on all aspects of the truck driver's life subscribe today.