British Truck Racing Association Championship Round 6 review: Snetterton shake-up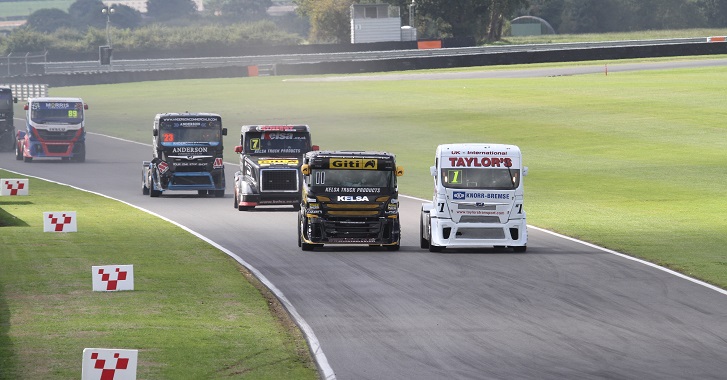 Snetterton saw seven different men stand on the top step of the podium across the two divisions – but the division leaders largely maintained their advantages.
The annual visit of the BTRA British Truck Racing Championship to Norfolk featured close racing and some welcome variety, producing four different Division One winners in the four Snetterton races.
Championship leader Ryan Smith took a runaway win in the first outing but with the 'reverse grid' format in operation the normally dominant MAN driver didn't manage to get on the top step of the podium in the other three races. Instead, it was Simon Reid, Terry Gibbon and David Jenkins who collected the silverware.
Smith was in command during qualifying, lapping nearly two seconds quicker than any of his rivals and the Mansfield driver converted that into a walkover win on Saturday morning – finishing 10.5 seconds clear of runner-up Jenkins and third-placed Jamie Anderson.
But Reid (Iveco) broke the MAN stranglehold to win race two, holding off the hard-charging Anderson to take the flag by just 0.276s with Smith closing to within half a second in a fighting third. "Another lap and I'd have caught them both," said the reigning champion, who'd started from the back of the grid and posted fastest lap once more.
In race three, Gibbon (MAN) broke away early and built up a healthy lead. Smith got engaged in a serious scrap with Stuart Oliver and finally emerged with the runner-up spot while the Volvo driver had to settle for third.
A determined Jenkins overcame recurring gearbox problems to secure victory in the final race of the weekend. Reid drove a determined race to secure second, just 0.8s ahead of the on-form Anderson – but the dicing duo trailed home more than 16 seconds behind the winner.
"I'm sorry for the fans if that wasn't very spectacular," explained the jubilant Jenkins, who led all seven laps. "But a straightforward win was
just what we needed after a difficult weekend!"
Smith missed out on the trophies in the final – taking 5th place – but he still outscored all his rivals over the weekend and remains secure at the top of the points table heading to Round 7 at Pembrey.
Garrett stays top in Division Two
Luke Garrett was still top dog in the BTRA Division Two category, collecting another pair of wins at the Norfolk circuit – but it didn't all go according to plan for the MAN driver.
Brad Smith blasted his Daf to victory in the opening race when Garrett was black flagged for leaking fluids – which made the damp circuit spectacularly slippery – and Steve Powell (MAN) held off Garrett to win race four.
With four podium placings Powell was the top individual scorer at Snetterton – picking up 11 more points than fellow MAN racer Garrett – and moves up to third in the championship, but still trailing second-placed Brad Smith by 65 points and his brother John by 7.
Next BTRA event: Pembrey Circuit – near Llanelli, South Wales – October 13/14. Coverage will be included in the December issue of Truck & Driver.
2018 BTRA British Truck Racing Championship
Points standings after Round 6 (Snetterton)
Division One
1) Ryan Smith (MAN) 375
2) David Jenkins (MAN) 325
3) Jamie Anderson (MAN) 310
4) Stuart Oliver (Volvo) 286
= Simon Reid (Iveco) 286
6) Richard Collett (MAN) 185
Division Two
1) Luke Garrett (MAN) 375
2) Brad Smith (Daf) 332
3) John Powell (Daf) 274
4) Steve Powell (MAN) 267
5) John Bowler (Foden) 246
6) Craig Reed (Iveco) 239
Words and images: Jonathan Reeves
We hope you enjoyed this article! For more news, views and reviews on all aspects of the truck driver's life subscribe today.