Don't say Zetros say Secutor! The latest Mercedes agricultural monster mover on Biglorryblog!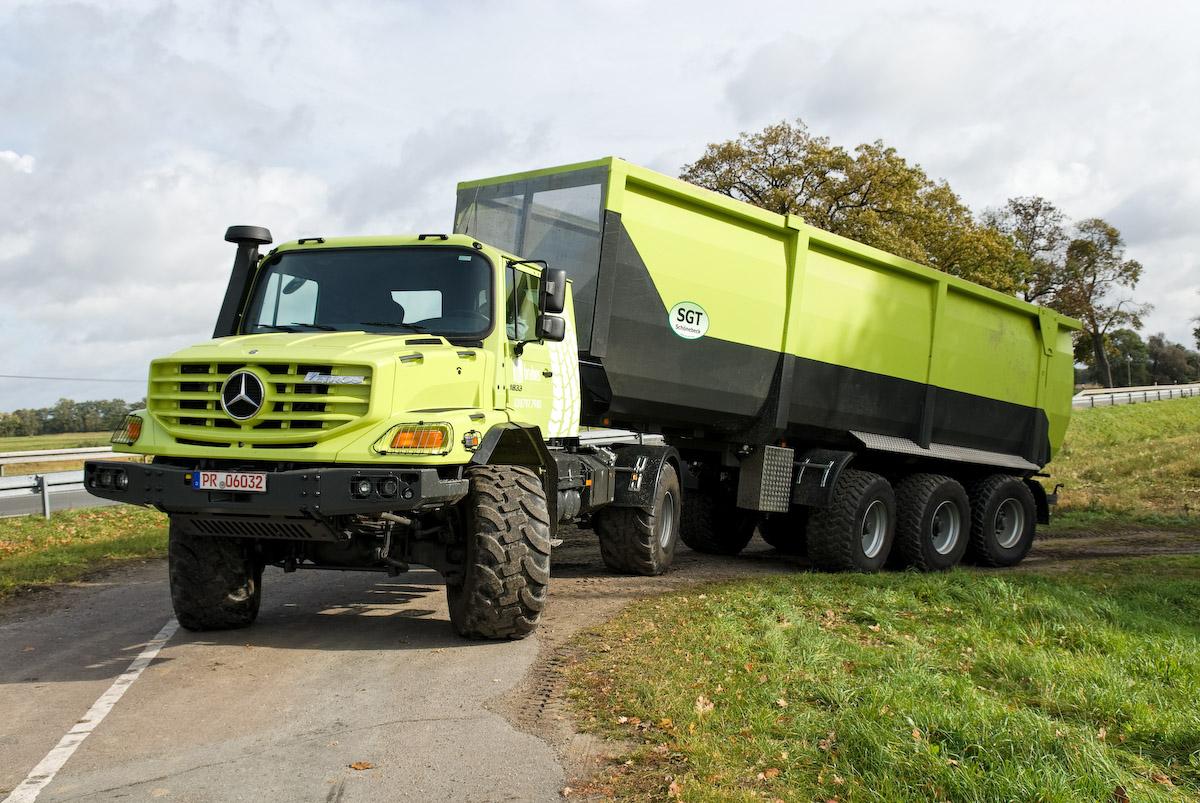 Great news guys (writes Brian Weatherley) Corn harvesting in Germany has just got easier! Thanks to a new conversion by Brandenburg-based, Harald Bruhns GmbH, farmers can now rely on a new "Secutor" agricultural tractor—that's a Mercedes-Benz Zetros with an Allison 3500 Series fully automatic transmission. "In Germany 500 million tonnes of agricultural produce are transported every year." explains Reyk Wernicke, sales manager of agricultural engineering at Harald Bruhns GmbH who adds "The distances are constantly increasing, and the use of tractors is becoming less effective. Conventional trucks can tackle the road driving much more quickly." Meanwhile, Biglorryblog learns that the highly-specialised, all-terrain off-road truck from Mercedes-Benz was remodelled and restricted to a maximum speed of 60 km/h so that the vehicle is registered as a tractor/agricultural tractor. As a result, it can be driven with a driving license class T and is excluded from Germany's driving period rule and Sunday traffic ban! How clever is that? Now click through here for more on the monster Zetros!
Harald Bruhns chose the Zetros as the vehicle chassis because it has a flexible, robust body and a chassis which can be adjusted for off-road operation and Reyk continues:"We immediately decided on the Allison automatic when we came to the transmission choice because it has the essential advantage of powershifting. This means traction is continuous without power interrupts, which is a mandatory requirement for our application. During gear changes with a conventional dry slipping clutch under heavy load and terrain conditions, the vehicle gets stuck, and starting it again is very difficult."
Fortunately the Allison torque converter is not a wear component and ensures coupling with the engine without the need of a dry clutch. It delivers torque multiplication and superior startability while reducing driveline stress and wear. So for Reyk Wernicke the choice of transmission was the right one "The handling of the Allison transmission is really easy. When we present it to farms, the drivers are excited because the transmission is so easy to handle, and the driving comfort is very high."
The Secutor is available with a 54 m³ silage-body from SGT or can be used as a liquid manure tanker (up to 28 m³). Even sprayer and fertilizer spreader bodies are possible. All in all, a total weight of up to 40 tonnes is allowed. And now read on for the full details!
Secutor versus tractor: Comparative test of the University of Applied Sciences Südwestfalen, Germany
During the corn harvest in 2010, the Secutor was working beside farm tractors where its potential was proven. This was even scientifically tested last November by the University of Applied Sciences Südwestfalen. The Secutor was compared to an equivalent tractor; both units had the same transport weights, and the valid maximum speed was 60 km/h. The attached Tridem push-off trailers were identical in construction except for the hitch. The Secutor used 58.63 litres of fuel per 100 km on a length of 27.8 km per tour; the tractor consumed 88.13 litres of fuel. The Zetros consumed 34 percent less fuel than the tractor. Notably, the Secutor was seven minutes faster per tour (17 percent) than the tractor. This meant that up to two more tours per day were possible with the Secutor. Also, the Secutor offers an additional tonne of load capacity because of its lighter weight (see table 1).
Remodelling Zetros to Secutor
During the transformation from Zetros to Secutor, several enhancements were implemented by Harald Bruhns GmbH. All were approved by Mercedes-Benz, meaning that the Secutor can be maintained and repaired in all Mercedes-Benz garages. The wheelbase was shortened to 4200 mm, to improve manoeuvrability. Additionally, stronger rear axles with increased springs were mounted. The large-volume implement tires provide optimal protection from the ground and traction at a vehicle-outside-width of 2.75 m (front axle 560/60R22.5, rear axle 600/55R22.5). The construction of a bowl clutch as a connection to the trailer enables optimal cross-country mobility by a 13° swing angle. In addition, a powerful hydraulic system was mounted with 140 litres/min pump performance at 200 bar and includes a hydraulic tank with 200 litres with an oil cooler at the cab backside. It is controlled by an ISO Bus controller. In September, the first Secutor was placed on German farmland in support of the 2011 corn harvest
We hope you enjoyed this article! For more news, views and reviews on all aspects of the truck driver's life subscribe today.