The new Piaggio Porter Range 2011—the full story from 'The racing maestro' Gianenrico on Biglorryblog!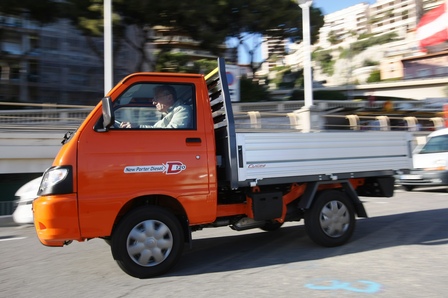 Now here's a man who's obviously done this kind of thing before—but then the man behind the wheel is the old Italian racing maestro and my good chum on the International Truck of the Year Jury, Gianenrico Griffini, who tells me. "Hi Brian, this was taken in Monte Carlo, during a test drive of the Piaggio Porter with a new 1.2-litre P120 diesel near La Rascasse. But take note this is not a 'big lorry' or a Formula 1 car! And according to the official track guide 'Following Piscine, there is a short straight followed by heavy braking for a quick left which is immediately followed by the tight 180 degree right-hander called La Rascasse. This is another corner which requires full steering lock'! Regards, Gianenrico." Well you look to have it well covered mate with a perfect 'racing line' Now read on for more on the Piaggio!
NEW PIAGGIO PORTER 2011 RANGE
Piaggio Porter and Porter Maxxi have been substantially revised for 2011 in technical content and style, with major improvements in terms of performance, fuel economy, safety and comfort. Both models will now be available with two all-new engine choices: the P120 diesel, a first for the Porter range, developed by Piaggio and manufactured at its Baramati plant in India, and the brand new petrol MultiTech, which will also power the Bi-fuel Eco-Power (petrol+LPG) and Green-Power (petrol+methane) variants. These two engines deliver outstanding efficiency and performance in a compact package and in complete respect for the environment. Alongside these two new additions is a revised edition of the Porter Electric-Power, Europe's best selling 100% electric, zero emissions commercial vehicle, with over 5,000 units sold to date.
A comprehensive range of powertrains which, combined with the extraordinary versatility of the special equipment variants available, offers a vast choice of possible solutions to cater for every imaginable transport necessity. These new engine variants further complement the superlative compactness and agility, and the extraordinary load capacity/size ratio that have made the Porter and Porter Maxxi such a huge sales success, as demonstrated by the over 100 thousand examples sold to date. The range also gains important new enhancements in terms of active safety and comfort, with technical solutions such as a brake system with ABS and EBD, 13″ wheels (on the Porter) and new athermic glazing.
Ready to take on the challenge of the future
A commitment to the environment, improving quality of life and reducing energy resource usage has long been a core element in the success of the corporate strategy and development plans implemented by the Piaggio Group and Piaggio Commercial Vehicles. The new 2011 range completes the process of radical renewal initiated in 2009 with the styling and functional innovations introduced on the Porter and Porter Maxxi. The styling updates and substantial improvements in terms of comfort and drivability (such as the introduction of EPS electronic power steering) are now complemented by a completely revised powertrain range, with the addition of two all-new Euro-5 compliant diesel and petrol engines and the introduction of technical solutions that transform Piaggio's little commercial vehicle with a big heart into a modern, efficient and versatile work tool capable of catering for every need imaginable in a rapidly growing and continuously evolving economic scenario.
The new P120 diesel engine
Debuting on the new Porter and Porter Maxxi, the all-new Piaggio P120 is a Euro5 compliant 1200 cc twin-cylinder common rail turbodiesel with direct injection, EGR (exhaust gas recirculation) and diesel particulate filter. This state of the art unit, designed and developed by Piaggio in collaboration with Ricardo Engineering, has been created to respond to the needs of the large numbers of commercial users who traditionally prefer diesel and operate primarily in short range distances – home turf for the Porter and Porter Maxxi, which, however, are also perfectly at ease on longer, more demanding journeys. This new engine offers outstanding performance in terms of acceleration even when fully loaded (with +40% more torque than the previous petrol engine, available right from the bottom end of the rev range), combined with significantly improved fuel economy and running costs.
The D120 versions of the Porter and Porter Maxxi with the new diesel engine are distinguished by a new dark grey colour for the grille and (on the Porter only) wheel covers, as well as a specific writing on the rear of the vehicle.
The main characteristics and strengths of the new P 120 engine are:
– The long stroke (101 mm) twin cylinder layout is optimised for low end torque. The maximum torque of 140 Nm is available from just 1800 rpm and up to 2800 rpm. These values equate to superlative efficiency and reduced average piston speeds for reduced mechanical stress and improved reliability. Mileage is also among the best in its category with around 5 litres per 100 km and a CO2 level which is in absolute respect for the environment (125 grams per kilometre).
– Timing system: The timing diagram, with chain drive, single overhead camshaft and four valves per cylinder was designed to guarantee long intervals between servicing, low wear and high efficiency of the combustion chamber.
– Common rail and electronically managed direct injection
The common rail used in the P120 allows diesel to be injected into the combustion chamber with maximum operating pressure of 1600 bar. The necessary quantity of diesel fuel is not injected in a single shot, but subdivided into smaller fractions injected in succession. This reduces noise and ensures more complete combustion, which equates to improved efficiency. The system used is capable of delivering up to five injections per cycle. This solution also maintains the high exhaust gas temperatures necessary to purge the particulate filter. All of this is controlled by the engine electronic control unit which constantly monitors the signals coming from the sensors and commands the actuators based on the detected load conditions.
– Turbocharged: The use of a small turbo compressor (equipped with Wastegate valve and intercooler) has allowed to obtain reduced response times and a flat torque curve with the maximum value already available from 1800 rpm up to 2800 rpm and maximum power at just 3500 rpm. This has led to excellent flexibility of the speeds which, together with the suitable gear ratio, has contributed to containing consumption.
– Clutch: The dry single plate clutch features a diaphragm spring which facilitates the dissipation of heat, improving disc durability and progressive operation. This spring type reduces pedal force by approximately 30% compared with a coil spring system. Maintenance costs are also significantly lower.
– Cooled EGR system (exhaust gas recovery): Nitrogen oxides (NOx) are among the most harmful by-products of combustion. Lowering oxygen quantities at lower engine speeds limits the formation of NOx. A given quantity of exhaust gas (calculated in real time by the electronic control unit) is recirculated back into the intake to reduce the oxygen percentage in the combustion air. A heat exchanger is used to ensure that the exhaust gases are suitably cooled before they are added to the intake air.
– Diesel particulate filter: Soot emissions are a hazardous atmospheric pollutant produced by the combustion of fossil fuels. The soot category that is the cause of greatest concern is PM10 (particles smaller than 10 microns in diameter), which may be almost entirely eliminated by using an exhaust filter. This filter, however, will eventually fill and must be purged. This purging process is known as regeneration. During regeneration – achieved by appropriately modifying the injection parameters – the filter is overheated to a temperature at which the particulate inside the filter itself combusts. Regeneration is performed at temperatures much higher than normal operating temperatures. The entire regeneration process (from start to completion) is controlled and continuously monitored using specific algorithms integrated in the engine management software.
The Multitech petrol engine
Since their introduction on the market, the Porter and Porter Maxxi have been equipped with petrol engines with characteristics that have been highly acclaimed by Piaggio customers.
The new MultiTech petrol engine makes its debut with the new 2011 range: a 4 cylinder 1300 cc engine with chain driven double overhead camshafts and 16 valves that complies with Euro5 standards. This new engine offers substantial improvements in terms of power, torque and tractability, while also significantly reducing fuel consumption (30% less than the previous petrol version) and CO2 emissions, and is available with three fuel options (petrol, petrol+LPG or petrol+methane) straight out of the factory. Piaggio offers its customers a comprehensive choice of fuel solutions to be ready for any future event influencing market choices – such as changing fuel prices or new local or national incentive schemes.
The main characteristics and strengths of the new MultiTech engine are:
– Head and crankcase in aluminium alloy: for reduced weight without compromising strength.
– Indirect injection: the electronically managed multipoint injection system ensures a more uniform fuel flow. The quietness, efficiency and reduced running costs offered by this system are the results of years of experience and development.
– Double overhead camshafts: for more precision in the induction and exhaust strokes, resulting in greater combustion efficiency and improved fuel economy. This solution is particularly suitable for petrol engines, which have broader power bands at higher engine speeds than diesel engines.
– Timing chain: unlike a toothed belt, the chain requires no replacement and is designed to last as long as the entire lifetime of the vehicle. The use of a timing chain also ensures greater precision in all operating conditions, with practically zero slippage.
– 4 valves per cylinder: The system favours a more efficient thermodynamic cycle which results in higher performance.
– Electronic engine management: this function is performed by an electronic control unit which calculates, among other parameters, the necessary fuel-air mixture for the current operating conditions. Data relative to engine function are transmitted to the Engine On Board Diagnostic (OBD) system, which notifies the driver when necessary via specific indicator and warning lamps on the dashboard. The electronic control unit is not installed in the engine but in the vehicle itself, for greater protection against vibration and temperature fluctuations. The unit is also hermitically sealed to prevent water and dust infiltration for maximum durability and reliability.
– The catalytic converter: this is the device which controls the gas emissions
from the exhaust, reducing polluting elements.
Bi-Fuel engines
The Eco-Power (petrol+LPG) and Green-Power (petrol+methane) of the Porter and Porter Maxxi are powered by the same MultiTech engine used in the petrol only version, but with suitably modified fuel systems. The "Sequent" sequential gas injection system, which is similar in layout to a diesel common rail system, is installed in the factory. A dedicated ECU calculates injector aperture times for each cylinder, actuating the injectors individually with extreme precision and in perfect synchronisation. The system uses high pressure gas tanks and single membrane pressure reducers, which must be replaced by law every 10 years.
On Eco-Power versions, the cylindrical gas cylinder (24 litres on cab van versions and 28 litres on van versions) is located at the rear of vehicle and securely fastened to the bodyshell. The tank is made from high strength, tempered steel. Simply pressing the button to the right of the steering wheel switches manually from petrol to LPG mode (the engine always starts in petrol mode before switching automatically to LPG mode). The button has four LEDs indicating the gas level in the tank, while the indicator lamp turns green when the vehicle is running on gas.
The Porter and Porter Maxxi Green Power are fitted with two tanks, with a capacity of 32+23.2 litres (Porter) or 32+32 litres (Maxxi).
Here too, the engine always starts in petrol mode by default, after which the system automatically switches to methane mode. As on the Eco-Power version, pressing the button to the right of the steering wheel switches manually between fuel modes.
100% Electric
Since 1995, Piaggio has provided the solution for customers who need a zero emissions vehicle, to allow access to historical city centres or limited traffic areas, for example, in the form of the Electric Power version of the Porter, with 100% electric drive. Available in all versions and special equipment variants, Porter Electric Power has now been updated with a new motor and revised control electronics.
Porter Electric-Power 96 V features a speed selector to optimise power consumption and maximise performance. Porter Electric Power has a range of up to 110 Km on a single charge cycle in an urban environment, making it the perfect solution for all intracity businesses and professionals operating in urban and metropolitan areas. The electric drive system gives the vehicle a top speed of 57 Km/h, producing 11 kW at 96V. The lead gel batteries which, together with the motor constitute the heart of the vehicle, offer significant advantages in terms of extended range, superior durability and completely maintenance-free operation.
The batteries have very short charge times and can be recharged from both a 3 kW socket and a 1.5 kW socket (standard household socket). A full charge cycle takes 8 hours.
The quick and easy to read multifunctional display incorporated in the dashboard lets the driver keep a constant eye on the status of the vehicle's electrical components. The battery housings are made in plastic for easier inspection, total safety and to prevent undesirable oxidation problems. Porter Electric Power also features advanced diagnostic software and electronic management systems, allowing the customer to adapt the vehicle's performance to the suit specific needs (for example, setting speed limits for use in indoor areas or particularly restricted zones, such as within stations, ports and airports).
New content, even more safety
This technological makeover for the Porter range is not only limited to the engines, but has involved the entire vehicle, with improvements in both active safety and comfort. The 2011 Porter range (with the exception of the Maxxi and Electric Power) is equipped as standard with an all-new brake system with ABS and EBD (electronic brake force distribution).
ABS performs the vital function of preventing the wheels from locking up under braking to ensure that the brake system makes full use of all the grip offered by the road surface, while EBD distributes brake force optimally by determining the exact grip available to each wheel. Using these two systems in conjunction gives the new Porter outstanding active safety, both in emergency braking conditions and during normal driving – an invaluable attribute for a vehicle whose versatility means that it is used in every situation imaginable.
Even more comfort
The significant revision of the range in 2009 already introduced a completely new dashboard and upholstery to the cab of the Porter and Porter Maxxi, as well as electronic power steering (EPS), new instrumentation and practical stowage bins, and added the possibility of an optional audio system with mp3 playback, and satellite navigator – accessories which set the Porter apart in its class, with unbeatable levels of equipment. The innovations introduced for 2011 complete the evolution of the Porter and take comfort levels a step further, with new athermic glazing ensuring more effective heat insulation for the cab.
The interior trim is made from durable and easily washable latest generation materials, making it ideal for even the toughest jobs.
The Extra trim level
To cater for the most discerning customers looking for a more comprehensively equipped vehicle and even greater comfort, Piaggio offers the Extra trim level across the entire Porter and Porter Maxxi range.
In the Extra trim level, the Porter comes as standard with electric power windows, fog lamps, a radio/CD/mp3 player, parking sensors (not available on Maxxi) and antitheft system with central locking. The Extra is also distinguished by body coloured bumpers, which further emphasise its intracity personality. Some of these features are also available as optional extras on standard versions.
Piaggio Porter: distinctive characteristics
New range of Euro5 compliant engines, with a choice of a P120 diesel, MultiTech petrol and Bifuel (petrol+LPG or petrol+methane) powerplants: offering clean, flexible and efficient performance.
Compact dimensions and incredible manoeuvrability: with a turning radius of just 3.7 metres.
Outstanding dimensions/load capacity ratio and facilitated access to the load bed. Up to 850 Kg of payload capacity in an extremely compact package.
Small outside…
Enhanced manoeuvrability for optimised urban use. The Porter range's incredible turning radius – just 3.7 metres compared with a category average of 5.4 metres – is exploited to the full by the innovative EPS Electronic Power Steering system, which makes every parking manoeuvre extremely simple and quick and contributes even further to comfort and safety.
…Big inside
Outstanding load capacity in an extremely compact package. To cater for all possible needs, the new Porter range is available in two versions: a version with a gross vehicle weight (GVW) of 1.5 tonnes, and a payload capacity up to 650 Kg, for lower insurance premiums, and a version with a GVW of 1.7 tonnes and an incredible maximum of 850 Kg payload capacity, for the professional client who needs a vehicle with superior load capacity.
The range: a Porter for every necessity
With a choice of diesel, petrol and bi-fuel internal combustion engines (for a total of four different fuel solutions) and electric power, and a wide variety of different bodystyles, the legendary versatility of the Piaggio Porter reaches new heights.
The Porter range offers an unbeatable choice of solutions to cater for every possible transport need.
Six different bodystyle versions of the Porter are available, each of which with its own distinct characteristics and specific vocation:
Deck and Long Deck: this configuration, with alloy dropsides on both sides and an alloy tailboard and a load bed just 75 cm from the ground, makes loading and unloading operations significantly easier. This is the ideal solution for farms, construction companies, nurseries, artisan businesses and all professionals needing a vehicle that is compact but offers a large and spacious load bed.
Tipper the only vehicle of its kind in the compact commercial vehicle market – tipper beds are otherwise only offered on much larger, less agile vehicles. This variant of the Porter has been created to make unloading material significantly faster. It is an indispensable tool for construction, maintenance and park maintenance businesses operating in historical city centres. With its unparalleled ability to reach even the tightest space, it is often and successfully used in conjunction with larger vehicles.
Van and Window Van: the perfect vehicle for transporting goods and passengers in urban applications. An impressive load volume of 3 cubic metres and sliding doors on both sides make loading and unloading even the bulkiest objects easy. Porter Van is the ideal solution for the professional mobility needs of couriers, artisan businesses, maintenance companies and cleaning businesses. The four-seater window van version allows the combined transport of goods and passengers. Porter Van, and its ecological powertrain variants in particular, is the perfect vehicle for professional applications in the urban environment.
Chassis: the most versatile version of all and a solid base for outfitting with a multitude of different solutions to cater for every possible professional need imaginable. For this version, over 50 different special equipment variants are available, offering the perfect solution for both private (isothermic cells, insulated boxes, three-sided tippers…) and public sector (refuse collection, aerial platform and fire service and local police variants…) applications.
Piaggio Porter Maxxi: distinctive characteristics
Porter Maxxi can carry up to 1100 Kg: translating to the best ratio between weight and payload in its class.
Compact dimensions and incredible manoeuvrability.
Environmentally aware.
Big on economy, too.
Solid and robust.
Porter Maxxi maintains the dimensions, ease of use and affordable running costs of a compact vehicle, while offering a payload capacity which, until now, would only have been possible with a much larger, costlier and more difficult to use commercial vehicle.
Porter Maxxi can carry up to an incredible 1100 Kg of payload with a GVW of just 2200 Kg, translating to the best payload/weight ratio in its class. In spite of its immense payload capacity, the Maxxi loses none of the hallmark agility and manoeuvrability of the Porter: measuring only 1.56 m in width (just 16 cm more than the Porter), Porter Maxxi is remarkably nimble even in the tightest, most challenging spaces, thanks also to a turning radius of just 4.6 m – by far the best in its class, where the average is 5.3 m.
With a record breaking ratio between external dimensions and load capacity and the unparalleled convenience for loading and unloading offered by the tipper bed, the Porter Maxxi is the ideal vehicle for a broad spectrum of applications and, in particular, for the construction industry, where the superlative load capacity is complemented perfectly by exceptional manoeuvrability. Whether in the busiest city traffic or in situations with structures and obstacles limiting accessibility, the Porter Maxxi is always extremely easy and intuitive to drive. This also makes the Porter Maxxi ideal for light industrial and urban maintenance applications, and a number of special equipment variants for a wide variety of applications have been specifically designed to cater for the needs of municipalities.
The reinforced chassis and dual rear wheels – ensuring stability and safety even when fully loaded – are design features that set the Porter Maxxi apart from its rivals.
As with the Porter, the Porter Maxxi also offers a choice of two conventional engines – the P120 diesel and MultiTech petrol – and two Bi-fuel versions, the Eco Power (petrol+LPG) and Green Power (petrol+methane)
As with every vehicle that proudly carries the Porter name, versatility is one of the greatest strengths of Maxxi: Porter Maxxi is available as fixed deck, long tipper bed and short tipper bed versions, all of which with an all-flat load bed (with no obstructions within the bed and with two dropsides and a hinged tailboard) to facilitate loading and unloading. The chassis version offers practically limitless possibilities for outfitting with dedicated solutions, with a wide range of special equipment variants catering for every possible necessity of both public and private sector clients. These include a refuse collection skip, an aerial platform, an insulated box and a variant designed specifically for urban cleansing applications (such as cleaning monuments and the removal of graffiti in areas of significant artistic and cultural value).
Colours
The new Porter and Porter Maxxi are available in Blue Action, White Silk, Rock Sand, Orange Sunrise and in the all new Red Sprint, created specifically for the revised range.
PIAGGIO PORTER Diesel D120 Euro 5 – Technical Specifications
Engine

Parallel twin-cylinder turbodiesel

Fuel system:

MultiJet Common Rail direct injection

Valve timing system

Single overhead camshaft – 8 valves

Engine capacity

Power

47 kW at 3500 rpm

Torque

140 Nm at 1800 rpm

Drive wheels

Rear

Transmission

We hope you enjoyed this article! For more news, views and reviews on all aspects of the truck driver's life subscribe today.

Sign up here for our free Truck & Driver Newsletter