Experience the Red Dragon Monster Ride Truck at Convoy in the Park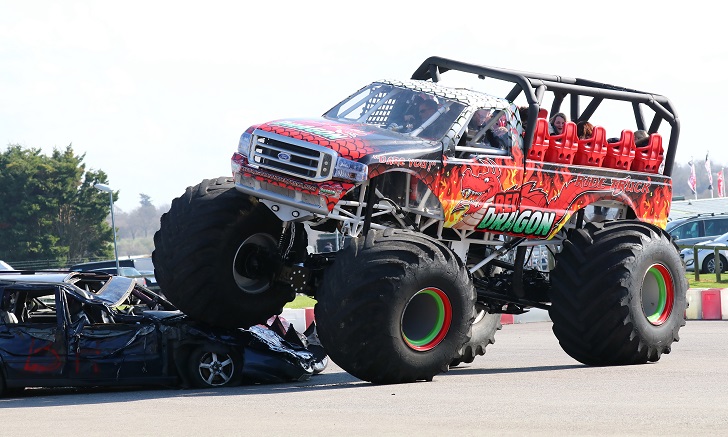 People attending Convoy in the Park will have the opportunity to experience the thrill of riding in a monster truck as it crushes any care in its path, thanks to the Red Dragon Monster Ride Truck.
The purpose-built Red Dragon Monster Ride Truck is the only tubular framed race specification ride truck in Europe. It has a 6.5 litre Chevy V8 engine, which gives more torque to cater for the extra weight of carrying up to 10 passengers. Anyone can ride the truck, as long as they are more than 3 feet tall.
The Red Dragon Monster Ride Truck is just one of the attractions at Convoy in the Park, which takes place at Donington Park in Leicestershire on 21-22 July. In addition, there will be on-track action from the British Truck Racing series and various support races, as well as more than 1000 show trucks, live music on both days, attractions for children, a full trade show and much more.
Tickets are on sale now for Convoy in the Park. A weekend ticket, booked in advance, costs £30 for adults and £18 for teens aged 13-15. Under 13s go free. An adult ticket for either Saturday or Sunday costs £20 in advance, and it is £13 for those aged 13-15.
For more information and to book tickets go to www.convoyinthepark.com
Entries are also open for show trucks. It costs £65 to enter your truck, but that price includes 2 adult weekend passes and entry into one show truck category. To find out more and to book your truck in, go to: www.btrc.co/show-truck-entry
We hope you enjoyed this article! For more news, views and reviews on all aspects of the truck driver's life subscribe today.