Ford F-Max named International Truck of the Year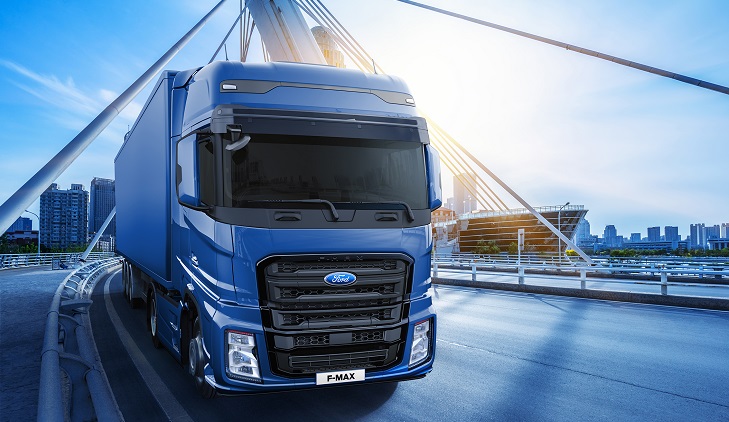 Ford's new F-Max tractor unit has been named as the International Truck of the Year 2019 (IToY) at the IAA Conference in Hannover.
Ford's new Turkish-built truck took 104 votes from the jury, which comprises 23 commercial vehicle journalists from across Europe. It finished 30 votes clear of Scania's L- and P-series urban distribution trucks in second place and Volvo's gas-powered FH (56 points) in third.
Jury members take into account several important criteria including technological innovation, comfort, safety, driveability, fuel economy, environmental footprint and total cost of ownership.
The jury was impressed by the F-Max's flat floor, 500hp Ford Ecotorq engine and ZF TraXon gearbox. They praised the efficiency and advanced characteristics of its driveline, including eco-roll, adaptive cruise control and GPS-based predictive cruise control.
Inside the cab, the jury appreciated its comfortable, ergonomic, user-friendly working and living environment, excellent storage capacity and cockpit-style dashboard featuring a digital instrument cluster, which is both easy to read and navigate.
IToY chairman Gianenrico Griffini said: "With the introduction of F-Max, Ford Trucks has delivered a fine engineered tractor that can be a meaningful new player in the highly competitive segment of long-haul transport."
UK jury member, and Commercial Motor editor, Will Shiers added: "While Ford's previous Turkish-built trucks have been competent products suited to the domestic and nearby markets, the F-MAX is entirely different. It is capable of competing with the established players on the global stage with no allowances asked for or needed."
In addition, MAN Truck & Bus won the first IToY Truck Innovation Award in recognition for its eFAS level 4 automated driverless safety truck. The eFAS, which tows a safety sign and follows road crews on motorways, scored 93 points. It finished well ahead of the competition, which included the Mercedes-Benz eActros (56 points), Renault Trucks' second-generation Range D ZE Electric (45 points), ZF's Innovation Truck (36 points), Volvo Trucks' eFL and eFE (28 points) and DAF's Ecochamps (25 points).
"With the aFAS project, MAN has not only delivered an effective solution to protect mobile construction sites, but it has also gained important insight for the future technical development of fully automated driving vehicles," said Griffini.
You can read more about the IAA Show in Hannover in the November issue of Truck & Driver, out on 9 October. For information on how to subscribe, click here
We hope you enjoyed this article! For more news, views and reviews on all aspects of the truck driver's life subscribe today.