Former bakery apprentice becomes one of youngest people to qualify as HGV driver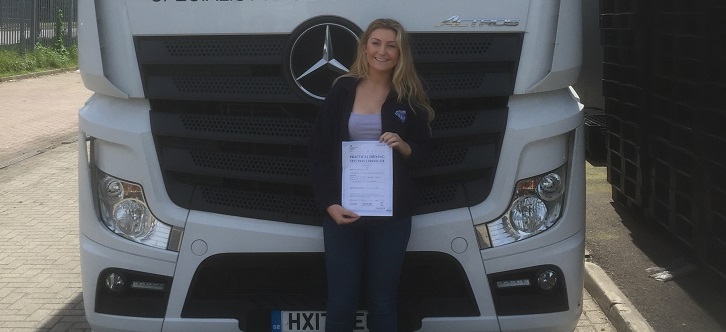 A former bakery apprentice has become one of the youngest people in the country to drive 44-tonne trucks after qualifying as a HGV driver.
Katie Ellis, aged 20, has been described as a 'trailblazer inspiration' and is believed to be one of the youngest women ever to obtain a Class1 licence.
Katie works for Prestige Distribution, based in Horsham, West Sussex – which is part of the Pallet-Track network – and covers the southeast of England including night trunk driving from Pallet-Track's southern hub directly into London.
Nigel Parkes, managing director of Pallet-Track said: "This is a great success story from a traditional family firm and goes to the heart of issues facing the supply chain. The industry needs more young people like Katie to come forward as drivers. She is a role model for the next generation who, though her achievement, is breaking records, stereotypical moulds and glass ceilings in their wake.
"With the average age of HGV drivers being over 50, the girls are a breath of fresh air to an industry struggling to recruit qualified drivers. It is a national problem which needs to be solved because it is having an impact on the price of goods and services if businesses have to use agency drivers who are by their nature more expensive."
Katie is now looking to obtain the Driver Management CPC.
After completing her A-Levels at Steyning Grammar School, Katie wasn't sure what career path to take and father Steve, the founder of Prestige Distribution, said she should get a job outside of the business in the first instance.
"Dad did not want me to join the company straight away, but said that I should go out and learn to stand on my own two feet," said Katie.
"I thought about university, but I did not know to study so got a part time job in a bakery and they offered me a full time post, which I did for over a year before a job came up with Dad. I took Class 2 driver training when I was 19 and have just got my Class 1 which was another notch on my belt."
Steve added: "I suggested that she go out and get a job in the first instance to learn what life was all about, but she has a real aptitude for the job learns very quickly – she is a natural and a great asset to the business."
Katie, who did her training with EP Training Services, is no longer treated as a novelty by fellow drivers, but as one of the lads. "When I pull up outside a delivery point, I used to get surprised comments along the lines of "did you drive that big thing in here?" she said
"Now people are used to the idea and I'm pretty much treated like everyone else."
Now, Katie's 18-year-old brother, Michael, is about to follow in the tyre tracks of big sister. He is currently doing smaller deliveries in the Prestige light commercial vehicles, but is scheduled to take his Class 2 in the next few weeks.
We hope you enjoyed this article! For more news, views and reviews on all aspects of the truck driver's life subscribe today.