Happy valentine's day, here's a story about the clean ejection of wet and sticky loads…. from shiny new truck tipper bodies of course.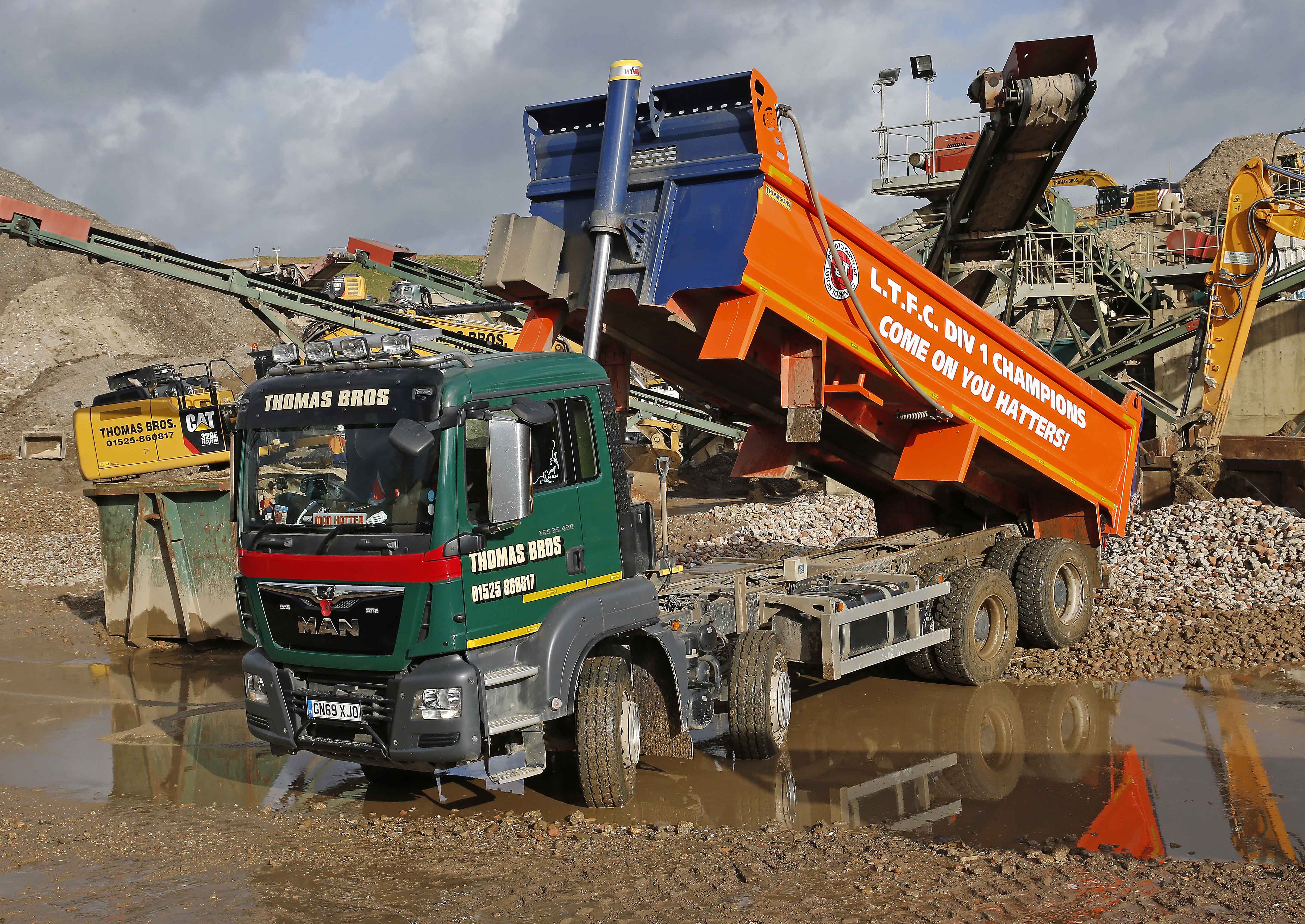 With Tip-Ex and Tank-Ex on the way, we're feeling in a very tipperlicious mood so it was nice to have the following press release appear in our inbox, along with some nice pictures of MAN TGS 8×4 tippers – there was a new TGS launched this week alongside the TGX, but it's the bigger truck that's hogged most of the limelight – we'll have to sort that and get you some details on it. Having spent a couple of years in an eight-wheeler, we really ought to get back out in one for a week at some point this year.
THOMPSONS GROUP SCORES 2-0 WITH LUTON'S TOP TIPPER TEAM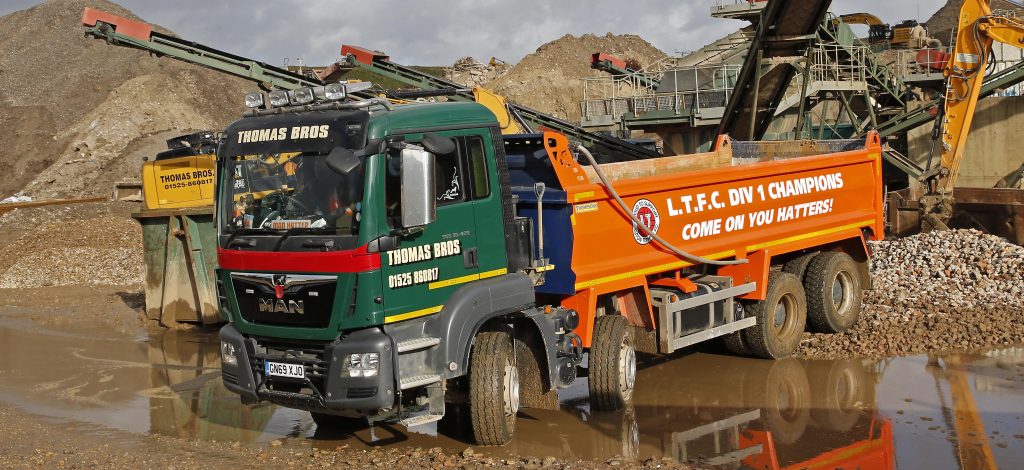 Given the wide range of tasks they have to handle, choosing exactly the right tipper body spec is rarely easy. For Thomas Bros. Excavations (Luton) Ltd, the choice had to be from either Thompsons or its sister company Charlton. With so many benefits accruing to each, the ultimate decision was easy – they wanted both. "We've bought Thompsons bodies for years" says Thomas Bros. Managing Director Andrew Burton, "so we know we can put them on any job whatsoever. That said, the Charlton product is similarly versatile, and with the added bonus of being around 200kgs lighter. So for the heavier duty tasks such as muckaway and site work, the Loadmaster has that extra bit of reserve strength and capability, whereas for carrying stone and our crushed recycled materials Charlton's SuperLite has a worthwhile extra payload. For a multi-purpose tipper operation such as ours, they are a terrific combination!"
 Fitted to MAN, Volvo and Scania chassis, both Thompsons' Loadmaster Lite and Charlton's SuperLite bodies are single skin designs built entirely in steel. This gives both types an optimal blend of strength, durability and carrying capacity. The Charlton body also has a curved floor, which makes the clean ejection of wet and sticky loads that much easier. Befitting its intended application, the SuperLite also has a lower side panel height than the Loadmaster, thereby helping to reduce overall weight. "We've already got a great track record with both these bodies" adds Andrew Burton "and in reality there's no other product out there to touch either of them. Our chassis choice may vary from time to time, but for tipper bodies we always go for Thompsons. Today, our trucks are working harder and longer hours than ever, so we really need that extra margin of performance and reliability. It's as simple as that."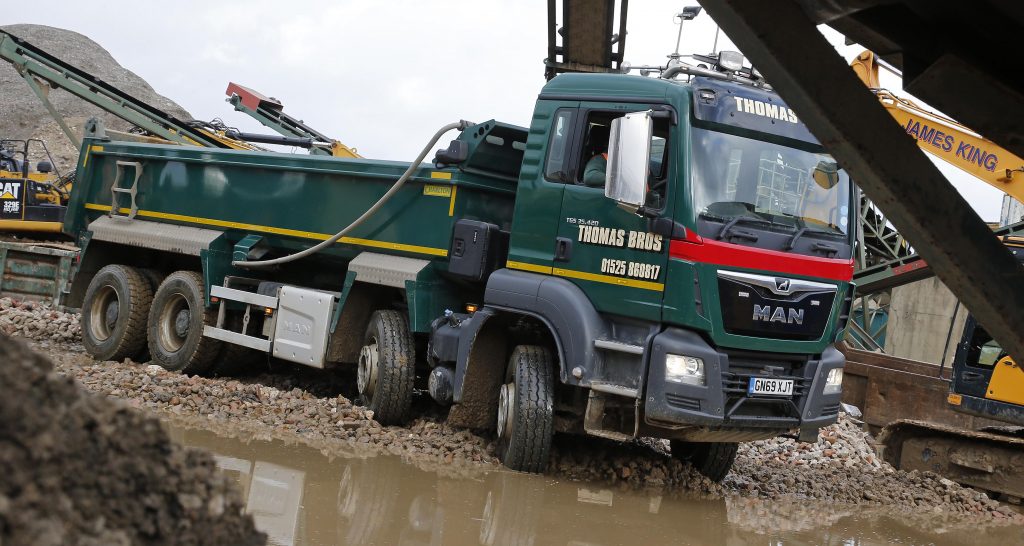 With many in the company being big fans of Luton Town Football Club, Andrew has had two of the latest Loadmasters painted up in the club's distinctive and highly visible orange colour. "They make great adverts," he says "both for the club and ourselves. After all, football is almost as hard a game today as being a tipper operator!" Speaking for Thompsons, Joint Managing Director Scott Burton says "We're delighted to have secured another 10 bodies for Thomas Bros.' latest tippers, and in particular that Andrew clearly recognises the key benefits of each of our brands. Whereas the Loadmaster continues as the UK's top selling tipper body, our Charlton product nonetheless finds increasing favour as a truly versatile, maximum payload alternative for customers who mainly carry stone, aggregates and recycled materials."
Based at Beadlow in Bedfordshire, Thomas Bros. provides a wide range of services to the construction industry with over 40 heavy trucks that also include artic and grab tippers, hookloaders, skiploaders and road sweepers.

Tip-Ex and Tank-Ex takes place on the 28-30 May at Harrogate Exhibition Centre. Check it out here: https://www.tip-ex.co.uk/2020/en/page/home-page-2
Driver's Day at Tip-ex and Tank-Ex 2020! Put your tipper or tanker on show with Truck & Driver in Harrogate on Saturday May 29th… and there's beer and a barbeque in it for you
We hope you enjoyed this article! For more news, views and reviews on all aspects of the truck driver's life subscribe today.