HerGV winner to begin LGV driving career after passing tests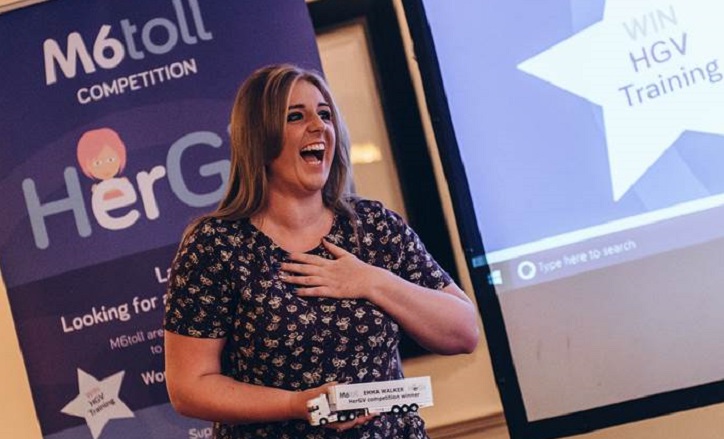 The winner of the 2017 HerGV competition, Emma Walker, is ready to hit the road having passed her LGV test.
M6toll's HerGV competition was run in conjunction with the Road Haulage Association (RHA) and Pertemps Driver Training and aimed to encourage more women to seek a career within the HGV industry.
Emma's HerGV prize package was worth over £3,000 and included HGV training from Pertemps Driver Training, guidance from some of the most influential women within the HGV industry.
"Becoming a HGV driver was a dream of mine since I was a little girl and with the help of M6toll, RHA & Pertemps Driver Training, that dream is now a reality," said Emma. "Before I embarked on this journey I didn't quite realise how much I would have to do to get my license. As well as 20 hours of practical training driver training, I also had to complete a driver's medical, 2 x LGV theory tests, CPC modules prior to taking my LGV category C DVLA test. I finally passed my LGV test on the 26th April having had a few setbacks due to snow and adverse weather. I am so proud of what I have achieved for myself as well as my family, and I am very much looking forwarded to hitting the road."
Emma has landed a job interview at PD Ports as a Class 1 LGV Driver. She has also become a She's RHA ambassador, with the hope that she will encourage other women to join the haulage industry.
Lesley O'Brien, RHA board member, congratulated Emma on passing her test, adding: "Emma has been a very inspirational winner. She is a testimony that truck driving is not only for the boys, but a career choice for men and women of any age. We'll continue to watch Emma's career progress with interest as we welcome her as a She's RHA ambassador."
Sadie Booth, driving academy manager at HerGV partner Pertemps Driver Training said: "Since we launched in 2014, we have trained over 1,600 drivers, all completely free of charge. However, only 7% of drivers trained are female, demonstrating how much more work is needed to attract females into the industry. For that reason, we're honoured to be working with M6toll on their campaign."
M6toll has evolved its HerGV campaign over the past 12 months with the addition of the #DrivingForChange movement. The HerGV #DrivingForChange initiative's focus for 2018 is to promote positive conversations about how encouraging more women into the profession could contribute to real change, within what is currently a very male dominated industry.
Find more information about the HerGV campaign, visit www.her-gv.co.uk
We hope you enjoyed this article! For more news, views and reviews on all aspects of the truck driver's life subscribe today.