HRVS to bring full range of MAN commercial vehicles to Convoy in the Park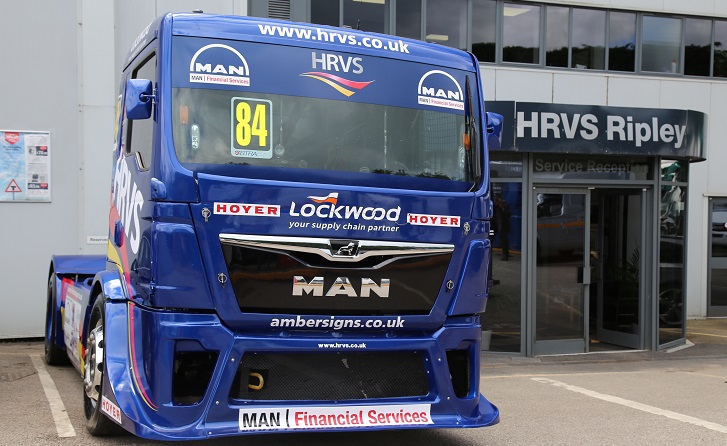 Commercial vehicle dealer group HRVS will have a large presence at the Convoy in the Park truck show on 21-22 July, with two stands, about 100 new and used commercial vehicles, and of course race trucks.
The dealer has taken a 30m x 30m stand in the infield, where in addition to a full range of MAN commercial vehicles, visitors will find a selection of nearly-new customer vehicles. The stand is fully backed by MAN Truck & Bus, which will be supplying its hospitality trailer.
In addition to watching HRVS Racing's latest 1,100hp MAN TGX compete on the circuit, with Mat Summerfield at the wheel, visitors will also be able to admire the truck that won the UK championship in 2012, 2013, 2014 and 2015, as it will take pride of place on the stand.
The company will have another stand in the paddock, where it will be showing trucks from MAN's TopUsed range. "We are going to have a bit of a truck show of our own too," explains HRVS Group operations director Keith Sims.
"While we won't have as many as Scania, we will have 40 or 50 MAN show trucks, including 25 from [sister company] Lockwood Haulage."
Sims sees the Convoy in the Park truck show as the ideal opportunity to engage with drivers. "As dealers it's obviously important that we interact with the owners of businesses, but we think it's equally as important to talk with the drivers," he says. "The guys sat in the cab are so often forgotten, yet they're so important.
"We do a lot of shows, but for us Convoy in the Park will be the big one. It's on our doorstep, smack bang in the middle of all our dealerships, and we are really excited about it."
We hope you enjoyed this article! For more news, views and reviews on all aspects of the truck driver's life subscribe today.