Middle East memories courtesy of 'Ashley the Crane King' Coghill on Biglorryblog!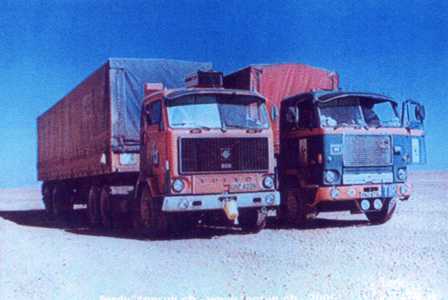 Some time ago we had a young Saudi Arabian guy come and spend some time on work experience with us. Very engaging bloke called Abderlrahman Al-kuhaymi but he told us to use his nickname which was 'Boody'. We enjoyed having him with us and I think he felt the same not least as he got to drive a truck at the Chobham test track which I don't think he was expecting! As part of the exercise he wrote short editorial piece for Commercial Motor on the then prospects for middle-east transport. But we needed some pictures and as ever Ashley ('Mr Middle-East archives') Coghill stepped into the breach. I've had his shots kicking around my e-mail inbox for yonks and discovered them ths morning so sit back and enjoy some cracking middle-east memories starting with this pic of a Volvo F88 and F89 from British companies parked on infamous H4 Tapline crossing the desert, late 1970s. And these are Ashley's captions by the way.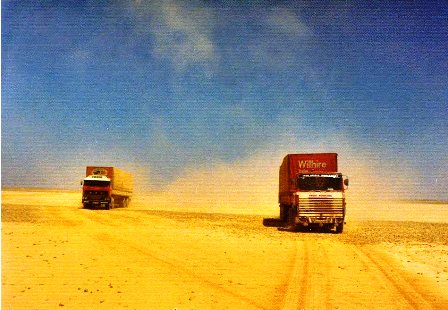 Now "Two more British trucks "thundering" across H4 with the obligatory cloud of dust. From the late 1970s" explains Ash.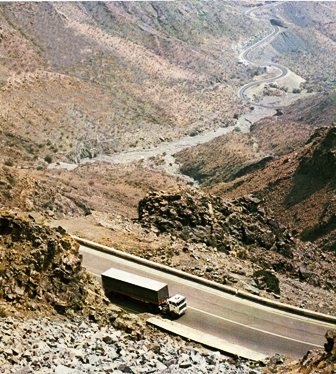 The long and winding road! "View over the Tahif mountians near Jeddah." But what's the truck? Now click through here for more…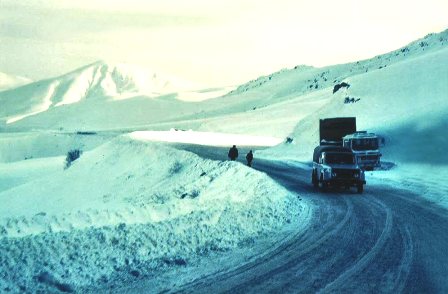 "Now a winter's morning on Tahir mountains, Turkey. British Leyland stranded in snow! Again it's from the early 1970s"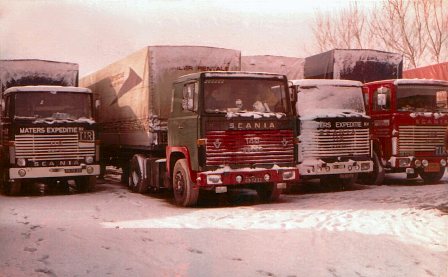 "Line up of Dutch trucks at Mo-Camp truckstop, Istanbul. Also late 1970s." And a bit better kit than a Leyland I suspect…
"Forget the sand," says Ash, "This Hungarion Mercedes stranded in blizzard conditions. Tahir mountains. early 1970s."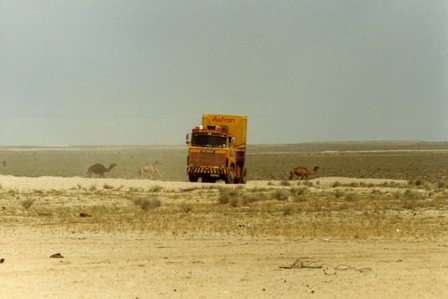 It was only a matter of time before this lot appeared! "Classic Astran Scania 111 posing in the Saudi desert. late 1970s." Not sure what the camels thought about it…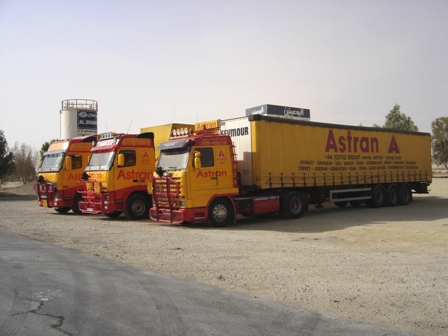 "Modern day Astran line up," says Ash "From Saudi. 2002."
.
"Last but not least an example of the 'paperwork'–entry card." Thanks Ash, great stuff as ever. And a message for Nick Santon–show these to Geoff as I think he'd be interested in them…..
Meanwhile, here's Boody's CM article.written (if my memory serves me right in 2007 or early 2008). Nice little story too.
Article About Overland Transport to the Middle East
On February 19, 1965 Commercial Motor ran an article entitled "Trucking to Asia is No Pipe Dream." It was a report on the first journey to the Middle East by a British hauling company; the company was called Asian Transport (now known as Astran). Referring to the founder of Astran, Mike Woodman, the article stated "true, he has done it the hard way-but so did Vasco da Gama, Marco Polo, Columbus and Cook." Indeed hauling goods to the Middle East was quite the adventure during the sixties and even into the late seventies but what is the current state of the industry?
To answer this question I asked the company that started it all what would an overland hauling company have to be in order to transport goods to the Middle East today? Well, according to Astran, they would have to be "stupid." The glory days of trucking to the region has long since past and is no longer a worthy enterprise for those considering entering the market. The main reasons for this are A) the lack of imports from the Middle East B) the terrible rates and C) delays at the boarders
If you are considering going to the Middle East you should include dead hauling in you calculations, thousands of kilometers of it. Astran claims that "nine out of ten times" they bring nothing back from the Middle East. Usually haulers delivering goods to the Middle East can not get a return load until they return to Europe at the very least. This is confirmed in Chris Hooper's article about his last trip to the Middle East in which he did not pick up a return load until they arrived in Greece.
Delays at the boarders are also a problem. The traditional advantage of a speedy trip by truck is eroding as containerships keep getting faster and boarder delays persist, thus closing competitive advantage the gap.
If you still are considering hauling to the Middle East then you will need the following: A left-handed truck, Saudi Arabia recently banned entry to all right handed vehicles and other Middle Eastern countries may fallow suit. Obviously you will need the TIR Carnet, but these documents will only take you as far South as Jordan and Israel; if you want to go further into the gulf you will need other documents. Arrange for a return load from the Middle East to avoid dead hauling. This part is tricky because relatively speaking the U.K does not trade much with the Middle East; total trade with the Gulf is about 1.8% of UK's trade with the world. Moreover that figure mainly consists of U.K exports not imports, most of which is petroleum and related products that are not transported overland.
Ultimately, there is not much opportunity in the overland trucking industry to the Middle East; it would seem the glorious adventurous have long since passed."
.
We hope you enjoyed this article! For more news, views and reviews on all aspects of the truck driver's life subscribe today.