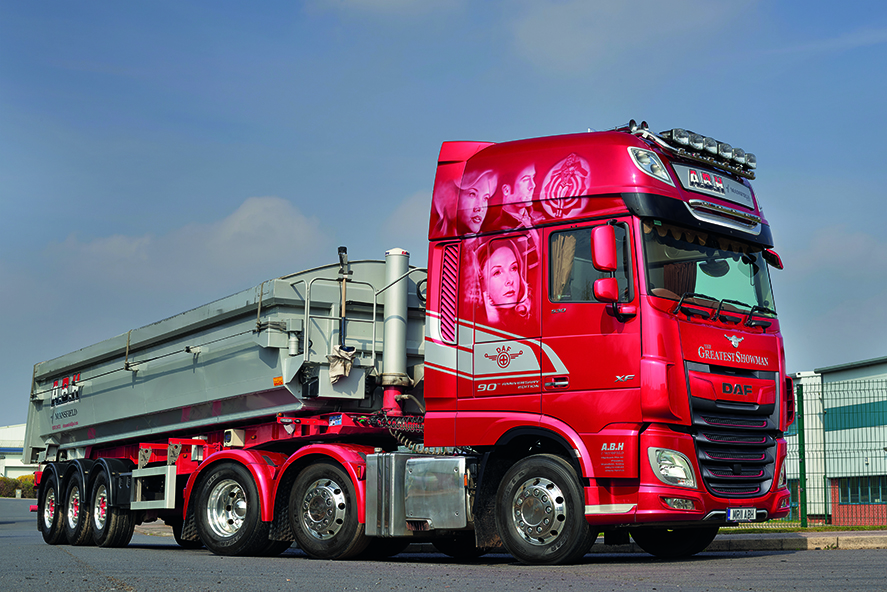 A chance visit to the cinema to see a film he wasn't initially too keen on led Colin Redfern to come up with the idea for this The Greatest Showman-themed XF.
It's a quiet Saturday afternoon in Mansfield, a hard week's work now complete. Colin Redfern gazes bleary-eyed at his Daf XF Anniversary Edition. Finally able to relax after a post-2am polishing session, he's making the most of rare spring sunshine and admiring the efforts.
"It was in some state when it came in last night," he smiles. The gleaming XF shows no indication it's been hauling at full weight on bulk tipper duties all week, so it's testament to the hard work Colin and his friends and colleagues put in to get it back to this standard.
The truck is operated by ABH of Mansfield. Established by Mark Armstrong as an owner-driver in 1989 with a Daf eight-wheeler, the company now runs more than a dozen trucks servicing the construction industry, a mix of tippers, moving floors, flats and block cranes. The fleet is 100% Daf, with many of the trucks serviced fully in-house.
AT A GLANCE
Make & model: 2018-registered Daf XF 90th Anniversary Edition
Engine: Paccar MX13 13-litre six-cylinder, Euro 6c
Power: 530hp @ 1625rpm, 2600Nm @ 1000rpm
Extras: 90th spec includes full leather/Cognac trim, fridge, microwave, airhorns, Alcoa wheels. Custom suzie frame, airbrushed by Alan Smallwood. Leather mats, Alcantara curtains. Kelsa top bar, visor bar, perimeter kit.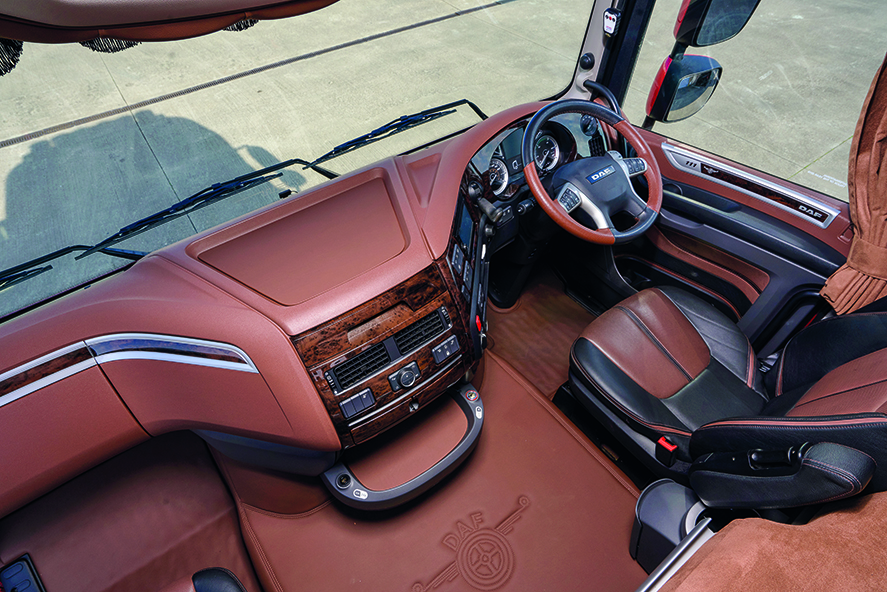 PIRATES POPULAR
In 2017 an XF was taken on and treated to a full Pirate of the Caribbean airbrushed livery and pearlescent blue paint, a marked departure from the clean white of the rest of the fleet. It received so much attention, and became so popular, that a follow-up truck was almost inevitable. And here it is!
Colin's had his Class 1 since he was 18, having come from a truck-owning family. He has fond memories of running down to Spain in a W-reg Daf 95X.
"I went to Romania too, with army supplies. We'd be escorted by police through the country, get to the delivery point, fly home and then fly back out to bring the lorries back when they were ready again." Cool job.
He'll have been with ABH for two years this September and is combining driving duties with coordinating the transport; organising the daily loads for each of the vehicles. "My brother was working here, and I started here through him. I'd been driving self-employed for a few people and it's been great to settle in here. You get to know how long things take, how much can be done in a day. I'm enjoying it."
Colin started off driving an eight-wheeler before moving onto a succession of 510hp XFs, first a midlift and then a tag. "I prefer a tag set-up personally," he says. Then the 90th Anniversary truck came up, so he jumped at the chance of driving that.
"I didn't really like the look of the film but I didn't have anything else to do so I went along– and you know what? I actually really enjoyed it"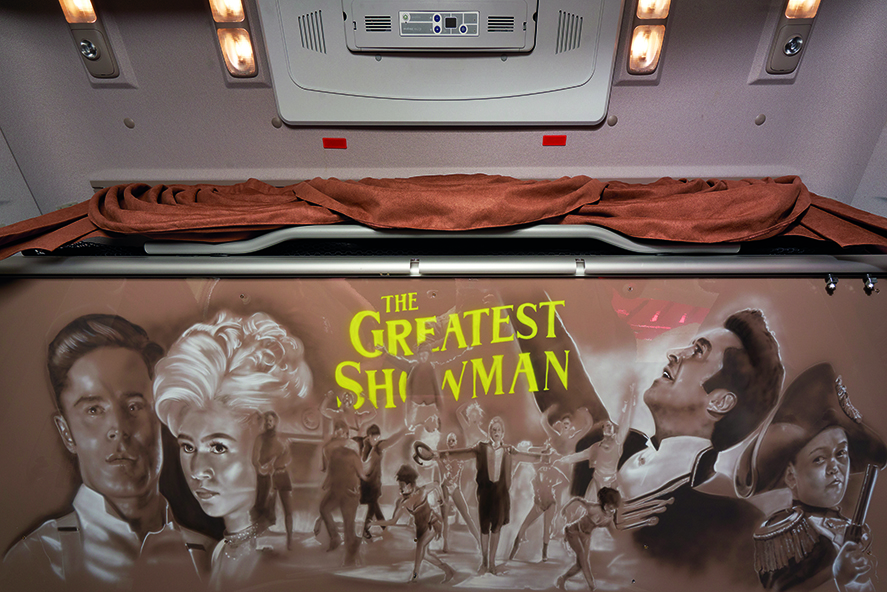 FULL-SIZE MIDLIFT
As you can see from the photographs, the truck has a full-size midlift. ABH's preferred spec is actually a 17.5-inch mini midlift, but the special edition doesn't come with the option; it's standard 6×2 only for the UK.
With the truck on the horizon, plans to make it even more special were hatched. Mark's original plan was to do a '90 years of Daf' theme, but by the time the truck arrived, Daf itself had already done just that. An alternative was required.
Starring Hugh Jackman, The Greatest Showman is a family-friendly musical film about the beginnings of the famous P T Barnum Circus. You've probably seen it. We haven't but we watched the trailer on YouTube in the name of research.
Mark's daughter, Alex, who is also Colin's girlfriend, had arranged to see it at the cinema with her mum, Joanne. They asked Colin if he wanted to go too. "I didn't really like the look of the film but I didn't have anything else to do so I went along – and you know what? I actually really enjoyed it," he grins. "As I was walking out of the cinema, I thought there and then it would be a great theme for the truck."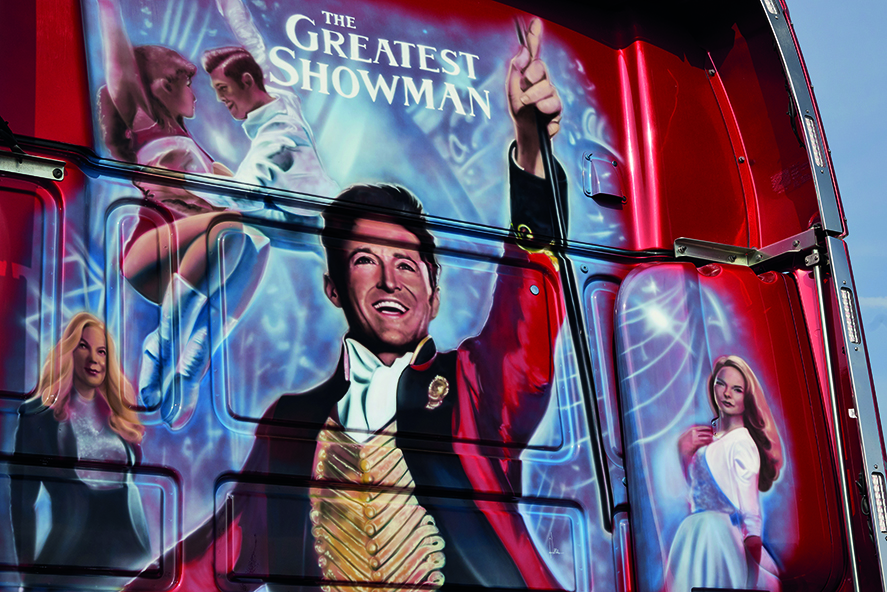 The Daf arrived as a 'standard' 90th XF (if you can call one of these standard) and sent to Smart's Commercials of Derby, which painted the mudguards and catwalk and the suzie bar.
The suzie bar was fabricated at local firm R & M Engineering, aka 'Dave the welder'. Alan Smallwood was then tasked with the airbrushing, adorning the metallic-red paintwork with the film's main characters in glorious detail. A set of leather mats curtains, pelmet and bed cover and the truck was ready to go, all this done by Special Interiors in the Netherlands through Craig McCallum. It's booked in for a visit to Rusty's Truck Interiors soon too but, even as it stands, this XF's interior is gorgeous, with the Cognac trim, walnut dash, two-tone leather seats and Alcantara curtains.
Daf, of course, will be unveiling its new cabs in the not-too-distant future. The Dutch manufacturer has a potential issue with the long-serving Super Space Cab though – how will it make the new one better than this? It really is first-class accommodation. Do the designers go for evolution and keep the finely-honed and much-loved architecture? Or do they go for revolution and change everything? It'll be interesting to find out.
Colin does the odd night out in the XF but he's back most nights to organise the next day's loads. On the fleet now are three brick cranes – a recent new venture for the company – and four eight-wheelers.
One of these is an unusual CF featuring an 8×2 rear-steer chassis and driven by Alex on tar and aggregate work. She loves the truck, describing the turning circle as even better than a traditional six-wheeler.
"The brick cranes pretty much take care of themselves," Colin says. The XF spends most of its time hooked into a new Wilcox tipping trailer, but it's also used on the bricks and flatbeds as necessary. The XF works hard; Colin reckons the truck may only run empty for 30-45 minutes max over the course of a day.
"It's returning 6-7mpg, which doesn't sound a lot but it doesn't spend much time cruising on the limiter, it's almost always loaded and is constantly up and down the gears. The XF is great to drive; the new engine brake is brilliant. I don't think it pulls quite as hard as the old 510, but it's still bedding in."
Colin's also discovered that the truck gathers a serious amount of attention, particularly when hauling a flat or a brick trailer and the rear of the cab is visible. With The Greatest Showman being such a popular family film, the artwork really catches the eye of the public.
"I wondered what was wrong with people to start with," he laughs. "You'd get these people-carriers with families in sitting alongside me taking pictures or filming. Then they'd go past, slow down and make me overtake them so they could get the other side!"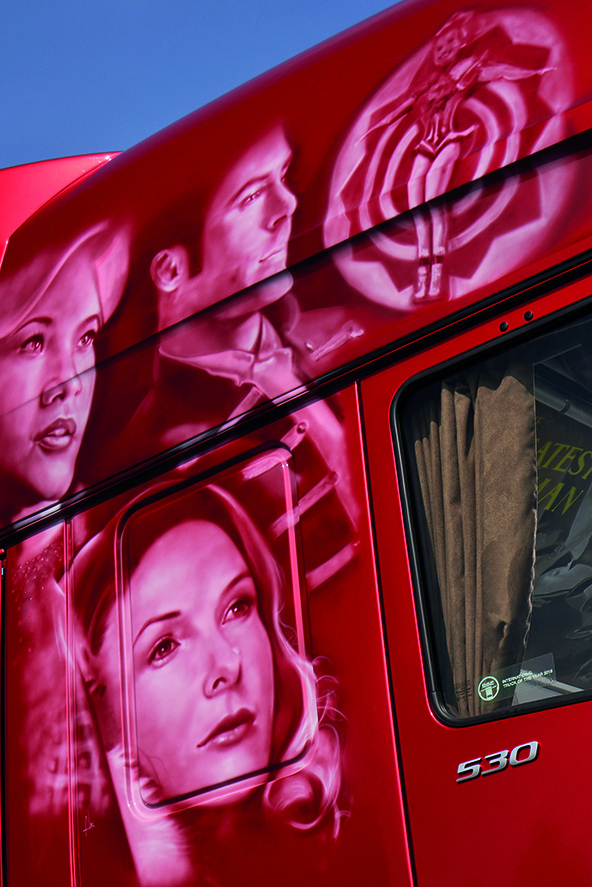 As we initially mentioned, the truck is immaculate but it's a constant battle for Colin to keep on top of it. "I try to get it washed at least every second day but some of the places it goes are unreal. There's an old colliery which is now used as a glass-recycling plant and there are times you go in there and the ground is five inches deep with water and sludge." Ah, the joys of hauling a tipper…
The considerable effort that goes into keeping the truck clean is undoubtedly worth it though. The paintwork itself looks so lustrous you almost want to lick it. As the Pirates and Showman trucks have proved so popular, two more are now in the pipeline.
Another new XF is away at the moment getting emblazoned with a Prison Break theme, and a 2004 95XF 4×2 Super Space is having the 1989 film Road House airbrushed on it, which will be boss Mark's show-going lorry.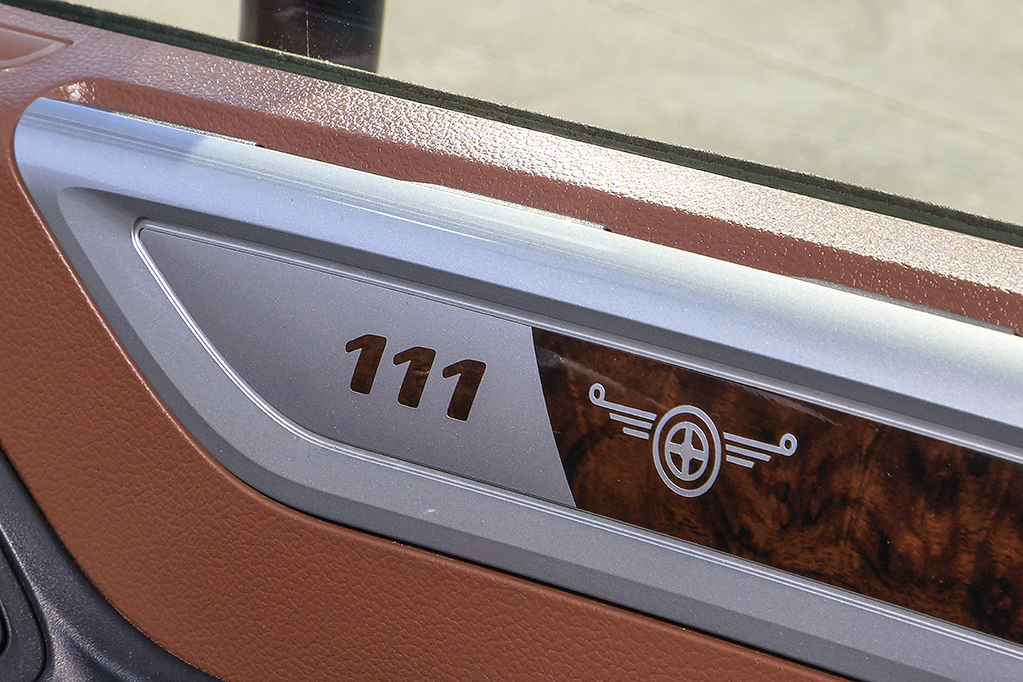 24/7 SERVICES
We caught up with Mark Armstrong at the end of the day; he had been out the previous night on a road-planing job.
"We offer a 24/7 service," he explains. "Our customers know if they call us about an urgent job, no matter when, we'll cover it. If there's an accident on the M1 and the road needs resurfaced, we'll be there, no matter what."
Mark had always wanted a custom truck for showing and he's very much looking forward to getting the 95XF finished. "The only thing about it is it's a manual! We've got that used to autos in recent years – the TraXon 'box in the new trucks is brilliant."
Mark's a big fan of Daf, and cites the excellent relationship he has with the dealer Imperial Commercials as a big factor. "We know these trucks absolutely inside out as well. The latest versions are very impressive."
Mark is also from a family of truckers/hauliers, his great-great-grandfather delivering coal using a horse and cart. Daughter Alex is now the fifth generation.
The company has moved with the times and is proud to display the FORS Silver accreditation on its trucks. Mark's gradually been getting more into customising the trucks too. "If we have guys who are really into their trucks, who keep them clean and want to do shows, then we'll consider doing something with the vehicle.
"A good driver is an asset, just as a clean truck is, so we look on it as an investment."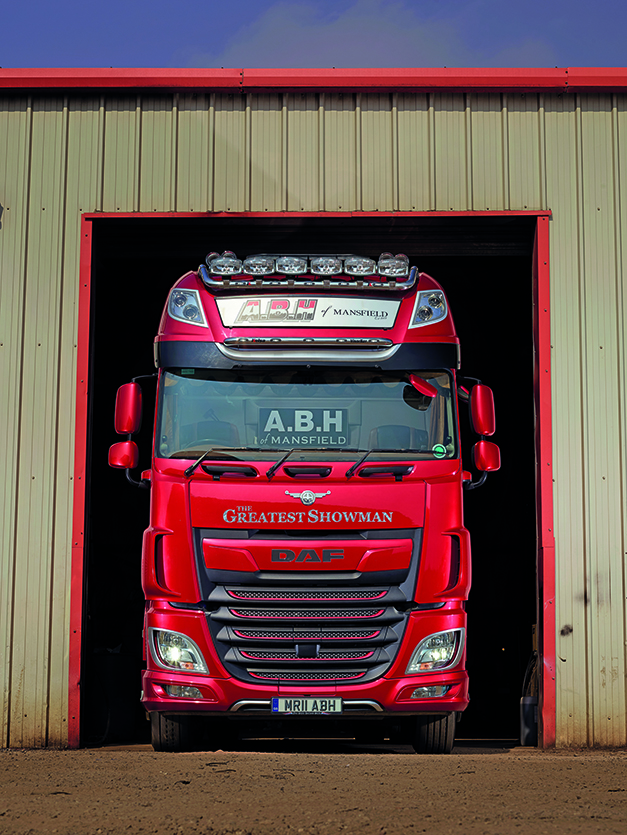 The ABH roadshow will be attending a number of events this summer. Colin is hoping to get the truck over to Assen, and numerous UK shows are planned, including Convoy in the Park: "The best show of the lot!" says Mark. We'll see you there!
"If we have guys who are really into their trucks, who keep them clean and want to do shows, then we'll consider doing something with the vehicle"
We hope you enjoyed this article! For more news, views and reviews on all aspects of the truck driver's life subscribe today.