New Daf LF launched with new engine options, design and safety features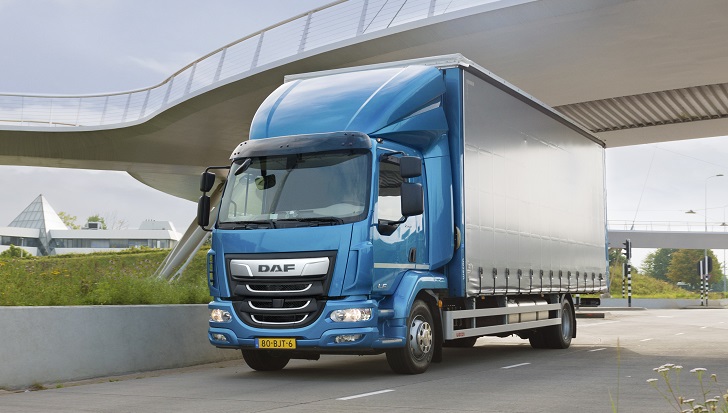 Daf Trucks has refreshed its LF range, with a new engine for light, urban distribution, as well as a new exterior design and optional lower passenger window for enhanced safety.
One of the major changes is a new 3.8-litre PACCAR PX-4 engine at 7.5-tonnes and available in two power ratings: 115 kW/156 hp and 127 kW/172 hp with maximum torque of 500 and 600 Nm respectively between 1,200 and 2,000 rpm. The 4.5-litre PACCAR PX-5 and the 6.7-litre PACCAR PX-7 engines are also still available.
The design of the exterior and interior brings it into line with the new CF and XF, which were launched at the CV Show in April. This includes chrome strips on the grille and the new logo panel.
In addition, there is an optional lower passenger door window, which makes it easier for drivers to see cyclists and pedestrians alongside the cab.
Meanwhile, other revisions to the LF can help to deliver fuel savings. With new faster rear axle ratios of up to 3.31:1, engine speeds are reduced by 150 to 200 rpms at cruising speed. Combined with the engine innovations, this driveline optimisation delivers fuel savings of up to 6%, according to Daf.
Daf is also offering a selection of manual and automated 5, 6, 9 and 12-speed transmissions in the New LF series. In addition, fully automatic gearboxes are now available while the Allison automatic transmission is available for the most powerful versions of the PX-7.
The LF also has a range of wheelbases, up to 6.9 metres, which allows body lengths of more than 9 metres. The longer wheelbase also enables fuel tank volumes of up to 1240 litres.
Inside the cab, the driver information panel has been redesigned, with changes to graphics to make messages clearer.
Daf is also offering DAF Connect on the LF. This is a fleet management system gives the transport operator real-time insight into the performance of vehicles and drivers, including vehicle location, fuel consumption, mileage, vehicle utilisation and engine idling.
The New LF (from 8 tonnes GVW and with rear air suspension) comes standard with Advanced Emergency Braking System, Forward Collision Warning, Adaptive Cruise Control and Lane Departure Warning System.
We hope you enjoyed this article! For more news, views and reviews on all aspects of the truck driver's life subscribe today.