Pollock (Scotrans)' new flagship tractor unit is the first of its kind – it is the number one of the limited-edition Mercedes Actros1 – and has been customised with Nordic front protection and light bars.
A maximum of 100 Actros1s are being built and have been loaded features to have the ultimate appeal to drivers.
Bathgate-based Pollock (Scotrans) provides a range of haulage, distribution, warehousing and logistics services. Actros1, number one, arrived via the Broxburn branch of Central Scotland Dealer Western Commercial.
Driver Allan Holt spent the first weekend with his unit on the Mercedes-Benz stand at Truckfest in Peterborough over the May Day bank holiday weekend, where he won second prize in the organisers' Best Kept New Truck competition.
Striking in its black paintwork with vivid green highlights – an alternative silver/black scheme is also available – his 6×2 chassis has a range-topping GigaSpace cab and is powered by a 15-6-litre straight-six which produces a potent 460 kW (625 hp).
Allan, who lives in Carnforth, Lancashire, said: "My previous vehicle was also a 625 hp GigaSpace. That was fabulous, but the Actros1 is something else altogether.
"In terms of comfort and practicality it's pretty much perfect; I can't think of anything else I'd add. The uprated multimedia entertainment system is brilliant, the leather massage seats and Premium Comfort mattress supremely comfortable, and the additional rear overhead lockers very useful."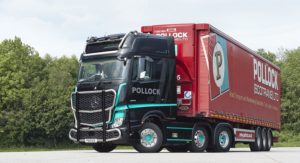 Other enhancements to the Actros1's Style Line interior include a leather-trimmed steering wheel, automatic climate control, a microwave and pull-out refrigerator, and an electric sunroof and sunblind.
As well as its LightFix Nordic bar and extra front lights, Allan's truck is fitted with rear perimeter lights, and black rear wing tops and back arches. He has also added a short affirmation, which appears in green script across the bottom of the windscreen. It reads: 'Dreams Do Come True'.
Allan added: "I just love the way my Actros1 looks, and thoroughly enjoyed showing it off at Truckfest, where it created an enormous amount of interest. I can't imagine there's a better truck on the market today."
Pollock (Scotrans) managing director, Scott Pollock, added: "Actros1 is a very special vehicle indeed, while Allan is a skilled and highly valued professional who looks after company assets as though they were his own. It's for this reason that we were happy to indulge his request for the Nordic bars and other enhancements. The result is a fantastic new flagship for our business."