Roaming entertainment confirmed for Convoy in the Park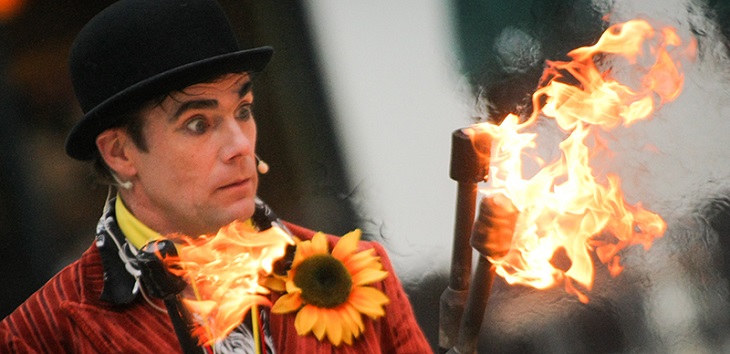 A number of roaming entertainment acts have been confirmed for Convoy in the Park at Donington Park on July 22-23.
Three acts will be performing at the festival on both days, Murtha Truckers, Dingle Fingle and Flambe, providing family-friendly laughs and stunts.
A comedy take on the glamorous world of female truck driving comes from the Murtha Truckers. These heroines of haulage exist in a whirlwind of CB Radio jive, line dancing and rough trucking songs – and the odd bit of knife throwing.
While they may be saucy, they remain family friendly and aim to give everyone a good laugh.
Also performing at Convoy in the Park is Dingle Fingle (pictured), who bills himself as "impressario, performer, a bespoke human being, not your average mortal."
He performs a mixture of street shows, physical theatre and magic, which is sure to draw a huge crowd.
Finally, there is Flambe, a group of Wild West characters who are always ready to show off their line dancing skills or hold a gun slinging competition with their water pistols. These stilt characters also perform stunts with whips and lassos, so are not to be missed.
A full list of the entertainments on offer at Convoy in the Park – including truck racing, eating competitions, caravan demolition and much more – can be found at www.convoyinthepark.com
We hope you enjoyed this article! For more news, views and reviews on all aspects of the truck driver's life subscribe today.