The driver of Richard Kings new truck gives his opinion on Biglorryblog on the mighty FH 16 750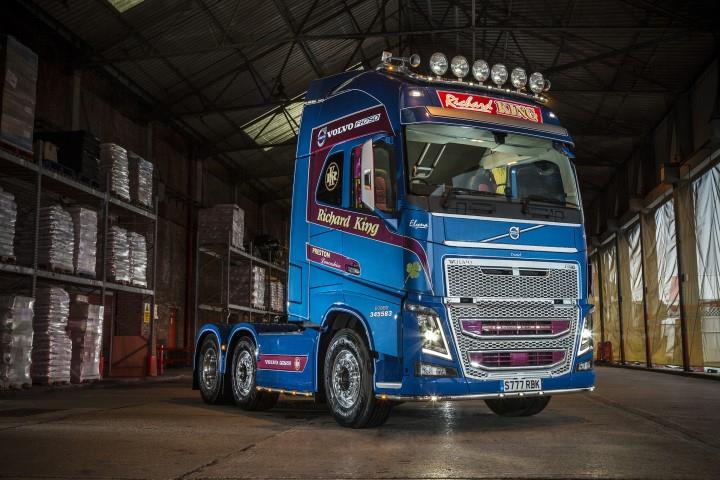 Paul St. John drives a new Volvo FH16-750 6×2 tractor unit that entered service with the 18-strong fleet of Preston-based Richard King Haulage Ltd a few weeks ago. Richard King Haulage Ltd. – who celebrated 26 years in business in 2015 – run an intensive 24/7 operation serving international brands and customers across the UK in a number of diverse sectors, such as refrigerated work. The majority of deliveries are timed, so reliability is paramount.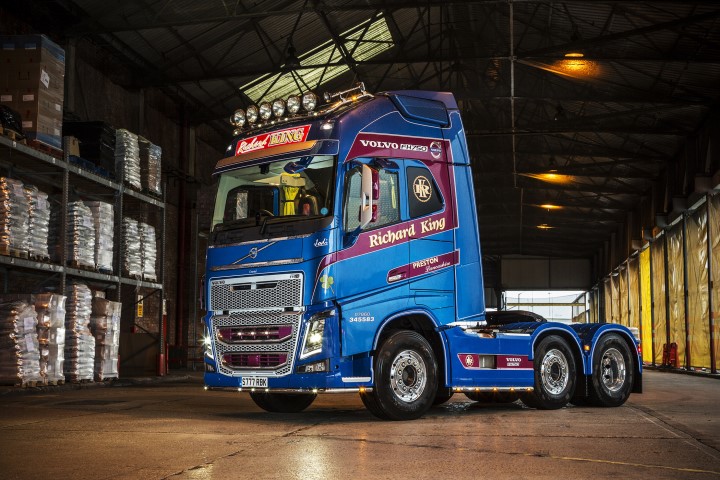 Paul is a very experienced driver who has driven and operated many makes and type truck. He spends about 80% of his driving time on container haulage duties out of various east coast ports to all points west and south, with occasional forays north and across the border into Scotland. His FH16-750 is expected to cover around 160,000 kms in its first year in service. The truck operates at or near the 44-tonnes maximum gross for about 75% of the time. Paul reports that he spends four nights out in the cab every week. This is the second new Volvo in the smartly turned out fleet.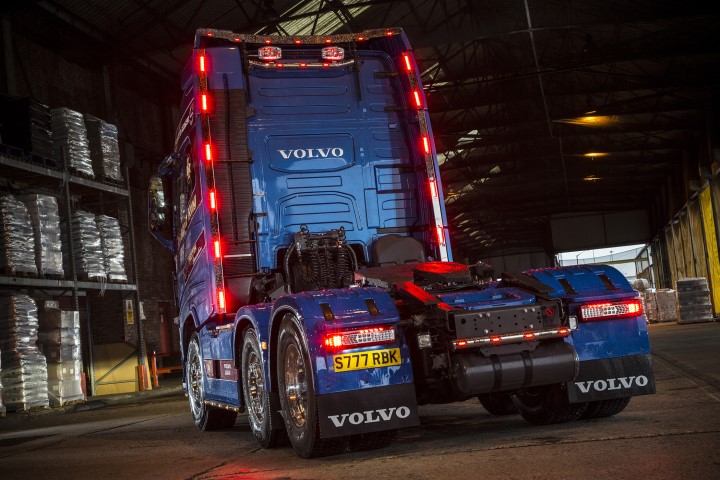 The FH16-750 is equipped with the VEB+ engine retarder, I-Shift gearbox, Adaptive Cruise Control and I-See fuel saving software. Seven hundred litres of fuel is carried in twin tanks. "With the FH, Volvo has really paid attention to looking after the driver," says Paul, adding: "Visibility is excellent and the Adaptive Cruise Control is brilliant. I-Shift is great for the driver as you're left to concentrate on what's going on around you. It's a proper two pedal set-up and is effortless to use. I certainly wouldn't want to go back to a manual or the auto boxes in some other makes of truck, which still have a clutch pedal. The electric parking brake with auto-release is much easier to use than a manual park brake and the I-Roll feature in I-Shift helps to save fuel. The Volvo Engine Brake retarder is so good, I can drive safely, fully-loaded down 'Windy Hill' on the M62 without having to touch the brakes."
Paul went on to say, "There's ample room in the fridge under the bunk, so I find that there is no need to restock it during the week. There is also another good-sized storage drawer under the bunk. I also like the FH's mattress; mine has the Volvo 'topper' fitted and the reclining bunk. All in all, in my opinion, Volvo is light years ahead when it comes to looking after the driver."
We hope you enjoyed this article! For more news, views and reviews on all aspects of the truck driver's life subscribe today.