Biglorryblog likes the new look, and the new trucks for Deluxe Beds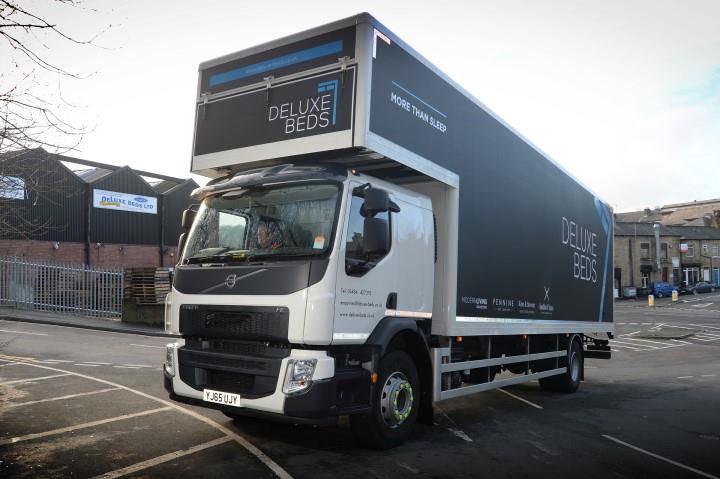 Deluxe Beds of Huddersfield has completed a major re-branding exercise culminating in the delivery of two 18-tonne GVW Volvo FE rigid trucks . Managing Director, Mrs. Khatiza Razak says: "In September 2015 we launched our new 'Modern Living' collection and essentially wanted to refresh our whole brand to reflect the new range of products. One of the key elements was to renew our trucks and Volvo represented the right, modern look for us.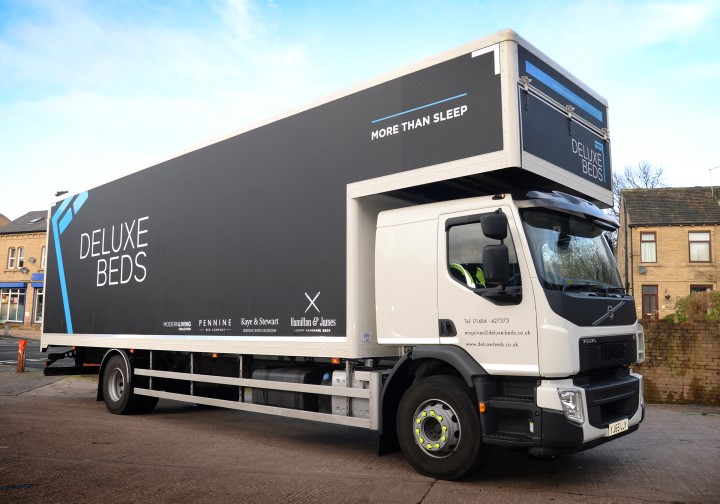 Branding of the two Volvo FE trucks was completed in December and in the first weeks of operation Transport Manager Bob Mitchell has nothing, but praise for the new vehicles. "We are over the moon with these Volvo FE trucks," he says. "We chose them for payload and we're delighted with the result. Our beds are transported in three pieces and we have found the 18-tonne GVW of the Volvo FE, with steel suspension front and rear, enables us to transport over a 100 pieces, which is a significant improvement on our previous vehicles." The two new 6.8m wheelbase FE rigids, which are fitted with single bunk sleeper cabs, feature 9.2 metre GRP Luton box bodies, hinged over the cab, which were built by Micra Truck Bodies in Wakefield. "The bodies are built to the highest standard and give us some 76m³ (2,700 ft³) of capacity, which is ideal for the transportation of beds and mattresses," says Bob. Power comes from Volvo D8K 6-cylinder, 8-litre engines producing 250hp and up to 950Nm of torque. Both trucks are equipped with 6-speed manual gearboxes. Driveability is aided by cruise control, while comfort is enhanced with air conditioning.
"These trucks will cover much of the UK and are expected to amass some 160,000km (100,000 miles) a year," says Bob. "Even in the first few weeks of more localised runs, I've noticed excellent fuel efficiency," he adds. "What's more, our drivers love them! There's a tangible sense of pride shown by the drivers of these new Volvo trucks. They appreciate the comfort, power and manoeuvrability, as well as the ease of driving and the excellent visibility. I am absolutely certain that in choosing Volvo we have simultaneously helped ourselves when it comes to driver recruitment and retention."
We hope you enjoyed this article! For more news, views and reviews on all aspects of the truck driver's life subscribe today.