Thousands more truck parking spaces to address shortages, government survey finds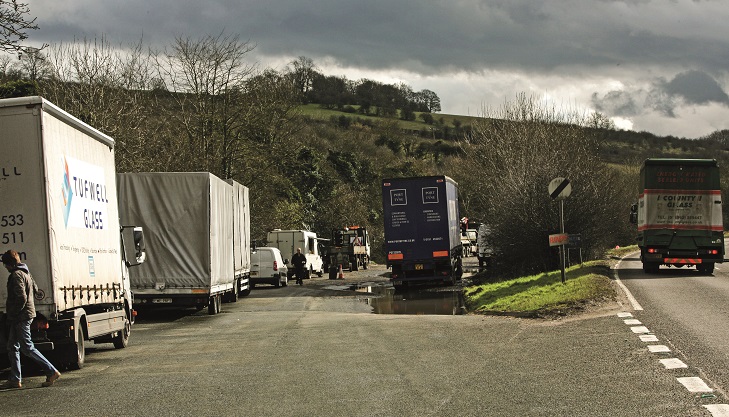 A government survey has found that the number of trucks parking overnight across England is increasing, but that parking provision is not keeping up with that demand and thousands more spaces are needed to address the shortages that mean drivers have to park in laybys or industrial estates.
In the month-long survey, prepared for the Department for Transport and Highways England by AECOM Ltd, 4509 parking sites were visited, comprising 311 lorry parks including motorway service areas (MSAs) (on-site); 801 industrial/retail estates (off-site) and 3397 laybys (off-site).
In all, 18,670 vehicles were found to be parked overnight across England – a rise of 36% since 2010, when the last study of this kind was undertaken. The total capacity of on-site spaces was found to be 15,012 – a rise of just 14% since 2010 – leaving a theoretical excess of 3,658 vehicles that could not park in an on-site space.
The survey recorded 39% of all vehicles as parking off-site. In terms of total number of vehicles parked off-site, the East Midlands had the most with 1,264, followed by the South East with 890. Meanwhile, the North East had the greatest percentage of vehicles parked off-site (63%) followed by the East Midlands (42%).
In all, 14% of vehicles counted parking overnight were in industrial estates or retail parks. Of these just 6% have cafes and 42% are lit.
Meanwhile 25% of all vehicles counted parking overnight were found to be in laybys. Of these 6% were found to be lit, 1% have toilets and 2% have a café – although this is usually a portable trailer that is closed in the evenings.
Six regions were found to have parking that exceeds or is close to exceeding capacity – where utilization of on-site parking exceeds 70%: East Midlands, East of England, North East, South East, West Midlands and South West. Two regions, the West Midlands and East of England were judged to have a critical level of utilization – more than 85% full – as, the report noted, it is difficult for drivers to find parking spaces due to the size of vehicles and the way they are positioned, hence at this point the lorry park is considered to be full in a practical sense.
Overall utilisation of lorry parks has increased by 18% to 76% in the seven years since the previous survey was carried out in 2010. This figure is partly down to an increase in HGVs on the road in recent years; DfT registration figures show that 493,600 HGVs were registered in Great Britain in 2016 – a fourth consecutive year of increase after five years of decline.
The facilities at on-site parking sites also vary markedly. Across England, only 5% had toilets, lighting, showers, a café, security fence, accommodation and CCTV – and none of these were in London or the North East. The majority (51%) have toilets, showers and a café. Just 21% of lorry parking facilities across England provide security.
The report calculated that taking just the critical areas where there is at least 85% utilisation, there is an immediate need for 1,411 more spaces across the country (19% increase), with the most urgent need found to be in the South East where 37% more overnight parking spaces are required.
However, to ensure that all drivers could park at an on-site area, more than 3500 spaces will be needed.
Government commitment
Road Haulage Association chief executive, Richard Burnett, was critical of the findings: "We need more than vague projections of how many lorry parking spaces they might be able to create in the future. This needs to be addressed right now. Operators of existing sites but have their hands tied by planning regulations. We need to see an immediate commitment from government and local authorities to build more and better parking facilities, and not throw away solutions as seen last year at Stanford West in Kent."
In response, the Government has announced Highways England is looking at sites with the potential to be developed into lorry parks, which they say could mean up to 1,500 more spaces but the RHA believes this is not enough.
"If border checks are put in place, Kent will be plunged into chaos once again," added Burnett. "Truckers stuck in traffic and coming up to the end of their legal hours have to find somewhere to park – a lay-by or even the nearest town – it's a situation no-one wants to see. But this is the consequence of Government inaction over a vital facility which will inevitably again leave hauliers, businesses and the people of Kent counting the cost."
Jesse Norman MP, in a written statement to Parliament, added that Highways England intend in future to give increased priority to the provision of lorry parking across the strategic road network.
We hope you enjoyed this article! For more news, views and reviews on all aspects of the truck driver's life subscribe today.