The April '22 issue of Truck & Driver is on sale now! Scania 530S and Volvo FH16 750 put to test. Show trucks, workhorses, classics and more…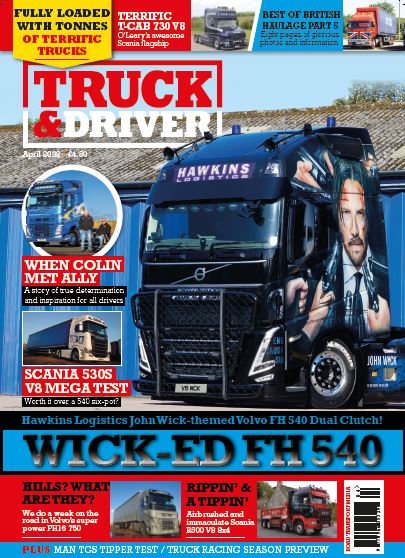 There's lots of great stuff in this issue, with Editor's Choice kicking things off with Hawkins Logistics Volvo FH 540 Dual-Clutch, fully airbrushed with Keanu Reeves' movie action hero, John Wick.
Truck racing will soon be back, with the British Truck Racing Championship kicking off the 2022 campaign at Brands Hatch. We've got a preview of what to expect in the new season, and a feature profile of Craig Evans who came third in Division II last time out.
We've been busy putting trucks to the test, with a full week of work racked up with Keltruck's Scania 530S V8, along with Volvo's flagship FH16. There's a full feature on each of these, plus we took a test drive in the latest MAN TGS tippers.
Talking of tippers, there's a smart airbrushed Scania R500 eight wheeler from DB Plant, plus in Team T&D Niall Barker looks back upon his time behind the wheel of an artic bulker. There's also updates from Chris Maddison and Mat Ireland in this issue, while Luke Vernon concludes the story of his trucking career (so far!) in Lukeing Back Part III.
Paul O'Callaghan went to check out a modern T730 T-cab conversion from O'Leary Transport in Ireland, while Peter Davies has the fifth instalment of his amazing history of British haulage from the '50s to the present day in "Pete's Picks". We've also got a special feature, where we meet the inspirational Colin Duthie – it's a fantastic story! There's a podcast with him too – be sure to check that out.
There's entertaining articles in the Sharp End and Blunt End from Bill Dean and David Russell respectively, plus a new page looking at model trucks! We hope you enjoy the new issue…
We hope you enjoyed this article! For more news, views and reviews on all aspects of the truck driver's life subscribe today.