Truck-loving siblings have new trucks named after them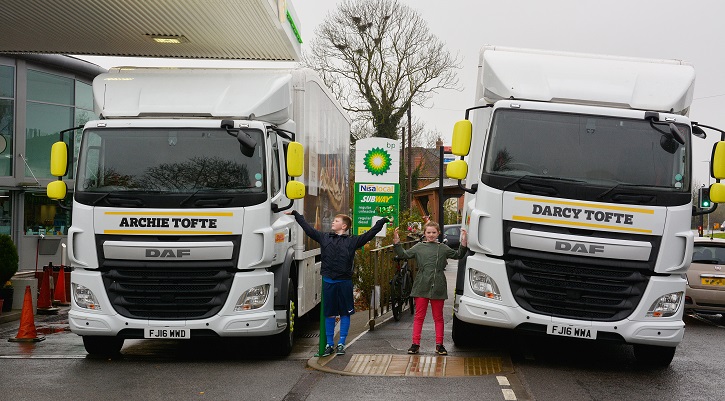 A truck-loving brother and sister from Northamptonshire have had their dreams realized when supermarket chain Nisa named two of its new trucks after them.
Archie Tofte, 10, and seven-year-old sister Darcy, from Roade, have loved trucks as long as they can remember – most of their family are involved in the haulage industry.
Their dad, Tim, is a transport manager while mum Abi is a class two driver, their uncle is a class one driver and their Grandad is a transport manager.
Tim said: "Archie and Darcy both just love trucks. They are always yelling at lorries when they see them drive by and give them names like Mummy Truck! And if they see any of the trucks from my business or their Grandad's they really get excited. Seeing their own names on the front of Nisa's delivery lorries will be like a dream come true for them."
The sister and brother had their trucks – a pair of Daf CFs – unveiled in a special event hosted at the Nisa Local forecourt store at Roade Service Station.
Retailer and Nisa member Shan Navarathan, said: "This was such a lovely event. The kids clearly had a great time and were so enthusiastic about everything. It's great to be able to involve our shoppers in Nisa's 40th birthday in this way and it will be brilliant receiving our deliveries on the trucks with the names on the front."
The Name a Nisa Lorry initiative was launched as part of the 40th anniversary celebrations of Nisa Retail and will see 40 lorries named after Nisa customers and their friends and family who were nominated via an online competition.
We hope you enjoyed this article! For more news, views and reviews on all aspects of the truck driver's life subscribe today.