Vic Reeves lends support to campaign to get truck drivers to bin their litter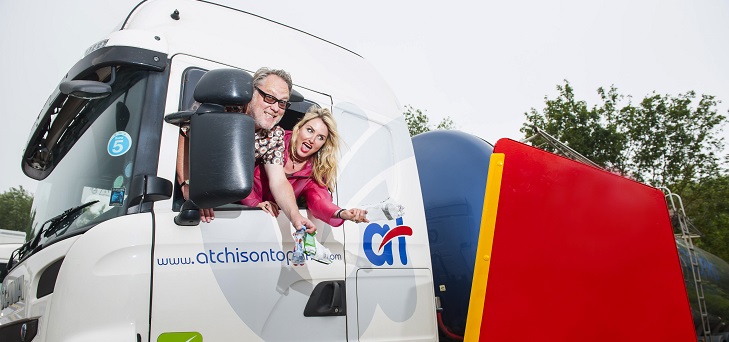 Comedian and artist Vic Reeves, along with his wife, Nancy Sorrell, have lent their support to a campaign to encourage road users, including truck drivers, to dispose of their rubbish responsibly.
A pilot campaign – #DriveDownLitter – has seen giant funnel bins designed for truck drivers to use without having to leave their cabs installed at Maidstone and Folkestone services in Kent, with the aim of reducing roadside litter in the area.
Research by Highways England has shown that a large amount of roadside litter on motorways comes from HGV drivers. It is recognised that in England there are a lack of suitable facilities for truck drivers to dispose of their litter and other waste. In 2009, research showed that 67% of commercial drivers admitted to dropping litter.
As well as being an eyesore, roadside litter harms wildlife and causes accidents, flooding and delays. Removing litter from motorways is estimated to cost £6 million a year, with more than 200,000 sacks of refuse collected annually – that's an average of 111 bags collected from each mile of motorway.
Environmental charity Hubbub is behind the #DriveDownLitter campaign, in collaboration with partners including Highways England, Roadchef, Shell, Costa Express and the and the 13 Kent councils via the Kent Resource Partnership. The 6-month trial also includes the installation of the first ever 'recycling reward' machines in a UK service station, where visitors to Maidstone Services can exchange plastic bottles and coffee cups for money-off vouchers.
CEO of Hubbub, Trewin Restorick, said: "Litter by our motorways is an eyesore, harms wildlife and is expensive and dangerous to remove. #DriveDownLitter brings together a unique partnership of organisations exploring whether we can change habits and cut littering. The campaign will see the introduction of the UK's first reward scheme for people who recycle their coffee cups and plastic bottles at service stations, plus an array of new bins making it easier for drivers of all vehicles to bin their rubbish."
Wayne Moore, Highways England Service Delivery Manager, said: "Litter isn't just unsightly; it can block drains and harm wildlife. Picking it up puts road workers in harm's way and is a distraction from other vital work they could be doing. So I'd urge road users to dispose of their litter responsibly. We are pleased to support this great campaign, which should help reduce litter on our roads."
We hope you enjoyed this article! For more news, views and reviews on all aspects of the truck driver's life subscribe today.