Volvo Trucks celebrate 50th anniversary with open day with 'the Steel Boys'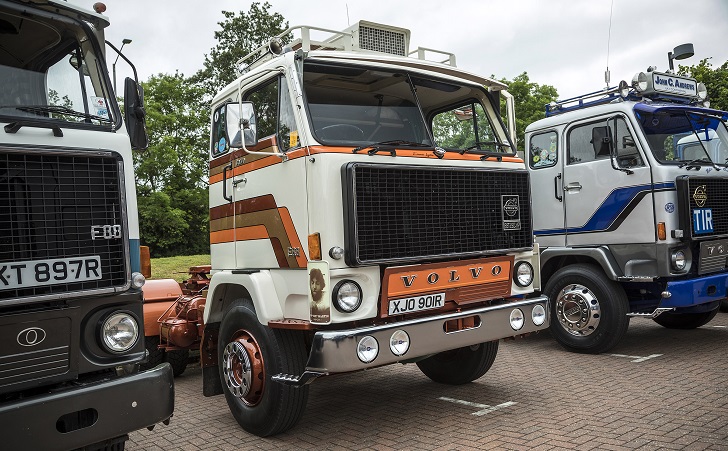 More than 80 classic Volvo trucks formed the centerpiece of an open day held recently at Volvo Trucks' UK & Ireland Headquarters in Warwick that was part of the company's celebrations of the 50th anniversary of its arrival into the UK market.
The majority of the Volvo trucks on display around the whole site were owned by members of 'The Steel Boys' – the collective of operators and enthusiasts for all makes of what they describe as 'Rolling Classics'.
The display was timed to coincide with 'The Steel Boys' annual Saturday stop-over at Warwick en-route to their attending the Classic and Vintage Commercial Show at the British Motor Museum in Gaydon, Warwickshire.
Volvo's officially entered the UK truck market in 1967 in the guise of the fledgling company 'Ailsa Trucks' – which was founded by Scottish entrepreneurs Jim McKelvie and Jim Keyden in Barrhead, Glasgow.
Just about every iconic Volvo truck from the past 50 years was represented at the event, including the first F86 to be registered – which is now owned by Volvo Trucks – to an array of F10s, F12s, F16s and FH16s from the mid-90s and the latest models.
Many of the Volvos there had stories behind them, such as the 1976 F88 now owned by 'Nobby' Caistor (pictured), which was previously owned by rock band The Who, who used it to transport their gear on tours. Another F88, owned by G Swain, was featured in The Da Vinci Code where it crashed into a Citroen DS. A third F88, now owned by Knowles Transport in Cambridgeshire, was once on the transport fleet of the Arrows Formula 1 racing team.
In addition to the trucks, Volvo Bus was represented by a new 'hybrid' powered double decker and an example of the now incredibly rare 'Ailsa' Bus – the only Volvo product authorised to carry the name until 2017's special limited edition 'Ailsa Edition' 50th Anniversary truck, an FH16-750 example of which was also on display.
Likewise, Volvo Cars was represented by the fully restored original P1800 coupe that was featured in legendary 60s TV show The Saint, starring Roger Moore.
A range of other events also took place on the day, including a display of model trucks which were kindly donated by the daughters of an ex-Volvo Trucks employee. Worcestershire-based transport author Robin Masters was there too, signing copies of his latest volumes about transport operators in the Vale of Evesham.
We hope you enjoyed this article! For more news, views and reviews on all aspects of the truck driver's life subscribe today.