Mini Monster Truck Mania coming to Convoy in the Park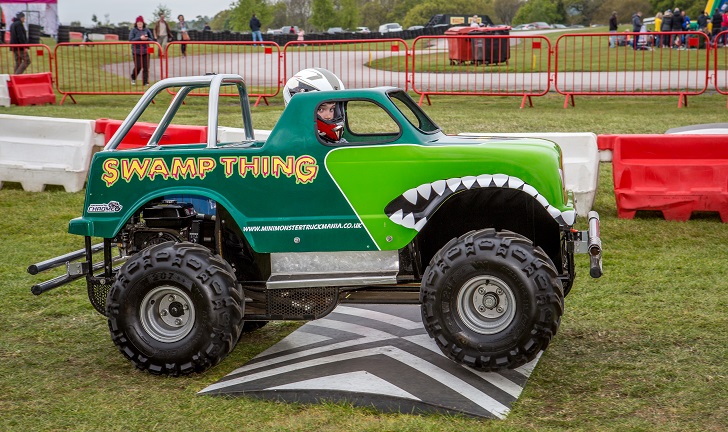 Children and adults alike can get a taste of what it is like to drive a monster truck at Convoy in the Park at Donington Park on 21-22 July, thanks to Mini Monster Truck Mania.
Drivers can pilot pocket-sized replicas of well-known monster trucks including Big Pete, The Grim Reaper, Swamp Thing, Podzilla and Slingshot. It claims to be the only attraction of its kind in Europe.
These petrol engined mini trucks are driven around a designated course with each driver getting about 5 minutes behind the wheel. Great entertainment for all ages!
Safety is paramount with the mini monster trucks. Their speed is restricted, and full safety equipment is provided, such as safety helmets, seatbelts and remote control kill switches.
Height restrictions apply (minimum 44 inches). Children below minimum height must be driven by an adult. Price: £7 child per ride, £9 adult & child per ride.
This is just one of many attractions at Convoy in the Park this year. On track action includes British Truck Racing, plus a full slate of support series, while off-track there will be more than 1000 show trucks
For more information on what's on at Convoy in the Park, and to book tickets, go to www.convoyinthepark.com
If you want to book your truck into Convoy in the Park, it costs £65, but the price includes 2 adult weekend tickets and entry into one show truck category. For more information and to book click here: www.btrc.co/show-truck-entry
We hope you enjoyed this article! For more news, views and reviews on all aspects of the truck driver's life subscribe today.