Mercedes-Benz launches limited-edition Actros1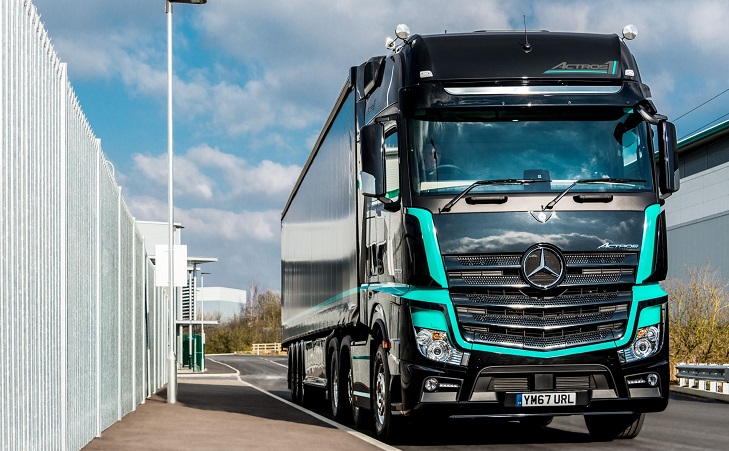 Mercedes-Benz Trucks UK has unveiled its Actros1 tractor unit, which is limited to a run of just 100 and features a range of technological and comfort features.
The Actros1, which goes on sale in March, has been designed specifically for owner-drivers, according to Mercedes. Based on the 6×2 chassis with GigaSpace cab, Actros1 comes in either black or silver/black colour schemes. Mercedes believe most customers will choose the 2563LS variant with 460kW (625hp) version of the state-of-the-art OM473 15.6-litre, six-cylinder engine, but the 2553LS model with second-generation 12.8-litre OM471 with 390kW (530hp) output is also available as a fuel-efficient alternative.
Actros1 comes with a Safety Pack that includes the Active Brake Assist 4 and Proximity Control Assist systems, a driver's airbag, and a high-performance engine brake and tyre pressure monitor. Meanwhile, fuel efficiency is enhanced by the Predictive Powertrain Control system and Fleetboard telematics hardware.
The vehicle also comes with Mercedes-Benz's Uptime maintenance technology. Here, an array of sensors constantly monitor the condition of the vehicle so the customer's allocated dealer knows what is required before the truck reaches the workshop and can order parts in advance while allocating sufficient time during a single visit to complete all tasks.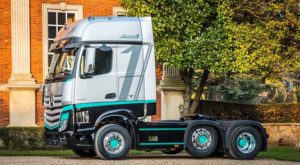 Inside the cab, the Style Line interior design is complemented by a leather-trimmed steering wheel and Comfort leather massage seats for driver and co-driver, an uprated multimedia entertainment system and a Premium Comfort mattress. Practical features such as automatic climate control, an electric sunroof and sunblind, a microwave and pull-out refrigerator, and rear overhead lockers are included.
The Actros1 logo appears on cab and door plaques, and colour-coded mats and bed linen are also included.
Externally, the specification includes painted side guards and catwalks, Alcoa Dura-Bright alloy wheels (wider than standard at the front) with painted hubs, and roof-mounted air horns. Bi-xenon headlamps, LED tail lights and an illuminated grille-mounted star are also included.
Mercedes-Benz Trucks Marketing Communications Manager Ben Grayson said: "With this exciting new model we're laying down a marker which says that we intend to get even closer to drivers. We're determined to ensure that for those who've previously favoured other brands, a vehicle bearing the three-pointed star is now at the top of their 'wish list'.
"Actros1 has been crafted from start to finish with the driver in mind and, with a maximum of 100 being built, demand is sure to be strong from discerning customers who desire the ultimate in premium exclusivity."
We hope you enjoyed this article! For more news, views and reviews on all aspects of the truck driver's life subscribe today.