Taylors Transport race to the front at Convoy in the Park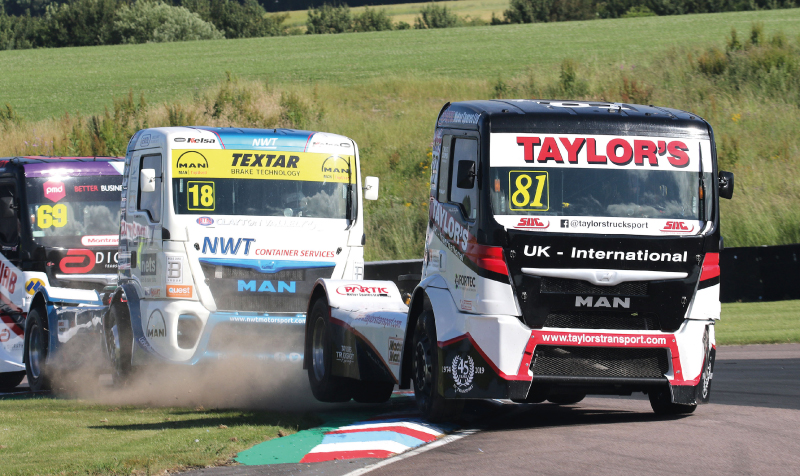 With a growing involvement in truck racing, Taylors Transport will be among the most prominent hauliers at this year's Convoy in the Park.
Nottinghamshire haulage group Taylors Transport has been a feature of the local transport landscape for 45 years, and more recently a feature of the truck racing scene too – especially at sister magazine Truck & Driver's own Convoy in the Park.
MD Alan Taylor, who has been with his family's firm for 37 years, says the 200-vehicle operation has always sponsored local people, so when current UK champion truck racing driver Ryan Smith knocked on the door three years ago, the company was happy to help. Now it looks after two of these race trucks, the second of which is driven by Alan's son Mark.
"It was Ryan who got us hooked, then Mark showed a keen interest too, so when the opportunity to purchase our own race truck came up, we took it." Alan Taylor, MD, Taylors Transport
This is Mark Taylor's first full season on the circuit and he's showing real promise, sitting in fourth position at the time of writing. Ryan, who has won the BTRA Championship for the past three years on the trot, is already sitting at the top.
"This year we're basically running together," Alan tells us. "Camping together, communicating together and generally looking after each other. Taylors Transport is Ryan's major sponsor this year too, so the race trucks are liveried almost identically."
Given Taylors' connection to racing, it's only logical that it should get involved in Convoy in the Park, which is held in conjunction with the BTRA Donington track meet.
"Last year we brought 30 trucks and we're hoping to do the same this year as well, lining them up to make a grand entrance into the Paddock," Alan says. "We'll also be providing the pace trucks for the start of each race, though just for Division 2 this time, so we can have a chance to see our own trucks racing in Division 1!"
But the main feature of Taylors' presence will, once again, be the entertainment – ostensibly laid on for its 700 invited guests, but enjoyed by many other show visitors too. As well as feeding and watering its friends, the company's area will boast live bands brought in especially for the occasion, some from as far away as Austria.
You can visit Taylors Transport's stand at Convoy in the Park on 10-11 August. Get your tickets here.
You can read more about Taylors Transport in the Summer Special issue of Commercial Motor magazine. Coming out on 8 August, this bumper issue will feature 16 extra pages! Subscribe and get your copy delivered to your door.
Lucy Radley
We hope you enjoyed this article! For more news, views and reviews on all aspects of the truck driver's life subscribe today.