DAF apprentices hailed as heroes for coming to pregnant woman's late-night aid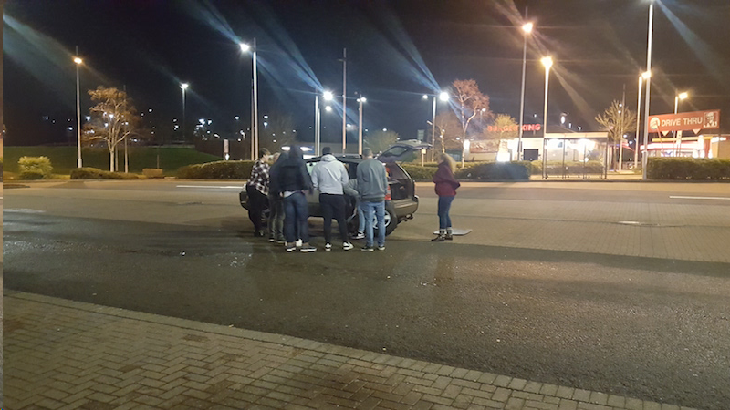 Six DAF apprentices have been called heroes after they helped a pregnant woman who was stranded late at night with a flat tyre in Bristol.
Natalie Jones, 25, had been on a night out at Cribbs Causeway in the city, but on returning to her car found that it had a flat tyre. After several other adults refused or were unable to help Jones, 6 young people from the DAF Dealer network, who are studying at City of Bristol College, stepped in and fitted a replacement wheel and tyre to enable her to get on her way.
"I was with three friends and had just returned to the car after a night out at the cinema on Cribbs Causeway," said Jones, who is 7 months pregnant. "It was cold, dark and windy and, with no passers-by apparently able to help, the situation was becoming quite distressing.
"The five young men and young woman who approached us couldn't have been more polite. They offered to help, changed the wheel and we were on our way in no time. They were wonderful. They were my heroes that night. They told us that they were with DAF and studying at the local college, so the next day I wasted no time in making contact to ask they pass-on my heartfelt thanks."
The 6 who helped were: Liam Cooper from Ford & Slater (Leicester), Ben Haigh from Pelican DAF (Castleford), Megan Holgate from Adams Morey (Southampton), Ashley O'Toole from Taunton DAF, James Cooper-Attwell from Channel Commercials (Ashford) and Sonny Meijer from Ford & Slater (Kings Lynn).
Tony Shepherd, business services manager at DAF Trucks, added: "We were thrilled after reading Natalie's note from City of Bristol College. We're proud of all our DAF Apprentices, but this just demonstrates their commitment to customer service. Their actions demonstrate an upstanding nature that will serve them well in what we expect to be long and rewarding careers with DAF Trucks."
Picture courtesy of Natalie Jones
We hope you enjoyed this article! For more news, views and reviews on all aspects of the truck driver's life subscribe today.