The bumper MAN T&D Special is out now! Here's what's inside…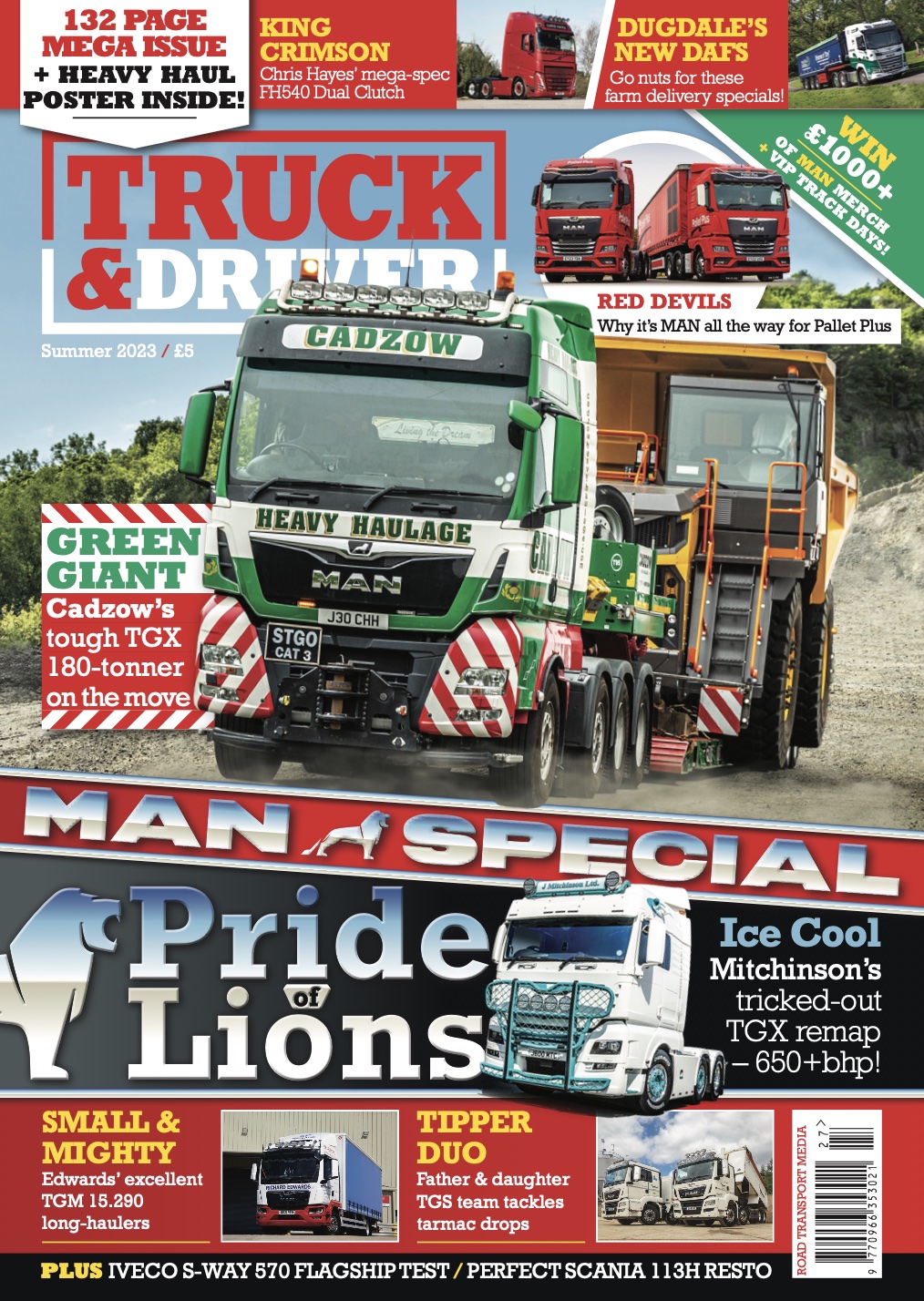 Another mammoth 132-page issue of Truck & Driver is on the shelves now with a FREE HEAVY HAULAGE POSTER for every reader!
The Summer issue looks at all things MAN, from heavy-haul TGX beasts to long-haul TGM rigids and everything in between – plus some cracking stories for fans of other marques, show reviews, latest news and loads more. Have a look at all this…!
Editor's Choice is J Mitchinson's stunning tricked-out TGX 26.560 with 650+ bhp engine remap and more bells and whistles than a Morris dancer.
We head out for a heavy-haul mission with Cadzow and its mighty MAN TGX 180-tonner.
Richard Edwards' tidy TGM 15.290 long-haulers are FAR from your typical rigids. Find out why inside!
Peter Davies dives into some tentpole MAN models from yesteryear and right up to the present day.
Qualified chef, pub-owner and BTRC racing veteran Steve Powell shows us around his 1200 bhp MAN track special.
Pallet Plus run a striking fleet of red MANs which are worked very hard around the clock, so a bullet-proof build and minimal downtime are essential.
Father & daughter team Richard Faulkner and Zoe Thomas tackle tarmac drops with a pair of TGS 8×4 tippers.
But it's not all MAN this issue. There's also Chris Hayes' super-spec Volvo FH 540 Dual Clutch!
Dugdale Nutrition's feisty farmyard DAFs join its fleet of perfectly spec'd tridems.
We put Iveco's top-spec S-Way 570 to work for a week to see if it really is flagship material.
Healy's top-class Scania 113H restoration is a fitting tribute to the legendary workhorse.
We have a full report of the top vehicles on show at the recent Truck Bash 2023.
We talk to JWN to find out why its new jack-of-all-trades Unimog is the perfect fit for its varied workload.
And it Team T&D, Paul sends us his second diary from Australia in which he's hard at work herding cattle onto his Kenworth road train…
Niall spends a week with a flatbed trailer – and his classic ERF also saw its first outings this year…
…and Andy says a fond farewell to Truckfest Peterborough.
Of course, there's heaps more to read in this month's 132-page mega issue. Make sure you don't miss it!
We hope you enjoyed this article! For more news, views and reviews on all aspects of the truck driver's life subscribe today.