Truck & Driver September 2023 issue on sale now!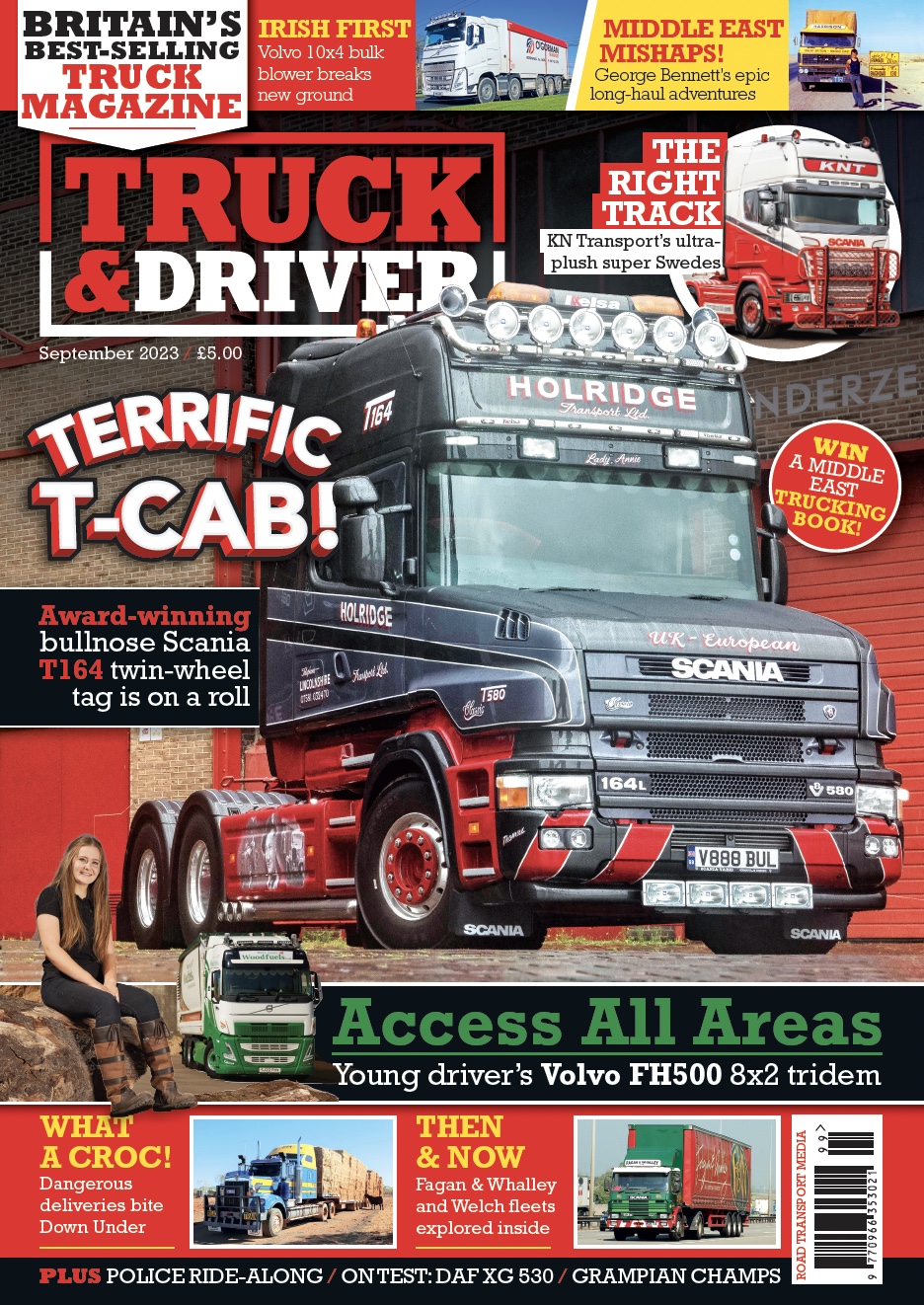 The September 2023 issue of Truck & Driver is on the shelves now and it's a cracker! Here's a look at what you'll find inside…
Just perfect, inside and out – KN Transport's immaculate fleet of Swedish tractors take the top spot as this issue's Editor's Choice.

Enthusiastic young driver Jodie Caldwell drives for West Coast Woodfuels. Find out why her Volvo FH500 Tridem can get into all the tight spots other trucks just can't reach.
On the cover this issue is Holridge Transport's simply superb bullnose Scania T164, which has been scooping up awards all season. Don't miss the full story of this astonishing six-year project rebuild.
Ex-T&D editor George Bennett cut his teeth on treacherous long-distance runs to the Middle East. He's just brought out a new book called 'Into the Distance' and we're serialising it in the next few issues. Read the nail-biting prologue this issue – and be in with a chance of winning your very own copy!
DAF's new generation of heavy trucks has been a roaring success and we've spent a week on the road working an XG530 tag-axle tractor unit. Find out what we thought of the big-cab beast in our comprehensive road test!
We've been on a ride-along with the Met Police's Commercial Vehicle Unit to see what it's like patrolling truck traffic on the packed streets of London. You may be surprised by the approach Inspector Rik Wenham and his officers take with educating drivers – read all about it inside!
O'Gorman Transport in Ireland pays very careful attention to its vehicle spec and its latest Volvo FH500 10×4 is turning out to be the perfect fit for its bulk blower operation.

Peter Davies takes a close look at the evolving fleets of two well-known British operators – Fagan & Whalley and Welch's Transport.
In the second part of our investigation into the Ford Cargo, we discover what finally happened to the last of the UK's blue ovals…

There's always a spectacular turn-out at the Grampian Truck Show, and this year's event was no different. Have a look at the top trucks that caught our eye at the latest bash at the Thainstone Auction Mart!
In Team T&D, Paul's Aussie adventure continues as he and his Kenworth roadtrain attempt to cross a flooded road deep in the outback, under the eye of man-eating crocs!
And Russell takes a cross-Continental hop to Florence, Italy and manages to fit in some tourist time on the way home while parked up in Paris.
You'll find all this and LOADS more in the September issue of Truck & Driver, on sale now!
We hope you enjoyed this article! For more news, views and reviews on all aspects of the truck driver's life subscribe today.