DAF reveals new XB & XBC truck series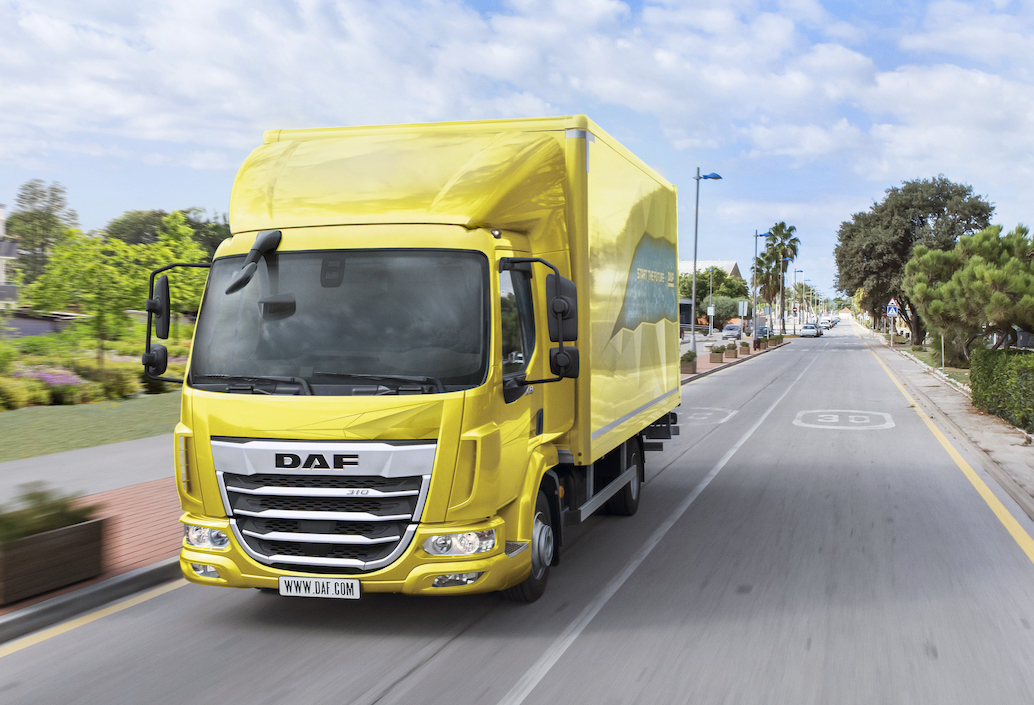 DAF Trucks has released details of its latest New Generation DAF XB and XBC truck series, featuring a full line-up of distribution and vocational vehicles from 7.5- to 19-tonnes GVW.
The Dutch manufacturer said its new series includes a comprehensive range of battery-electric and conventionally powered vehicles, with a focus on supporting transport companies in their transition to zero emissions.
The XB series, targeting the UK distribution sector between 7.5- and 18-tonnes GVW, completes DAF's next-generation line-up alongside XD, XF, XG and XG+.
XB is offered with a range of factory-designed and built PACCAR Box, Aerobody and Curtainside options, for both diesel-powered and XB Electric variants. The series will enter production in the fourth quarter of 2023.
XB Electric
DAF's XB Electric is suited to sustainable inner-city and regional distribution operations. Next to 16- and 19-tonne GVW models, a 12-tonne model with 17.5-inch wheels and a single entry step is available. Wheelbases start from 4.2 m.
The e-motor propelling the XB Electric provides 120 or 190 kW of nominal power depending on specification, and a nominal torque of 950 and 1850 Nm respectively (2600 and 3500 Nm peak).
For the lowest possible environmental impact and highest durability, DAF is using cobalt and magnesium-free lithium-ion phosphate (LFP – Lithium Ferro Phosphate) high energy-density battery packs with a gross energy content of 141 up to 282 kWh.
These allow XB Electric ranges of up to 350 km of ultra-quiet, zero-emission operation – more than enough to satisfy the needs of urban distribution transport applications, reckons DAF.
A special feature of the new XB Electric is the 'Combined Charging System'. This allows the truck to be charged through the regular electricity network and is ideal when vehicles return to base at the end of the day.
Rapid charging the batteries (650V DC, 150 kW) from 20% to 80% takes 40 to 70 minutes, depending on specification.
Engines & Gearboxes
DAF XB is also available with 4.5-litre, four-cylinder PACCAR PX-5; and 6.7-litre, six-cylinder PACCAR PX-7 engines with outputs from 124 kW (170 bhp) to 227 kW (310 bhp).
Both can be run on HVO fuel to reduce well-to-wheel CO2 emissions by up to 90%.
DAF XB with PX-5 and PX-7 engines are offered in combination with an eight-speed fully automatic PowerLine transmission, with optimal gear spread and steps. DAF said powershifting with no torque interruption enables smooth shifts and quick throttle response, resulting in "outstanding comfort and driveability".
In addition, the transmission provides excellent low-speed manoeuvrability thanks to the urge-to-move feature upon releasing the brake pedal, DAF added.
Six- and nine-speed manual transmissions are also available for the XB series, while fully automatic Allison gearboxes can be ordered for special applications.
Safety features
The new XB distribution truck is available with advanced driver assistance systems. These include the latest AEBS (Advanced Emergency Braking System), which now uses both a radar and a camera to detect both vehicles and vulnerable road users.
The system alerts the driver when vulnerable road users are in front of the vehicle (Drive-off Assist).
DAF Side Assist alerts when another road user, such as another vehicle, is to the nearside; and DAF Turn Assist is active at speeds up to 30 kmh and warns in case cyclists are in the vehicle's blind spot.
Also, a new DAF Drowsiness Detection system assesses the driver's alertness and warns when a break is needed.
Each XB also comes with Speed Limit Recognition which recognises speed limits and informs the driver.
An Event Data Recorder records images and data when an AEB event is triggered, or when the time to collision with a vehicle or vulnerable road user is below 0.5 seconds.
Direct vision is boosted by the low cab positioning, large windscreen and side windows, and low window belt lines.
As an option, a Kerb View Window is available for an unobstructed view of other road users on the co-driver's side. The mirrors also have a slim design to aid direct and indirect vision.
Driver comfort
XB can be spec'd with Day, Extended Day and Sleeper Cabs, which all have "perfectly positioned" entry steps, wide-opening doors and a low cab position for better accessibility.
The comfortable seats feature the same soft-woven upholstery as XD, XF, XG and XG+ trucks, with which the New Generation XB also shares the high level of fit and finish, the new steering wheel and 12-inch digital display on the dashboard.
DAF said drivers will find XB great to drive thanks to their spacious yet compact cab design, and unique manoeuvrability and small turning circle.
XBC for Construction
Alongside the XB series for on-road applications, DAF is also introducing the XBC series for tougher jobs, particularly in the construction segment, and also for a wide range of utility applications.
XBC is available as an 18-tonne chassis featuring a high ground clearance of 255 mm, a large approach angle of 25 degrees, a steel front radiator plate to protect the engine bay and a sturdy lava-grey steel bumper.
We hope you enjoyed this article! For more news, views and reviews on all aspects of the truck driver's life subscribe today.