An Alpha adventure! The thrills and spills of owner-drivers and old trucks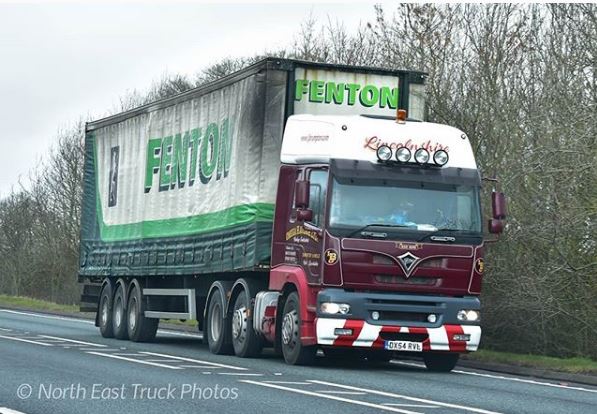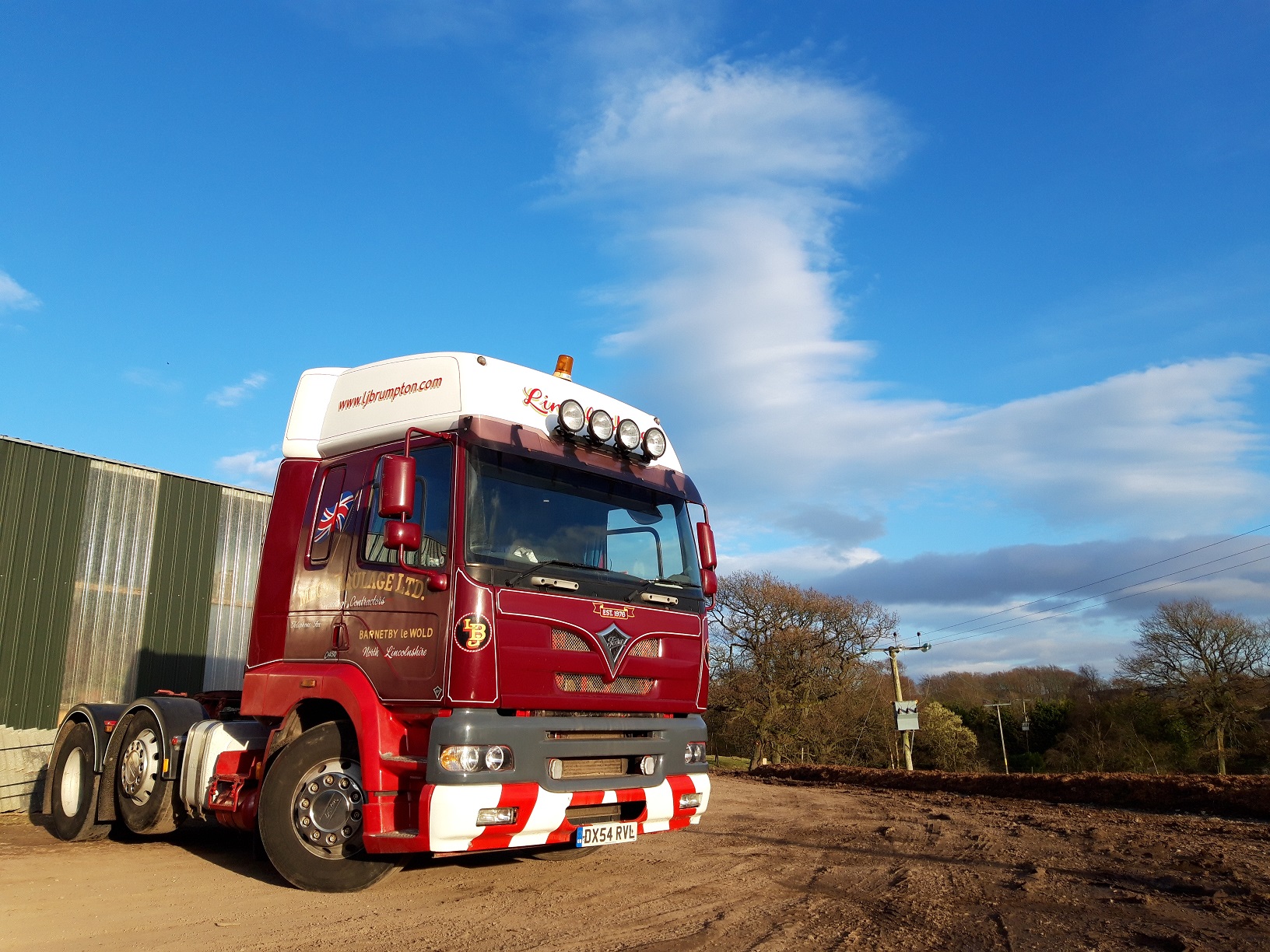 We were going to put this story in the magazine, but there's not enough space in the next issue, or the one after that. Besides, we have this shiny website to make use of, so brace yourself for the Foden Odyssey Part One.
Away back in the mists of Summer 2018, your Editor Dougie sold the absolute shed of a Foden Alpha he'd been attempting to restore and bought a much, much nicer one from LJ Brumpton and Sons of Lincolnshire. The truck in question had racked up just 650,000km, and had just been retired from bulk tipping duties, having racked up 70,000km across 2017/18.  It had clearly been well looked after and it was safe to say there weren't too many Alphas like this left. The plan was to put it on the road and work it, on the theory that, well, it'd be rude not to. It's an older truck, but it doesn't have the Adblue and EGR worries a Euro 5 does.
That didn't happen, due to the Truck & Driver Editor's job coming up out the blue. In any case, the truck had to be MoT'd and this task was entrusted to David Sibbald, of Sibbald Mechanical Services who duly got the truck through its test in January. Interestingly, it failed the first test due to smoke – the CAT C12 engine is known for being a bit on the "reeky" side – but it responded to some fresh filters and a fuel system cleaner.
Then, the truck basically got parked up. It was difficult to insure it as a private HGV. Classic insurance generally isn't available for trucks under 20 years old. So there it sat until March. Step forward Mr Stephen Foley, budding young owner-driver. Stephen had bought himself a Renault Magnum to start out with, which proved to be somewhat unreliable, before deciding to be extremely unreliable. As in: it threw the gearbox. He needed to borrow a lorry and well, the Foden was sitting doing nothing anyway…
The truck was pressed into service hauling potatoes (not light work) from Scotland to Lincolnshire. It proved it was pretty well up to the task as well, with the added advantage of being over a tonne lighter than the Magnum. Stephen was delighted, the combination of comfortable DAF-sourced cab and gutsy American engine + Jake brake growling through the Eminox was an intoxicating one. Both figuratively and literally, as it quickly blackened the top corner of a pristine white trailer. Which is kinda cool.
However, getting a truck MoT'd is one thing, fully preparing it for hard full time work is another. Mechanical components began to protest. The alternator belt tensioner collapsed, taking the belt with it. Coincidentally this happened mere miles from where the truck was collected in August. What followed was a truly heart-warming tale of people coming together to help an old British truck and its driver. If you think camaraderie is gone in the modern world of transport, think again! The service back up and assistance Stephen received, you could not hope to get from full R&M on a Euro 6 truck.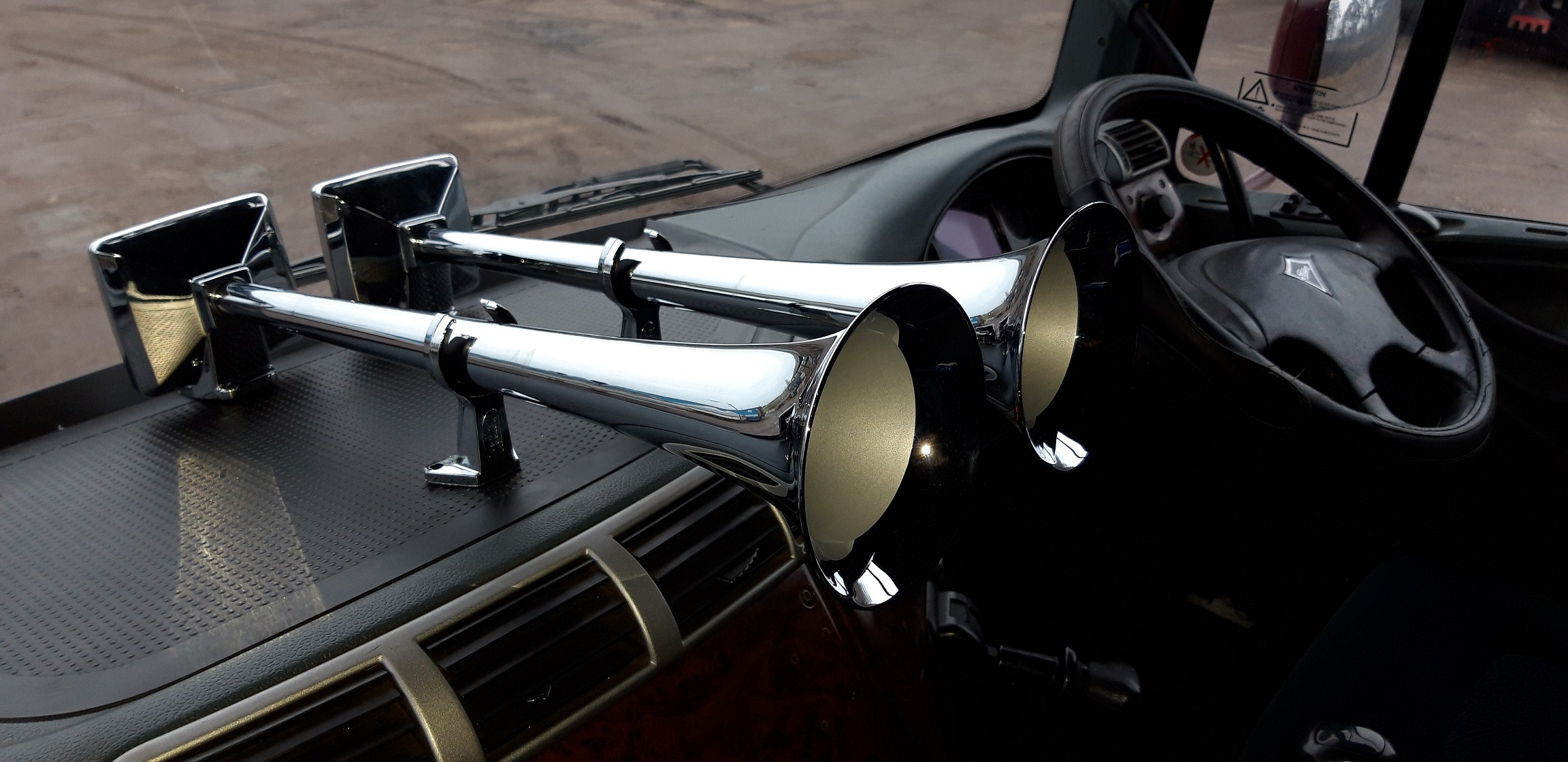 We are still to fit these magnificent Hadley airhorns properly. Dash mounting them really is a bad idea if you value your eardrums.
First off he phoned the T&D HQ, which duly suggested he phone Ian Brumpton, former keeper of the Foden. "Do you have his number?" Asked Stephen "Yeah, it's still on the side of the cab" we replied (having still not sanded off the beautiful signwriting at this point – but clearly there was now a valid reason). Stephen did so, and Ian directed him to the workshops of truck guru and Foden specialist Tony Goodsir. The truck limped in OK, probably in part due to the expensive heavy duty Yuasa batteries fitted in January.
Tony had a look and diagnosed the fault. The alternator tensioner was a CAT item. This meant while it'd be available, it may not be available on the day. The local CAT dealer could get one but it was touch and go if it'd even be possible to get it that day. A number of phone calls ensued. Inventories were investigated and wouldn't you just know it – someone had one on the shelf (presumably under an inch of dust). Tony sent his apprentice off in the van on a 90 minute round trip to fetch the part and then stayed back late to fit it, and a new drive belt (which was also tricky to source due to the Foden being equipped with air con) to get Stephen on his way. Tony Goodsir, superstar!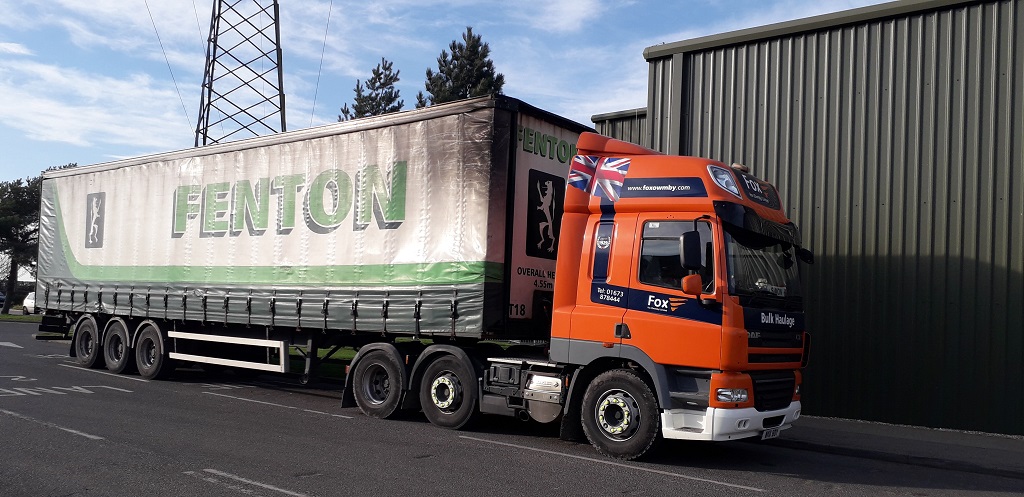 We would like to point out that the DAF in this picture was in no way responsible for the charcoal-desecration of this splendid white trailer.
Not only that, but Ian Brumpton went way above and beyond the call of duty. With Stephen's loaded trailer due for a booking time, Ian instructed one of his subcontractors Fox Plant to collect his trailer, and make the delivery. Driver Simon Gelder arrived in his DAF CF (16-speed manual) which is of course a very close relation to the Foden. Simon and Stephen went to tip the trailer, and by the time they returned, Tony had fixed the Foden. Ian and Simon – you're also superstars! You ain't ever getting that level of commitment and service with six figures worth of new truck. Stephen was somewhat emotional at the end of the day, "I can't believe it, how great everyone was, I'm welling up. Sell me this truck!" No, we said. "Fine I'm going to buy an ERF EC11 with a twin-splitter and put that on the road." Yeah, like we said, a long and emotional day…
That weekend the truck was given the once over to identify areas that may need attention. Front brake pads were fitted as the existing ones were pretty low. The rear brake discs looked pretty worn, so new ones were ordered. The drive axle tyres were past their best as well… things were about to get expensive but we didn't know just HOW expensive. Those of you who have much experience of running lorries, we ask you politely to stop sniggering now.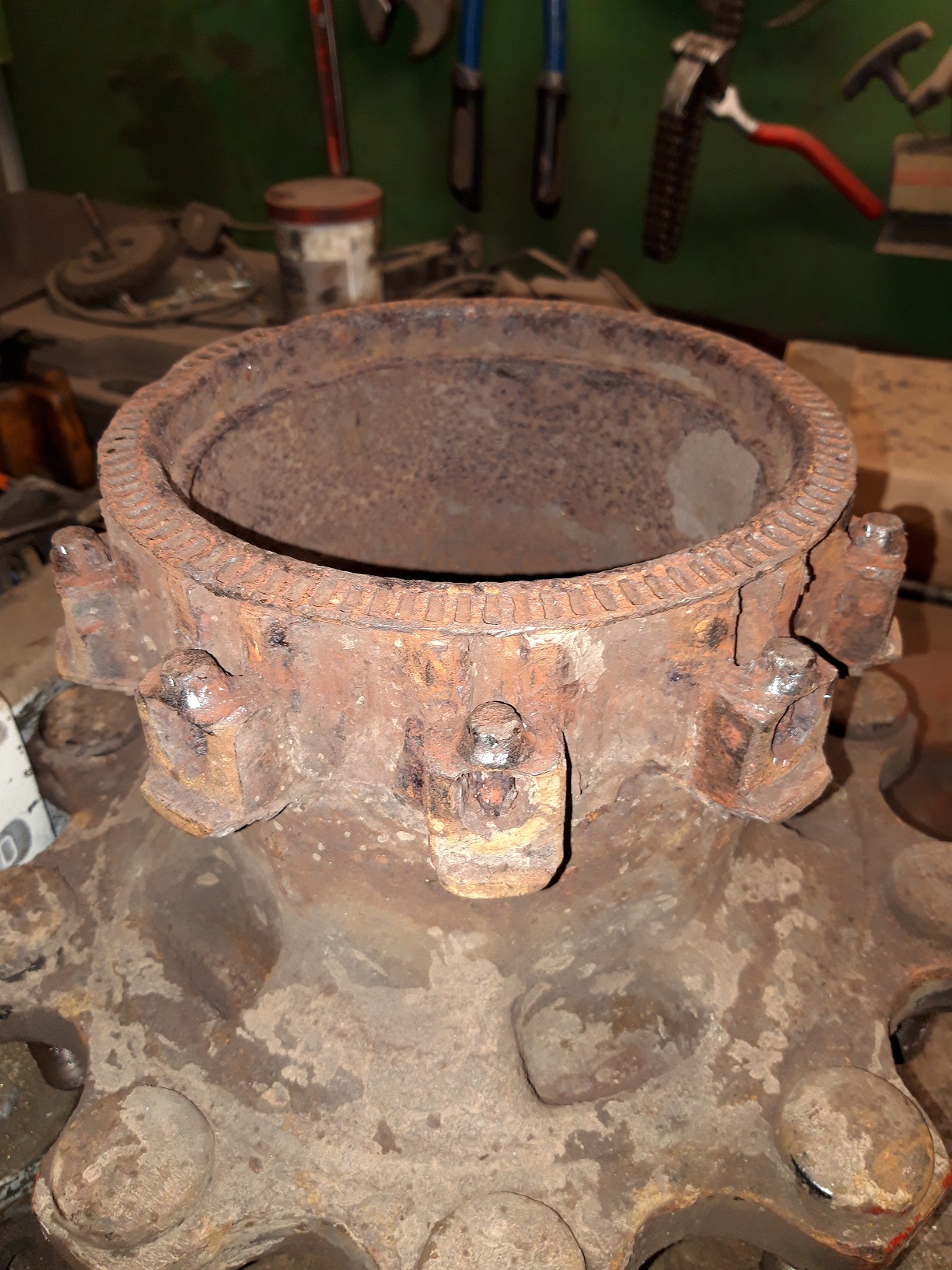 Yeah, so the following weekend was blocked off for fitting new rear brakes. When the truck came into the workshop at C&R White's (where the truck has been living) one of the brake discs was now somewhat disintegrated. It had to be replaced. We stripped the hub off and set about trying to remove the bolts that hold the disc in place. Now, the Foden Alpha uses many items of DAF origin. This is good (despite what Foden purists tell you) because you can still source the parts no problem today (try that with a ERF ECX). The downside is that DAF's engineers must have been smoking some of Amsterdam's finest when they came up with the design for the brake discs.
The discs are secured to the hubs with skinny little M8 bolts, which having been subjected to extremes of heat and moisture are extremely tricky, if not impossible to remove. We had previously managed successfully to remove the bolts from the steer axle hubs on the old blue Foden. That truck had lived on the Isle of Lewis for several years and might as well have been dipped in brine – the wheel nuts had to be treated to the hot spanner! The disc bolts came out with a good heat though. So how hard could it be to do the drive axle on a nice dry English truck? LOL.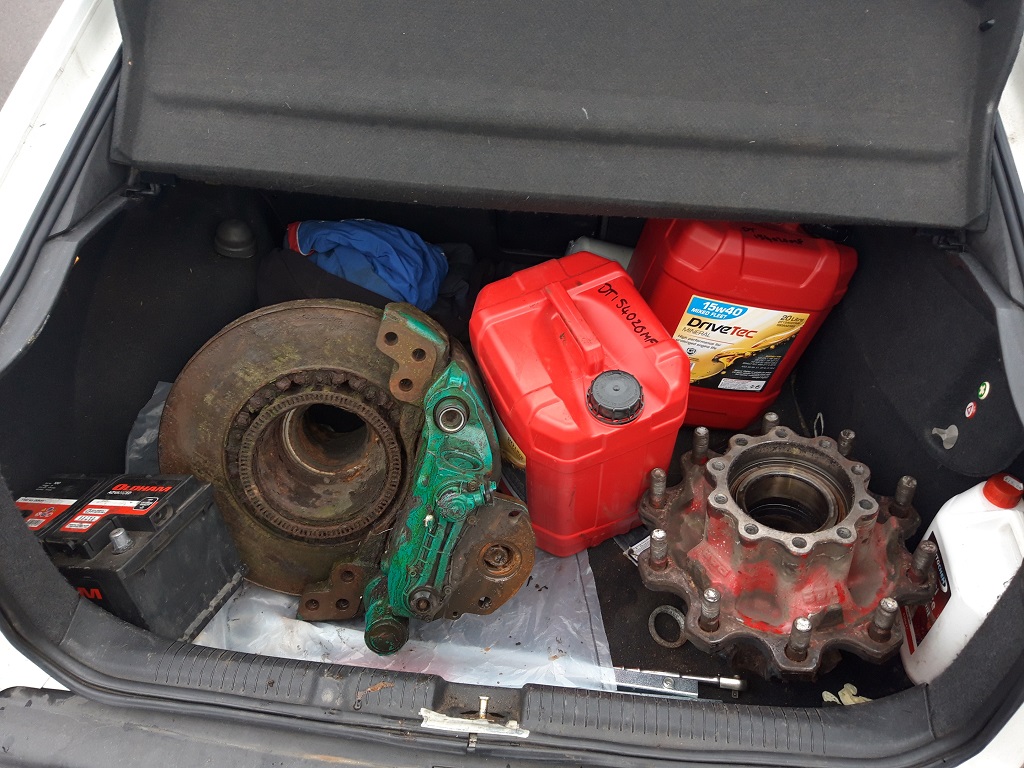 The entire hub was thrown in the back of an unsuspecting Vauxhall Cavalier 1.7 TD and taken to the Fenton workshop (Stephen subs to Fentons). Mucho heat was applied to the hub and we snapped three bolts. A farmer of considerable experience had a go, and snapped one too. Oh dear. Having concluded the bolts were not up for negotiation, phone calls were made. It turns out, while the steer axle disc bolts can be convinced to come out, the drive axle? No chance, complete waste of time, say the select band of Foden operating experts we call upon, and who almost certainly wince when they see our number pop up. Sorry, not sorry. #FodenFamily (we just made this up, but it's now a thing, ok?).  Amazingly a replacement hub was sourced from a scrap 95XF in Perth – this could be used to get the truck moving temporarily. A large quantity of tools were wedged into the boot of a now somewhat alarmed Vauxhall Cavalier 1.7 TD and off we went, worried we'd not be able to remove the hub without the aid of air tools or heat. Even more amazingly, the entire hub and caliper assembly was lying at the side of the scrap DAF! Get in! All we had to do was lift it into the boot of what was now an absolutely mortified Vauxhall Ca… you know the rest. Bloody hell it was heavy.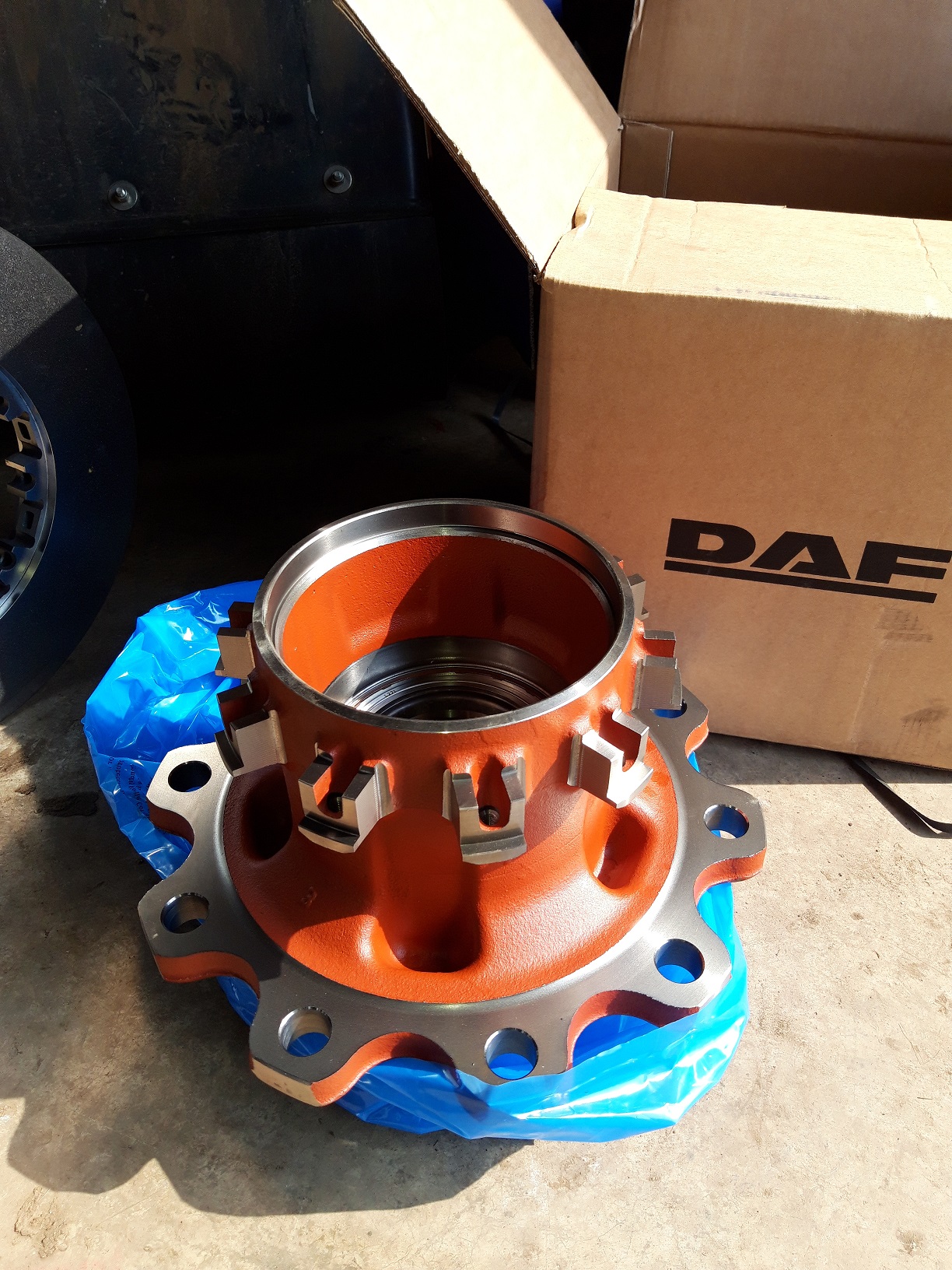 We got back to the Foden and after some investigation decided that a very rusty old disc and hub that had been sat outside for years probably wasn't a good idea to fit and run at 44-tonnes. Stephen decided to take Monday off, and we decided to order some new parts. First up, was a call to TRP in Bathgate. Yes, they could get a shiny new hub for 9am. At a cost of "only" £495 providing we had an exchange unit. Helpfully, the old rusty scrap hub was fine so that saved a couple of hundred quid in surcharges. What it also meant was the hub that came off the Foden could be sent away to a specialist company in Manchester called Stud Extract, who deal with removing the bolts from sadistically designed DAF hubs. We put the hub in the box the new one came in, posted it off and less than 48 hours later had the hub back with all the bolts removed, the hub faces straightened and a new bearing fitted – all for about half the price of a new hub. Hooray! Sort of. Anyway, the service from Stud Extract was fantastic.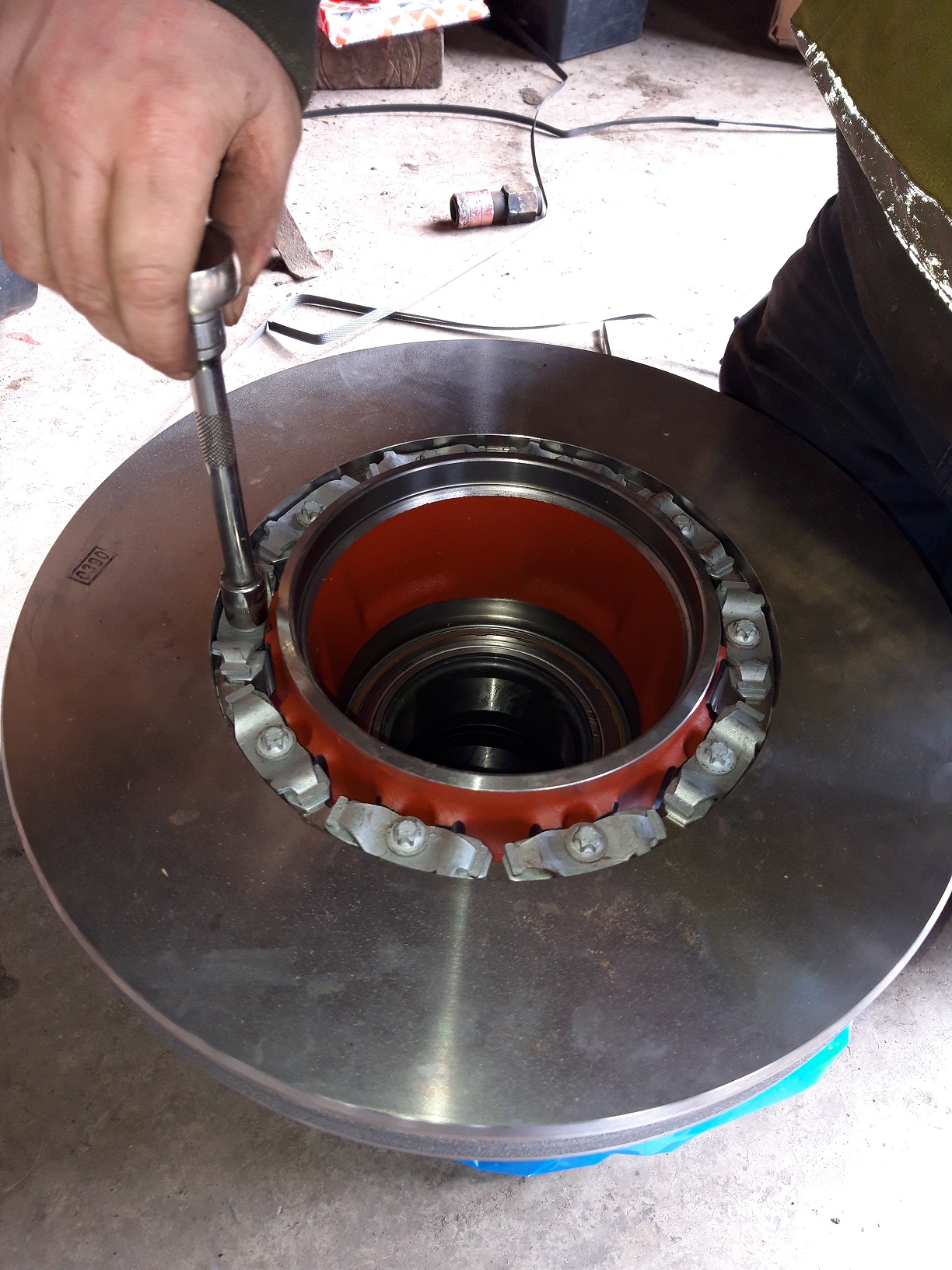 The new rear discs and new/refurbed hub were fitted and the truck was legal again. Until we noticed the diff seal was leaking, dammit. So one of those was ordered up, along with fresh oil, oil filter and air filter. Anti-freeze is also important on CAT engines, the stuff in there was blue. Maybe OK, but George Taylor of Taylor and Morrison who were running the biggest fleet of Fodens in the UK (around 30 in 2016) and knows them better than anyone (your editor drove an 8×4 Alpha for T&M from 14-16) has always insisted the CAT engines run with genuine pink CAT anti-freeze. Luckily he had some barrels in stock and he could sell one. Was it cheap? Nothing with CAT on it is cheap…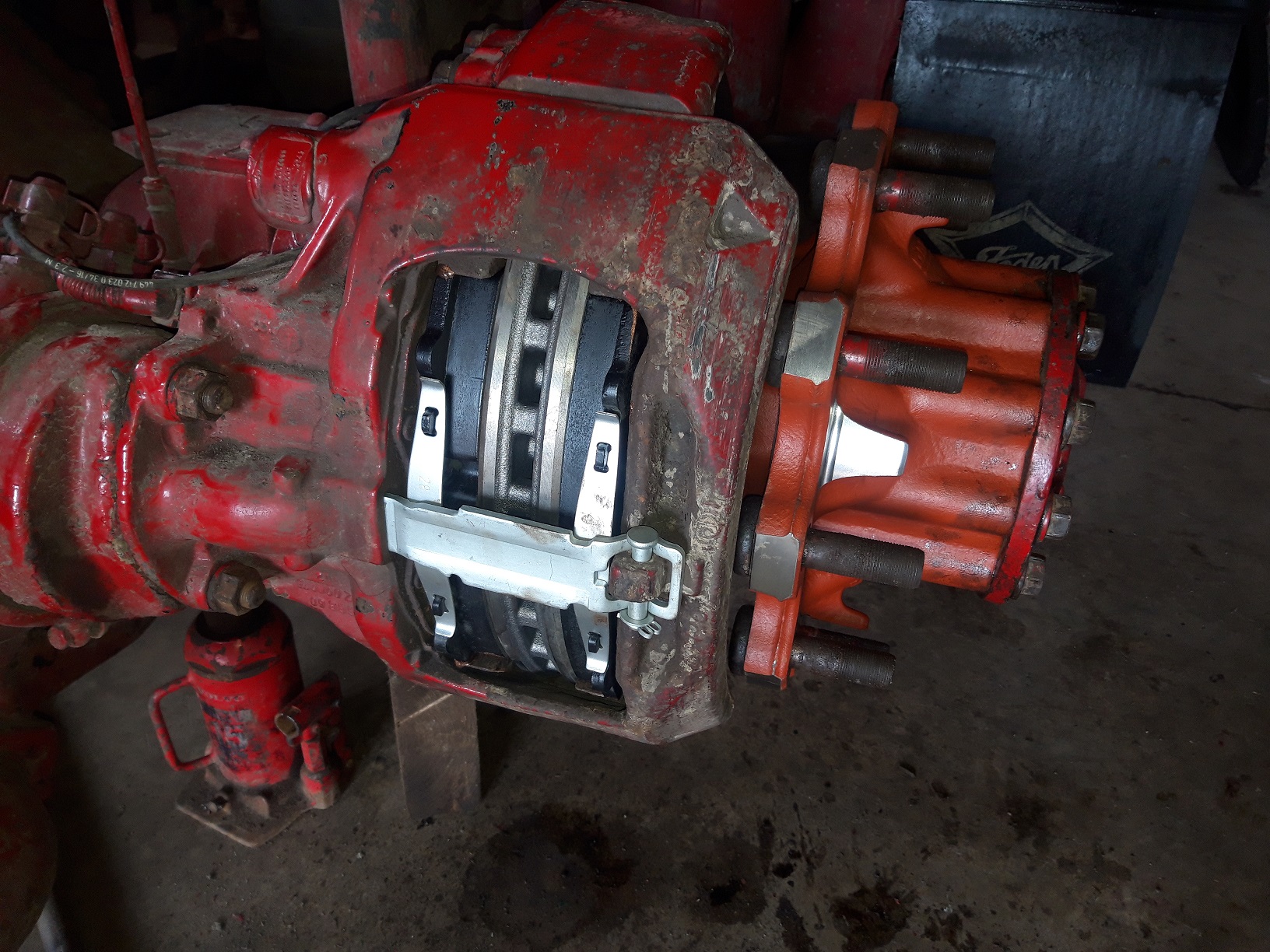 There was one final thing to deal with – drive axle tyres. The ones on the truck didn't have much life left, and the 10k Stephen had put on them had pretty much finished them off. Step forward Michelin, or to be precise BF Goodrich. The brand is more associated with 4×4 tyres than truck, but Michelin took the company over and has used the platform for a new range of mid-range, high-performance, big value truck tyres. They're not too well known so far, so what better way to put them to the test than on the Foden. RJ Strang of Broxburn were tasked with changing the worn Hankooks for the sexy new BFG's. Beautiful!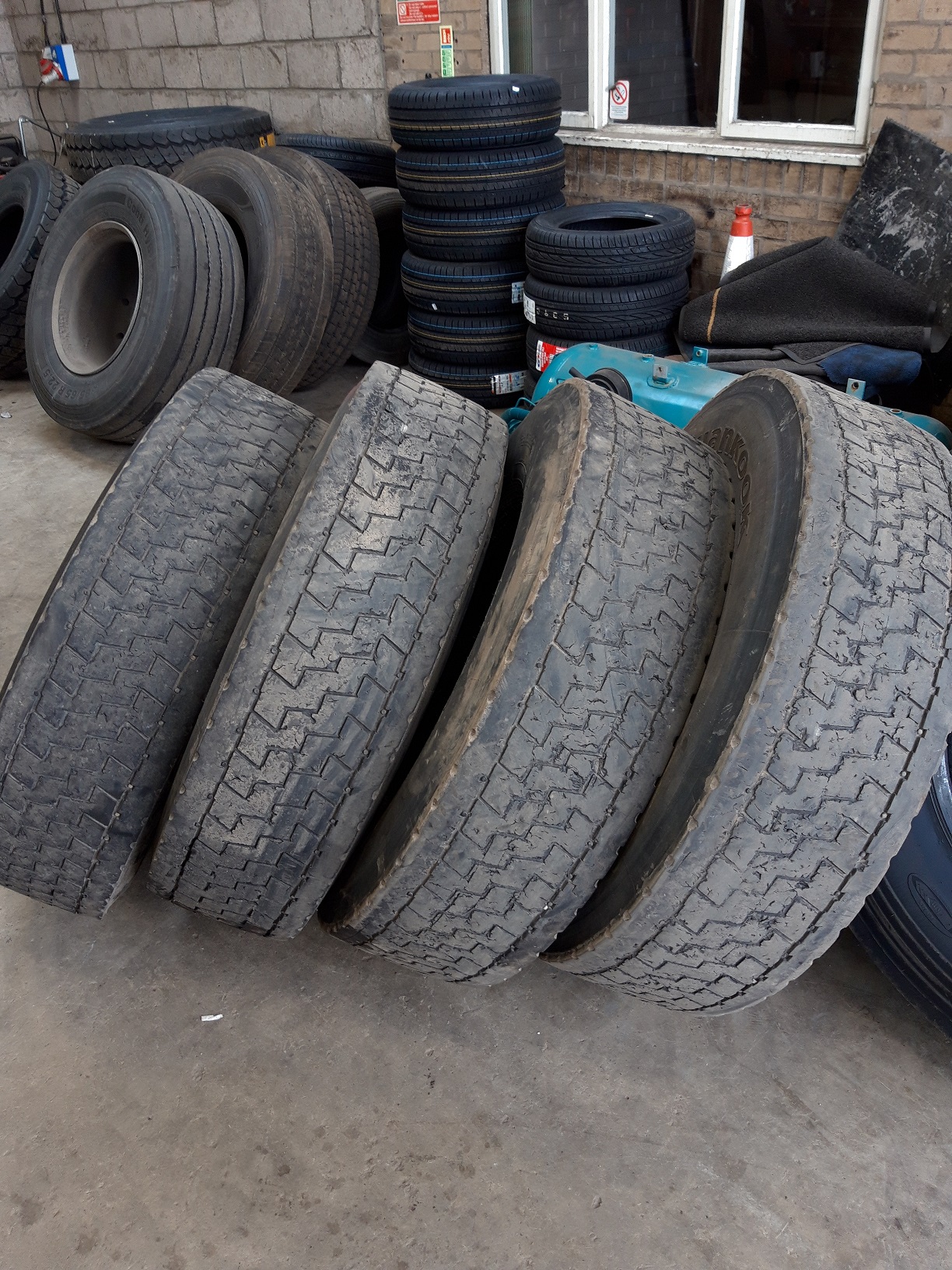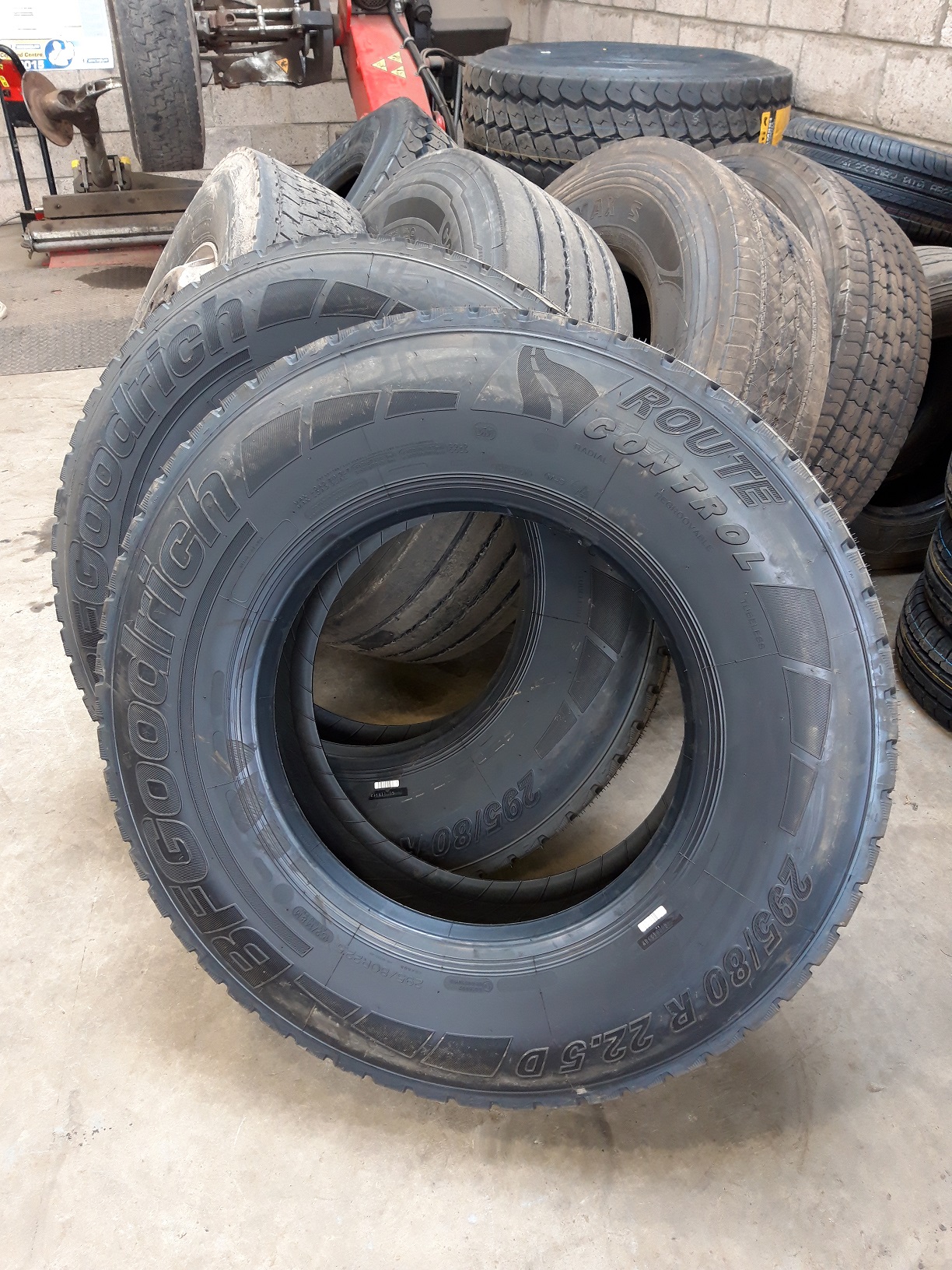 The thought of colouring in that lettering white is pretty daunting to be honest…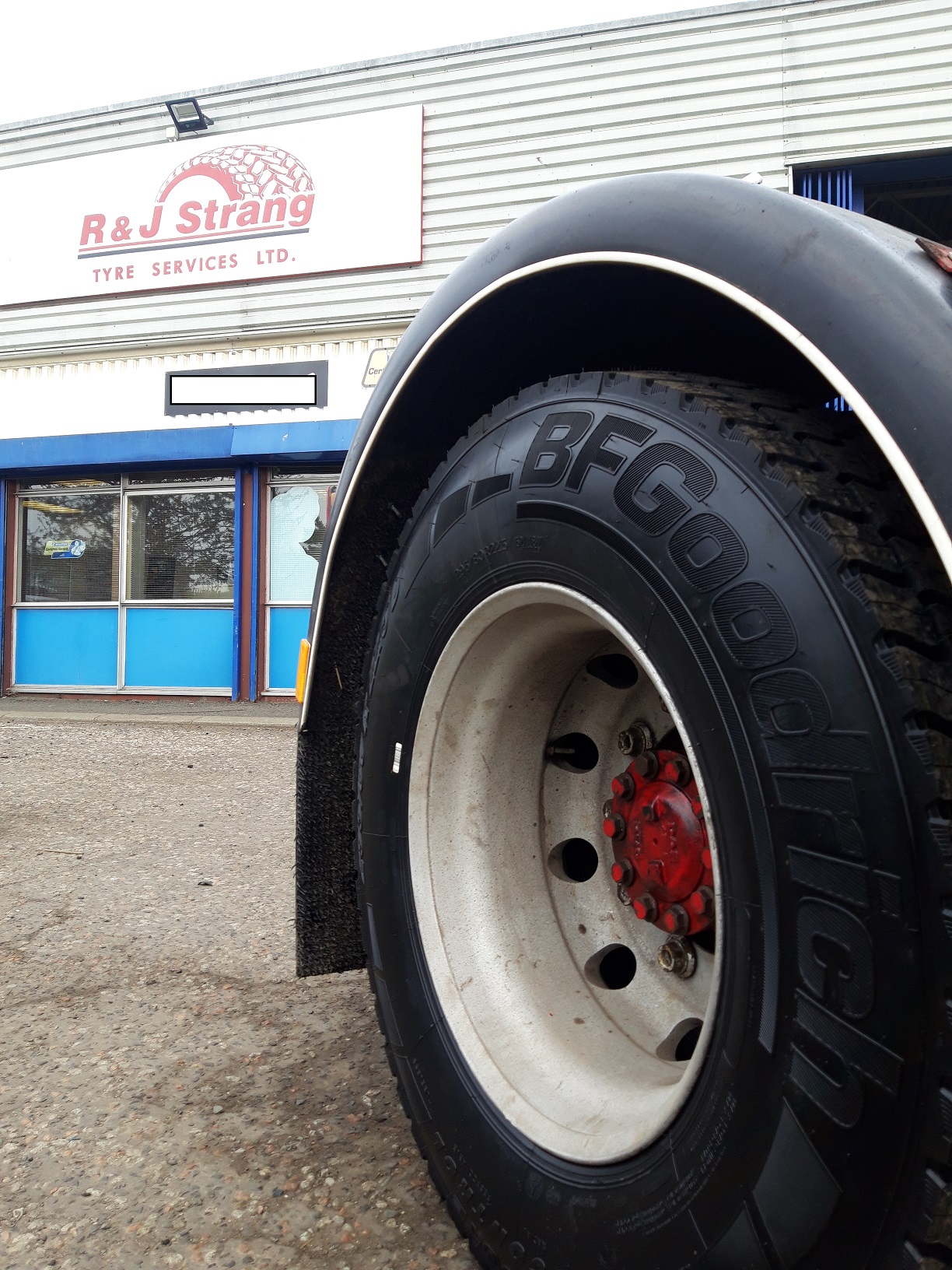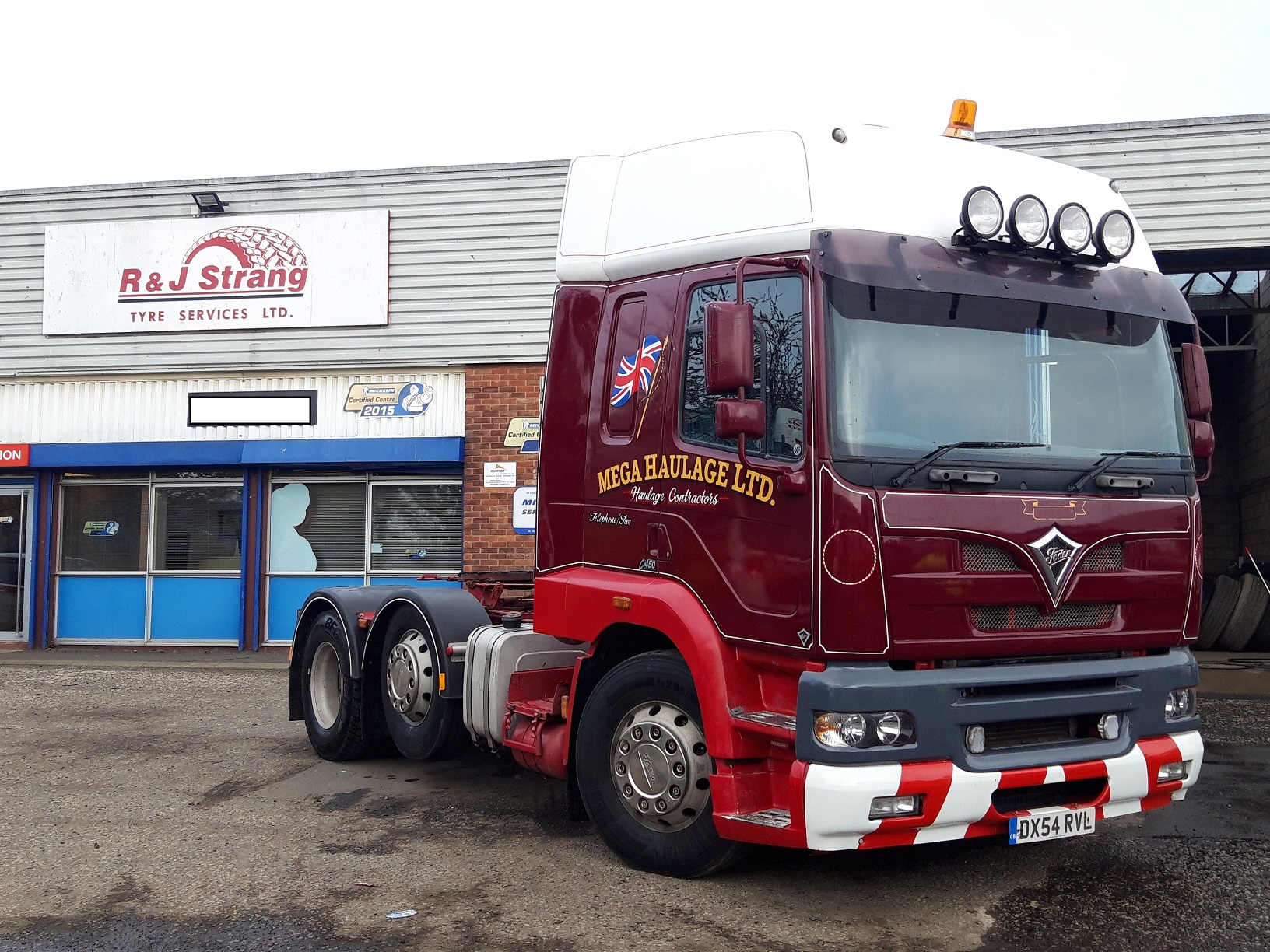 The upshot of all this work has been that the Foden has been on the receiving end of more than £3500 worth of parts in the last month, and you can add over £1000 more than that for the MoT work. And that's us working on the truck ourselves, there's not much in the way of labour in that figure. The truck cost only £6000 + VAT in the first place, but it shows that if you're buying a used truck, whatever you pay for it, you better have the same amount available again to maintain it! The Foden is pretty much good to go now, but the front discs won't last too much longer, and the clutch has a question mark hanging over it at that mileage. If it was going to continue working, replacing it preventatively on mileage would be a wise idea. As it turns out, Stephen has bought a Scania to replace the Magnum, a R470 Highline. Yes, the one with the turbo-compound engine which seems to be either a dream or a nightmare or nothing in between. "If this doesn't work out I'm getting an Iveco Stralis on R&M" he tells us.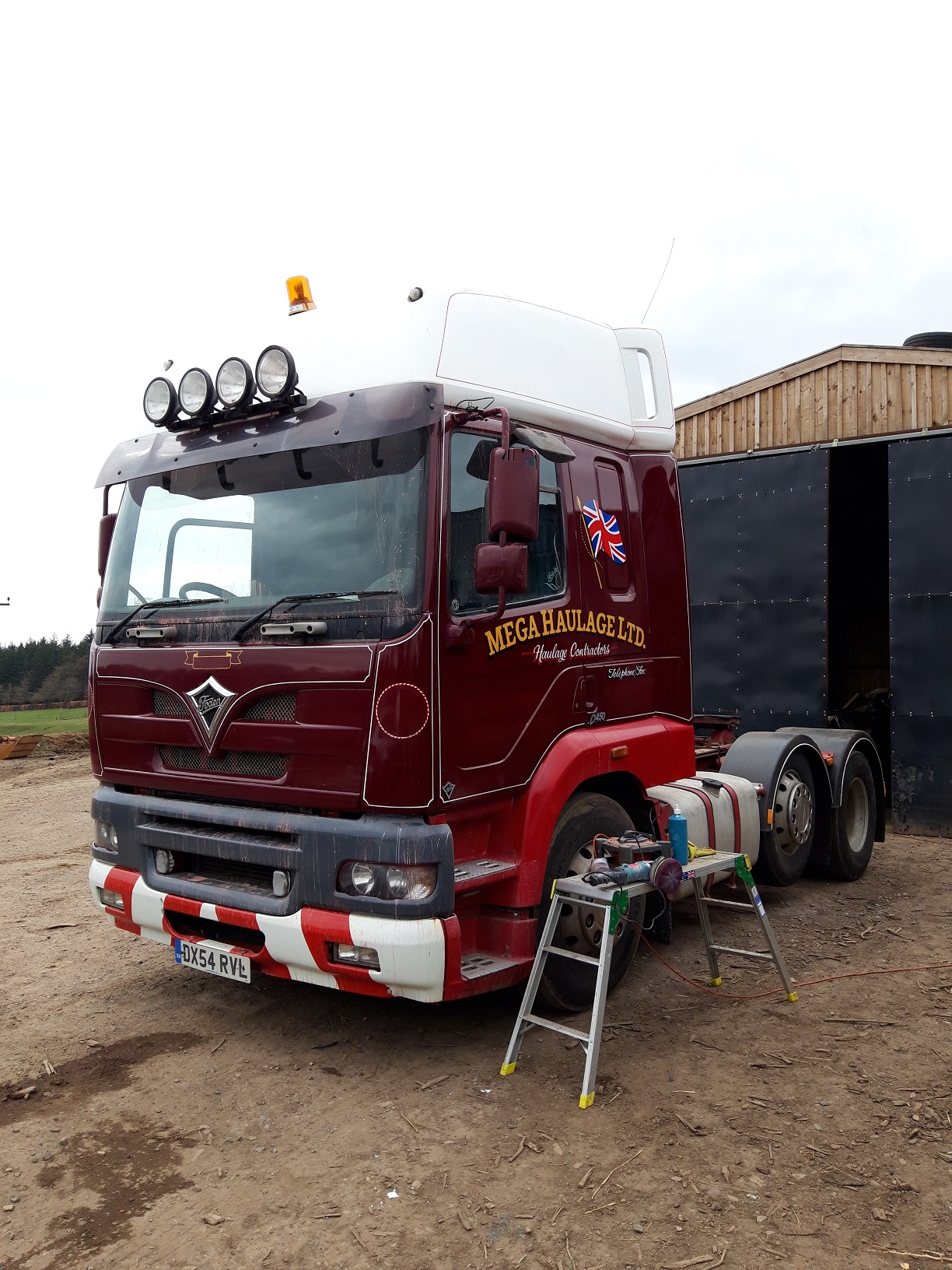 The Foden is currently chilling out and will be attending a few shows and events over the summer. We finally got the signwriting sanded off it too – a brutal 8 hour job on a freezing spring Sunday. Still, at least it's done now. Has it's working life now finished? Who knows!? We are open to ideas (stupid, ambitious, legal or otherwise). Hit us up.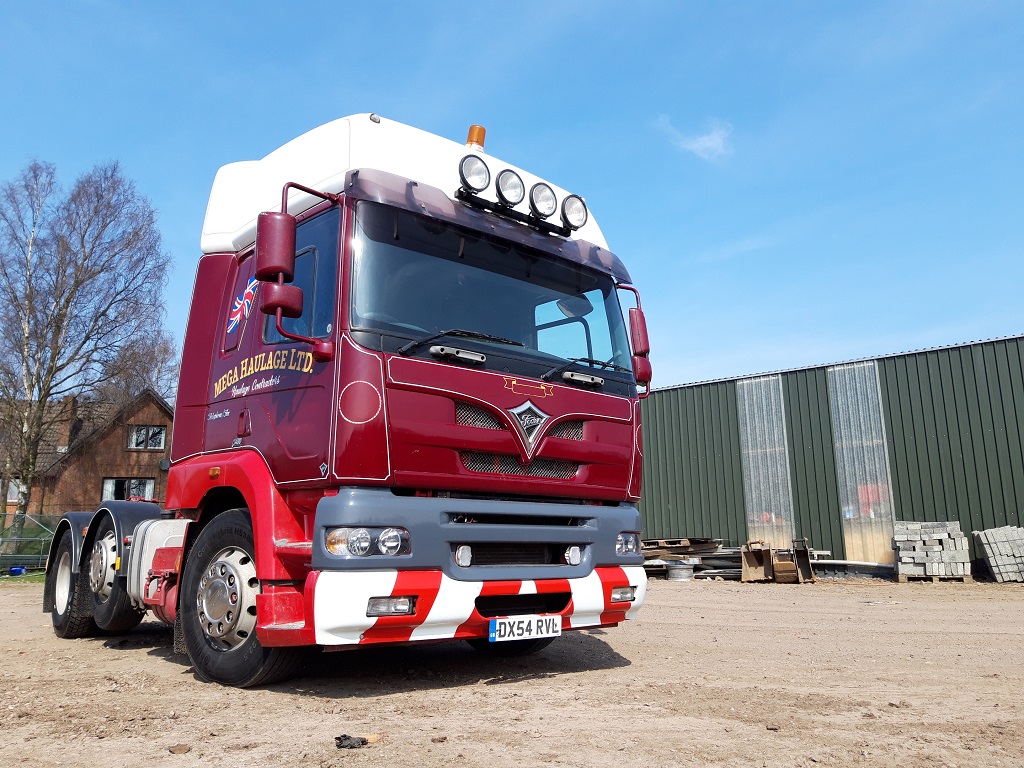 We hope you enjoyed this article! For more news, views and reviews on all aspects of the truck driver's life subscribe today.