Battenburg and blue lights on Biglorryblog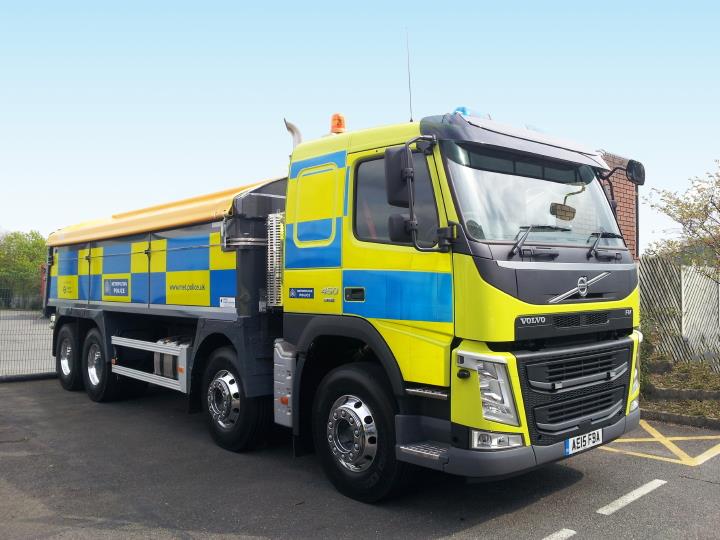 Evening all!
Weightlifter-PPG will have a surprise exhibit at this year's Tip-ex– a PPG bodied Volvo FM decked out in Metropolitan Police livery and complete with 'blues and twos'! Prominently displayed outside the entrance to Hall A, this late addition to Weightlifter-PPG's exhibits is bound to attract attention with its distinctive blue and yellow markings.
However, despite appearances, it's not the latest weapon in the police armoury to catch miscreant truck drivers and it certainly won't be available for operators on special order! Instead it is being used as part of the Metropolitan Police's Exchanging Places programme which gives cyclists the opportunity to see the road from the driver's seat of a large goods vehicle.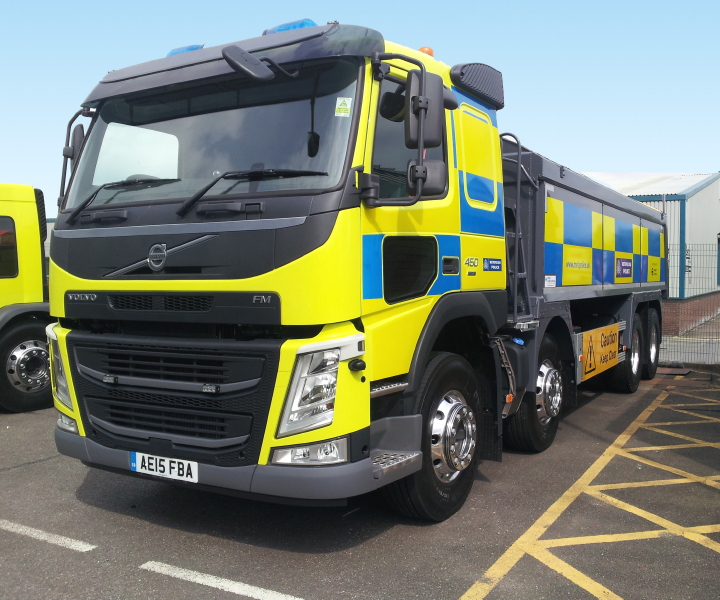 The chassis is an FM 11 litre 450hp 8×4. It's an N3 category vehicle, meaning it is slightly lower to the ground than the off-road N3G category, making visibility better and cutting the risk of cyclists falling under the chassis.
It has a 5.6m wheelbase with FM sleeper cab which has a special safety window mounted low in the passenger door to allow the driver to spot cyclists and pedestrians who are close to the nearside of the vehicle. The truck is fitted with a 16 cubic metre PPG Smoothline aluminium insulated body designed for the carriage of road laying materials, specifically hot Tarmac etc.
The body features an air operated horizontal split tail-door complete with two lever operated tar hatches and a Dawbarn Hydroclear sheet system with alloy poles. A PM1155 on board weighing load-cell system with in-cab readout, Edbro CX14 tipping gear and CLOCS compliant side-guards are also fitted.
Weightlifter PPG are displaying this unusual vehicle in association with Volvo, Dawbarn, Edbro and PM onboard and full details can be had by visiting Weightlifter-PPG's stand, number A16, in Hall A. Tip-ex takes place from May 28th to May 30th.
We hope you enjoyed this article! For more news, views and reviews on all aspects of the truck driver's life subscribe today.