Daf launches limited edition 90th anniversary XF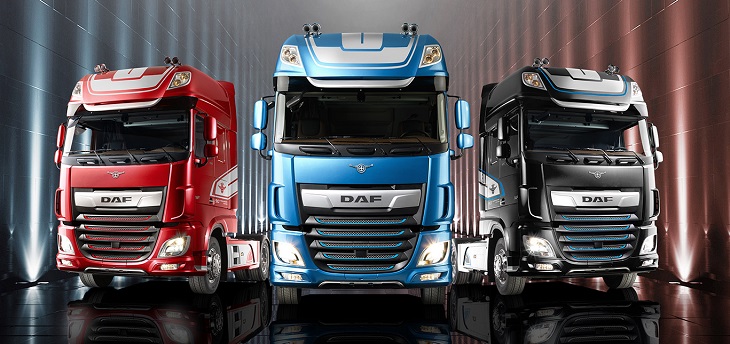 Daf has announced it is producing a limited edition 90th Anniversary Edition of its new XF, which will include a premium option package as well as a Super Space Cab and PACCAR's most powerful 530 HP/390 kW MX-13 engine.
The 90th Anniversary Edition is limited to only 250 vehicles. It is available as a 4×2 tractor for the European continent and as a 6×2 tractor for the UK and Ireland. Each vehicle features a unique number, which is visible in the decorative finish inside the cab as well as in the specially illuminated Daf logo panel that can be seen when the door is opened.
The limited edition truck will be available in three metallic colours: Anniversary Black, Rouge Flamme and Jamaica Blue. A hand crafted version of Daf's historic logo is displayed on the front of the truck, as well as on the sides and back of the cab.
Daf's Anniversary Edition has a high specificaition, including, among other things, an air suspended Super Space Cab with all exterior parts in cab colour, LED headlights, Skylights, fog and cornering lights, a roof air deflector with side collars, side skirts (4×2) and Alcoa aluminium wheels. Air horns are mounted on the cab roof.
Meanwhile, in the cab, there is an embossed historical Daf logo in the headrest of the Xtra Leather air seats. Daf's classic logo also appears on the deco strips on the doors, on the driver information panel and the high-end radio-navigation system. The interior also comes with full leather seats, leather armrests and door panels and a leather finish on the steering wheel. Climate control, a roof mounted parking cooler, TruckPhone, a microwave, a refrigerator under the lower bunk and the Daf Night Lock are all included.
The Anniversary Edition also comes with a numbered, luxury gift set. The set includes a full leather travel bag, a jacket with leather details, a Daf Waterman pen in customized leather box, a leather credit card wallet and a 90th Anniversary Edition sketch signed by Daf's chief designer Bart van Lotringen.
"When developing his trucks, Hub van Doorne focused on technology, functionality and driver comfort", stated Preston Feight, president of DAF Trucks. "The elite 90th Anniversary Edition pays respect to the founder of our great company."
Anthony Binns' Daf XF 'The Firefighter' is cover star in March's Truck & Driver. Find out where you can purchase a copy here.
We hope you enjoyed this article! For more news, views and reviews on all aspects of the truck driver's life subscribe today.